Designers are going gaga for simple yet engaging small bedroom trends. Even in the most minuscule of spaces, creativity knows no bounds. (Take it from the Brooklyn renter who couldn't fit her mattress up the stairs.)
While the term "small bedroom trends" might seem like an oxymoron, we assure you that a lack of square footage doesn't mean a lack of style. Quite the opposite, in fact — and we'll prove it to you. 
Add these helpful designer-backed trends and tips to the list of small bedroom hacks. They're going to make your life a lot easier. When all is said and done, your sleep space will be the stuff of Pinterest board dreams. 
The best small bedroom trends, according to designers
From small bedroom storage ideas to subtle yet sweet accents, this list has quite a variety. (And you thought options were limited!) 
"Just because space is limited doesn't constrain its potential for style and utility," insists designer Artem Kropovinsky. "In modern design, compactness is met with creativity, and the result is both stylish and smart."
Where are you going to start? 
Artem Kropovinsky is an interior design expert and founder of Arsight, an award-winning interior design studio based in New York.
1. Multifunctional furniture
Is that a nightstand or a vanity? Both?! How about that cute pouf? Actually, it's a glorified container for loose tech gadgets. Pulling double duty is essential, especially when space is in short supply. Thankfully, there's multifunctional furniture pieces. 
"I appreciate this trend because it maximizes space efficiency and allows for a clutter-free environment in small bedrooms," says Planner 5D interior designer Alice Moszczynski. "It's a practical and stylish solution for making the most of limited square footage while maintaining a clean and organized look."
Think beds with dresser drawers, floating nightstands (or nightstand alternatives, if you so choose), and over-the-door mirrors. 
Alice Moszczynski is an interior designer at Planner 5D, which focuses on creating impactful, sustainable interiors for community organizations, prioritizing responsible design. She holds a BFA from the Rhode Island School of Design and has worked for prestigious firms throughout New York City. 
2. Neutral paint colors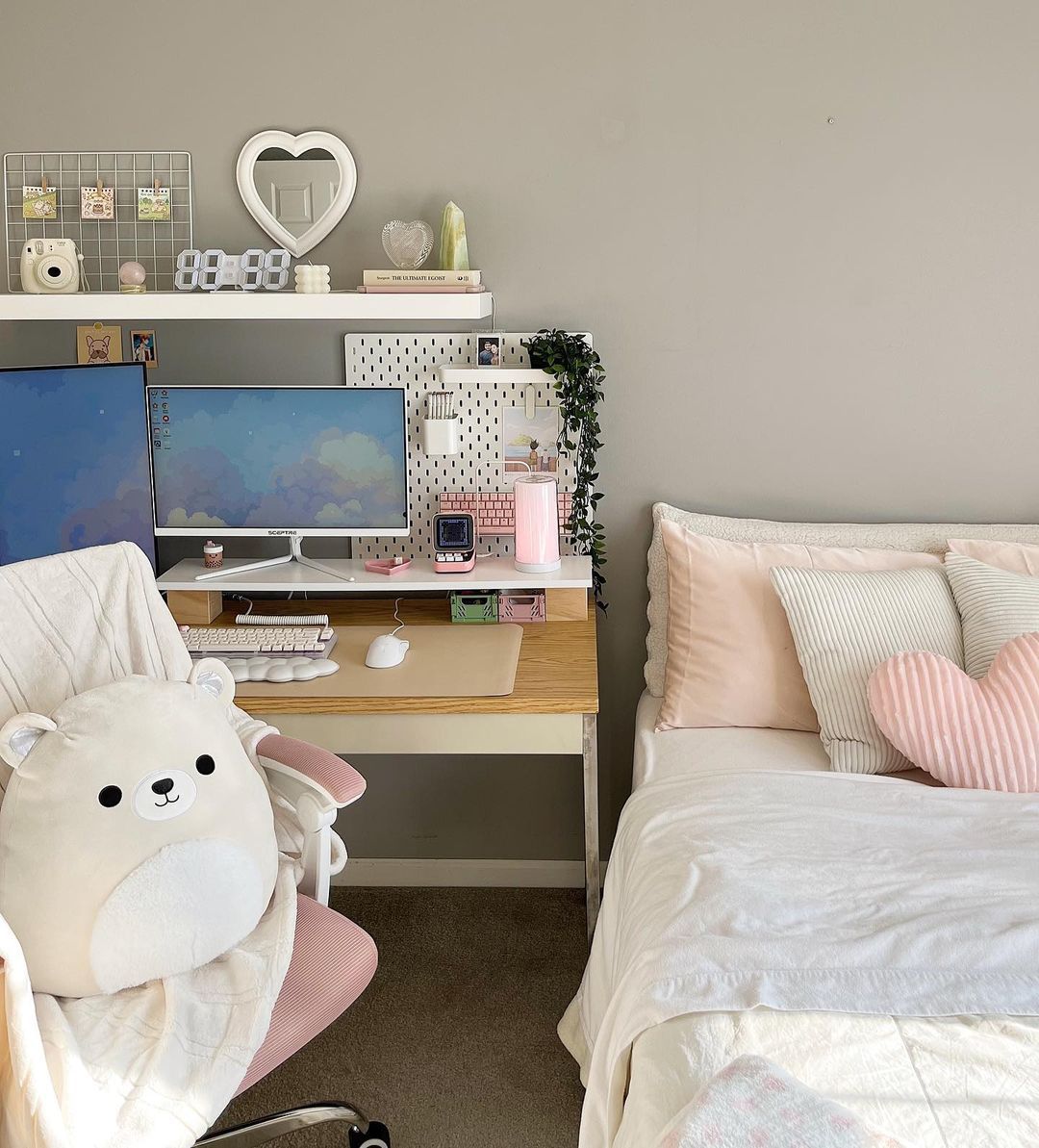 While we appreciate the ROY G BIV variety, sticking to simpler shades in bedrooms has its advantages. Not only does it boast a dream-like escape but it also allows for innovation if you find yourself constantly in the Target home section or the Wayfair website.  
"With a neutral color scheme, it is easy to switch up the decor and add pops of color through accessories such as throw pillows or a statement piece of artwork," says Mark Buskuhl, the founder and CEO of Ninebird Properties. "This allows for versatility and customization in the room without overwhelming the limited space." 
What's more softer shades can add "a touch of elegance," and we all know Quiet Luxury is enjoying its time in the spotlight. 
Mark Buskuhl is the founder & CEO of Ninebird Properties, which specializes in buying, renovating, and selling dozens of houses every year. Ninebird Properties takes on the most challenging projects, including fire-damaged homes and transforming them back into a beautiful space.
3. Black accents
No, we're not just talking about dark academia decor pieces here, folks. Black accents have been popping up in the form of accent mirrors, nightstands, and more. 
"One of my favorite small bedroom trends for this year is black accessories, which have made a comeback recently," says Todd Saunders, CEO at FlooringStores. "A touch of black adds a welcome dose of richness to a smaller space, which is perfect for bedrooms."
Plus, we think that a black rattan dresser allows you to get creative with other accessories, from blankets to wall art. 
Todd Saunders is the CEO at FlooringStores, which will help you find the appropriate products for your new flooring projects, as well as storefronts near you. 
4. Pops of texture
No, wallpaper doesn't need to make its way around your entire room. In fact, adding it to a particular spot adds emphasis and creativity, drawing your eye to a certain section. 
"Why settle for a boring ceiling when you can add personality and style with wallpaper," asks interior designer Lori Miller. "Layering and color selection are crucial to creating a welcoming space for sleep on your room's largest canvas."
If you're a renter, don't miss out on these peel-and-stick wallpapers. They're adorable and they won't leave behind any damage. Your landlord will thank you. 
Lori Miller, the Principal of LGC Interior Design, began her career in psychology and mental health, as a counselor and Director of the Crime Victims Program for the Queens District Attorney. She also ran the Psychiatric Units at Rikers Island Correctional Center. In 2000, she combined her background with her love for interiors to create LGC Interior Design, which works to create livable spaces that fuse old-world charm with modern luxury. 
5. Using headboards for statements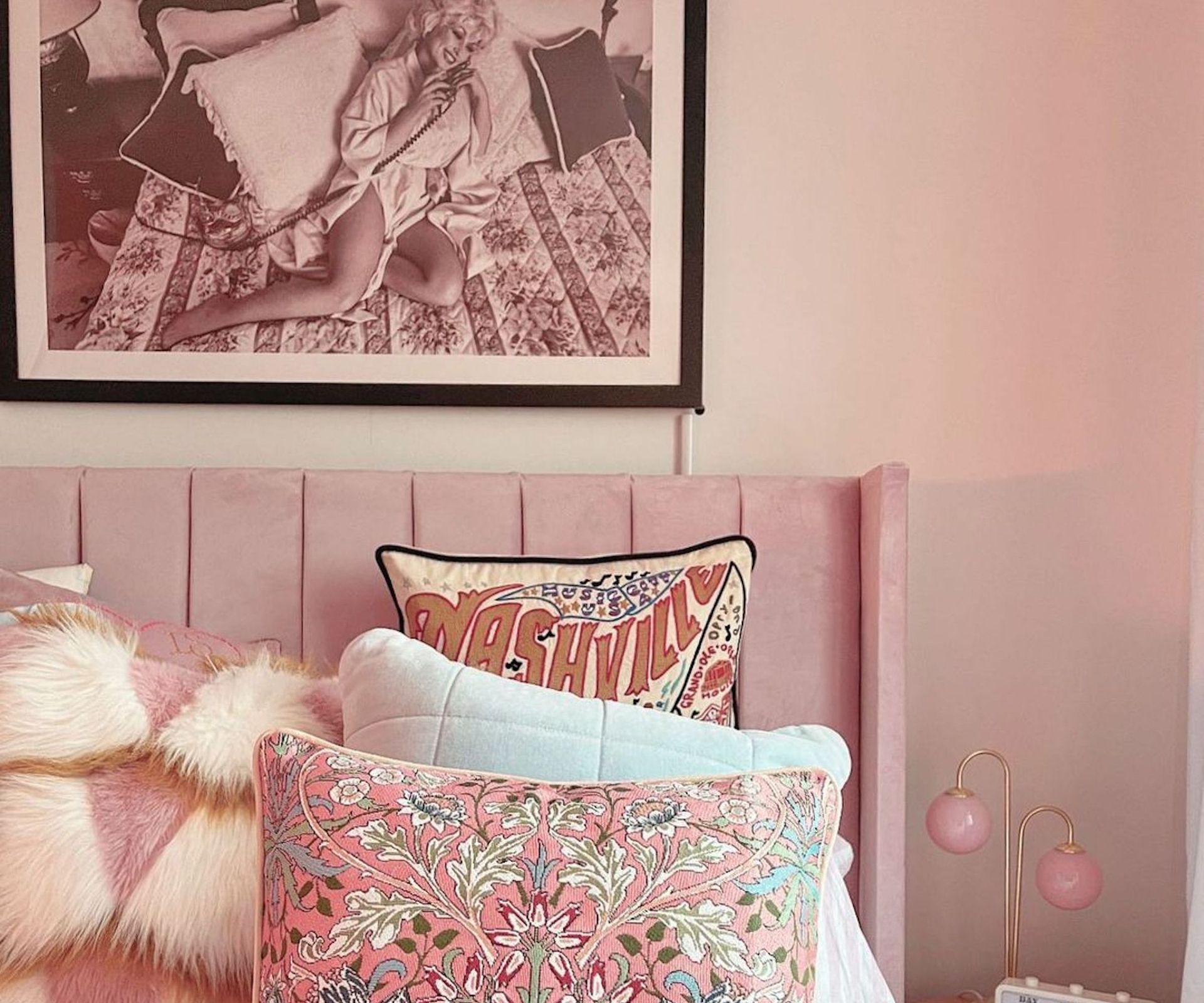 As Kropovinsky points out, big statements are certainly allowed in small rooms — if they're done properly. Throwing a large sculpture in the middle of the room might not serve a purpose, but a headboard that looks like artwork? Now you're onto something! 
After you've taken a gander at these super-creative Urban Outfitters headboards (all about those boho vibes, bb) and feminine Dormify headboards, allow experts to give you some styling tips.
"Consider the height of your pillows compared to the height of the headboard," Ashley McNamara, home furnishing business leader for beds and mattresses at IKEA US, previously told us. "It's always a great idea to add layers and textiles to your bed; it can really help ensure your bed style aligns with your personal style. Ensure there is some space between pillows and headboard so that one does not overshadow the other."
Ashley McNamara is a home furnishing business leader for beds and mattresses at IKEA US. 
6. Add plants
The best apartment plants have earned their title for a reason: they're adorable (obviously) and they're perfect for those of us who lack a green thumb. Golden pothos, in particular, are ones to consider. They require easy care, and once they start to grow, you can alter the way in which they look.
"You can train the plant to trail where you want it," product operations specialist at Lively Root, Matt Slaymaker, previously told us. "Over time, just one plant can slowly cover your apartment by training the vines up walls, overhead, or anywhere they can be propped up."
Matt Slaymaker is a product operations specialist at Lively Root, which works alongside nursery partners across the US to deliver healthy, happy plants. 
7. Style a bookshelf (or book cart)
Sure, space is in small supply, but your TBR list continues to grow. We blame #booktok. Use the book shelf in your room, or perhaps the cart if you're working with an atypically tiny locale, and try one of these trendy and scholarly book-lover displays.
Shop small bedroom trends
Ready to give these trends a try? These goodies will help you get going. 
Prices were correct at the time of publication. 
FAQs
How do you modernize a small bedroom?
In order to modernize a small bedroom, first think of a theme and a style. How do you want it to look? Do you want it to be a peaceful sleep sanctuary where you can unwind, or will it double as your home office? Once you have a plan in place, make sure to get adequate storage so that you're clutter-free. Then start by getting your big pieces in place and work on accents from there, be it a carpet to split up the space, or a piece of wall art to hang near the bed. Whatever you do, these are the small bedroom design mistakes the pros want you to avoid. 
Where should a bed be placed in a small bedroom?
Placing a bed against the wall is the popular go-to, as it elongates the room and leaves clear floor paths. But it's not the only option. Check out what designers have to say about where to put a bed in a small bedroom. 
What color makes a small room look bigger?
Designers agree that lighter-toned colors make a room look not only bigger, but airy. Plus, they believe that opting for a neutral tone makes it easier if you'd like to mix and match your accessories; that way things won't clash.
---
Working with other tight spots in your apartment? Here are seven small space design mistakes to avoid at all costs!