"Commercial real estate is crashing!"
That is the sentiment we hear again and again. It's the message the market seems to be sending by discounting all real estate investment trusts ("REITs") across the various sectors of commercial real estate. The belief is that interest rates of 5%+ have destroyed the business model of REITs, which have to pay out 90%+ of their taxable income and are therefore reliant on the equity and debt markets for funding. And this surge in interest rates is exacerbating a perceived plunge in demand for CRE amid a weakening economy.
These sentiments are just plain wrong.
As I explained in "Blue-Chip Real Estate Is A Bargain – Top Picks Across 5 Sectors," commercial real estate ≠ office buildings. Although there are definitely some severe problems in certain corners of office real estate, commercial real estate more broadly continues to thrive.
Don't take it from me. Let's hear from some experts.
In a recent CNBC interview, CEO of CBRE & Associates (CBRE) Bob Sulentic explained:
I think some of the talk of doom and gloom is out ahead of what's really going on. Office space has got a tough circumstance, partly because of return to the office challenges after COVID, partly, because of jobs being eliminated in tech and others. But if you look at industrial space, very strong fundamentals, 3.5% vacancy. If you look at institutional quality multifamily, less than 5% vacancy. Hotels, very strong fundamentals. Single-family [rentals] backed by institutional quality financing, very strong fundamentals. Even retail fundamentals are improving, rental rates are going up. So the story around commercial real estate isn't quite what people think.
And here's a statement from Bridgewater Associates (h/t Baron Real Estate Fund Q1 letter), the largest hedge fund in the world, from the end of March:
We don't think commercial real estate is a systematic risk, in large part because the sector lacks the problems that existed in (mostly residential) real estate in the late 2000s: bad lending standards, lots of leverage, and a supply glut following a construction boom. CRE is a highly diverse sector that includes one troubled sub-sector in offices (about 15% of the market), but also apartments, hospitals, warehouses, data centers, nursing homes, retail, and more. Commercial construction activity is also quite subdued relative to the early 1990s, when a CRE bust led to a wave of losses. While there are strains at some regional banks, the better underwriting practices and the run-up in prices over the last decade will mute the loss cycle.
Take note of that last point: CRE construction is muted, largely because of the degree to which construction costs have soared in the last few years. Pricing in CRE, like all other markets, is determined by supply and demand. And though demand remains strong and growing (even if slower than the last few years), supply is only growing at a crawling pace.
According to Green Street Advisors (courtesy of Baron Real Estate):
[E]xpectations for commercial real estate construction (annual construction completions as a percent of existing inventory) from 2023 to 2026 are expected to be only 1.5% for apartments, 1.0% for wireless towers and hotels, 0.8% for office buildings, 0.3% for shopping centers, and 0.1% for retail malls.
Likewise, according to Green Street, CRE occupancy levels are favorable today compared to the period during the Great Financial Crisis. Three examples:
Industrial: 96% today vs. 88% in 2009
Self-storage: 94% today vs. 81% in 2009
Manufactured housing: 97% today vs. 87% in 2009
This does not sound like the formula for a CRE meltdown, and yet world-class REITs like the industrial giant Prologis (PLD), self-storage leader Extra Space Storage (EXR), and manufactured housing landlord Equity LifeStyle Properties (ELS) have shed 22-34% of their market value since the beginning of 2022: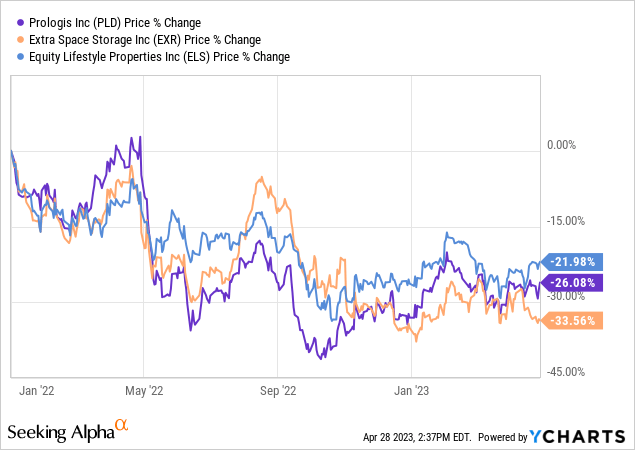 These are not cherry-picked cases. The Vanguard Real Estate ETF (VNQ) has lost 28.5% of its market value since the beginning of 2022, as of this writing.
This is why Jon Gray, President of Blackstone, stated in Blackstone's (BX) Q2 2022 conference call in reference to private versus public CRE:
The best opportunities today are clearly in the public markets on the screen and that's where we're spending a lot of time.
And REITs have shed another ~12% of their market value since Gray made this statement!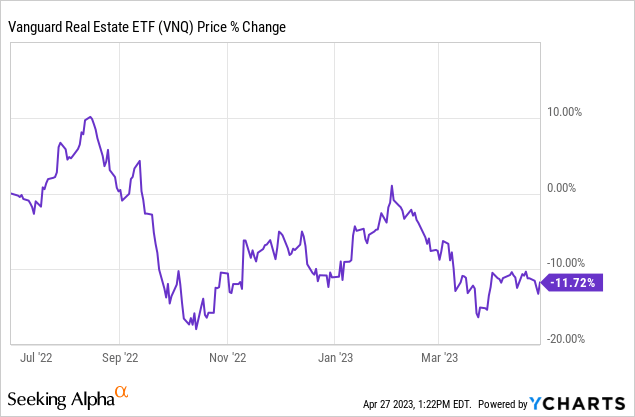 If the largest real estate-focused asset manager in the nation saw REITs as a great value in mid-2022, how much more are they good values today?
Now, admittedly, CRE property values have fallen about 15% over the last year, according to Green Street: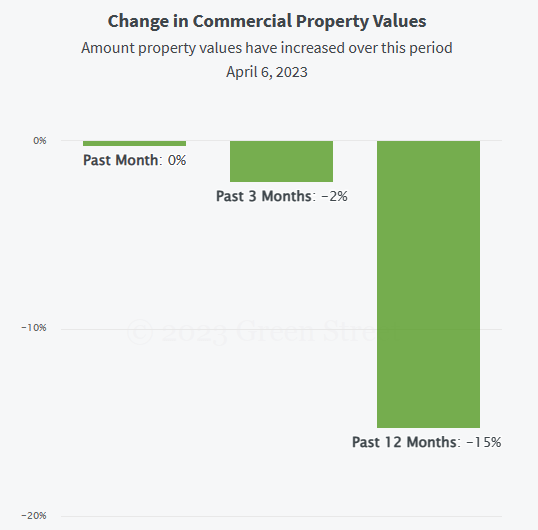 As credit conditions have tightened, the flow of capital into CRE has greatly pulled back, which has led to a softening in CRE property prices.
But these drops in property prices are not spread evenly across all sectors of CRE. They are overwhelmingly concentrated in one particular sector: office.
Consider these points:
Declines in property values do not necessarily translate into declines in rent rates or net operating income.
Most banks are well-capitalized, and most forms of CRE are performing very well.
Almost all sectors of CRE are not overbuilt or oversupplied. The only exception is office.
Most of the distress in CRE is confined to lower quality (Class B and C) office properties, which have relatively high vacancy rates.
A tightening of credit conditions and lending standards should primarily affect these lower-quality office properties.
For example, for Q1 2023, Class A NYC office landlord S.L. Green (SLG) reported occupancy still above 90%, and they secured a $500 million refinancing at 250 basis points above SOFR, swapped to a fixed rate of 6.11% for three years.
Most banks, including most regional banks, do not have sufficient exposure to Class B and C offices to make a systemic meltdown likely.
Some highly leveraged private and public CRE entities, regardless of their particular real estate, could still blow up due to the tightened credit conditions. But these are special cases.
Again, though, don't take it from me. Let's take a quick tour through the Q1 2023 results of some major REITs across various sectors to check the pulse of CRE right now.
REIT Q1 Earnings Updates
Alexandria Real Estate Equities (ARE)
ARE, owner and developer of Class A life science facilities in the nation's best located and most productive biotech clusters, put up Q1 results that totally defy the ~33% drop in stock price it has suffered over the last year.
AFFO per share rose 6.8% on the back of the highest quarterly straight-line rent growth in company history at 48.3%. Cash rent growth also came in strong at 24.2%, while cash same-property NOI growth hit 9.0%. Meanwhile, despite the market's fear that ARE's smaller biotech tenants might have suffered from the collapse of Silicon Valley Bank, ARE collected 99.9% of contractual rent in Q1 and 99.7% so far in April.
With total liquidity of $5.3 billion plus free cash flow after dividends of $375 million (AFFO payout ratio of 55%), ARE has plenty of capital available to invest opportunistically this year.
As a sign of how ARE's Class A life science properties have retained their value, the REIT sold a minority interest in one of its properties for a cap rate of 5.4% during Q1. It doesn't sound to me like there is a "crash" in life science property prices.
Mid-America Apartment Communities (MAA)
Sunbelt multifamily industry leader MAA reported strong results for Q1, even if growth has cooled off from last year due to plateauing economic growth and increased supply coming online in its markets.
Even so, AFFO per share surged 15.7% in the quarter on the back of a 95.5% occupancy rate and 12.5% same-property NOI growth.
Meanwhile, with $1.4 billion in liquidity on top of an underleveraged balance sheet (A- credit rating) of 28% debt to assets and a 3.5x net debt to EBITDA ratio, MAA's capitalization looks pristine. On the Q1 conference call, management made clear their intentions to pounce on any attractive acquisition opportunities that may arise later this year from multifamily owners who were not as prudent with their debt as MAA.
While multifamily property prices are coming down, the situation is far from a "crash."
Camden Property Trust (CPT)
CPT's Sunbelt-focused multifamily portfolio is top-notch in its locations as well as its diversification across urban/suburban areas and high-rise/mid-rise/garden-style apartments.
Despite new supply coming online and apartment demand cooling off, CPT still achieved blended (new and renewal) leasing spreads of 4.0% in the first quarter and 4.2% so far in April. Same-property NOI growth came in at 8.1% YoY in the quarter, and the REIT expects SPNOI to average 5% for the year. Meanwhile, occupancy has remained steady, dipping only slightly from Q4 2022's 95.8% to Q1 2023's 95.3%.
CPT has six properties under development right now, including its first single-family rental neighborhood in the Woodlands, Texas, to be delivered in the coming years.
Although supply deliveries should be particularly high in the Sunbelt multifamily space in the next few years, these markets also enjoy long-term demographic advantages such as above-average job and population growth due to lower costs of living and business-friendly regulatory environments.
W. P. Carey (WPC)
WPC is the 2nd largest net lease REIT behind Realty Income (O) at an enterprise value of about $23 billion and with a property portfolio of 1,446 properties spanning three continents (primarily North America and Europe).
WPC's AFFO per share of $1.31 in the first quarter was admittedly flat YoY, but that's primarily due to the loss of management fee income from absorbing its last private fund last year as well as higher interest expenses.
The REIT has secured over $740 million in real estate investments year-to-date, as WPC's target tenants are finding sale-leasebacks to be a more attractive form of financing than debt. This year, management expects to see total investment volume between $1.75 billion and $2.25 billion while disposing of only $300-400 million of properties.
Between forward equity locked in at a higher stock price than today's and the ability to issue attractively priced debt such as the recent €500 million term loan swapped to a fixed rate of 4.34%, WPC is well-prepared to achieve its impressive 2023 investment volume guidance.
What's more, WPC's characteristic CPI-based rent escalations should ensure the portfolio's same-store rent escalations average around 4% in 2023 and over 3% in 2024. It's rare to see a net lease REIT enjoy this level of organic rent growth.
Rexford Industrial Realty (REXR)
REXR exclusively owns high-quality industrial properties located in the extremely supply-constrained Southern California market, where management calls the industrial supply shortage "virtually uncurable."
Core FFO per share increased 8.3% (lower than the 34% total FFO growth due to the company's use of its peer-leading cost of equity via stock issuance), while same-property NOI growth rose 7.3% YoY.
The most incredible metrics are from lease-over-lease rent growth. In Q1, REXR's new and renewal leases on comparable spaces generated 80% straight-line rent growth and 60% cash rent growth. You read that correctly. Occupancy stood at 98% during the quarter. And on top of that incredible organic growth, REXR also acquired $804 million of new properties in Q1.
And REXR joins asset quality with balance sheet quality: a BBB+ credit rating, net debt to enterprise value of 13.6%, and zero floating interest rate exposure.
Prologis (PLD)
You might accuse me of cherry-picking the best industrial REIT with REXR, so let's also look at the biggest player in the public REIT space: PLD.
PLD scored 12% core FFO per share growth in Q1, as its portfolio occupancy stood at 98% and generated an all-time high same-property cash NOI growth of 11.4%. Speaking of all-time highs, PLD's net effective straight-line rent growth of 69% and cash rent growth of 42% on new and renewal leases also reached all-time high levels.
Meanwhile, PLD's balance sheet is also superb, with debt to enterprise value of19.1%, a weighted average interest rate on debt of 2.6%, and very few debt maturities until 2026.
Crown Castle (CCI)
As I explained more fully in "Crown Castle: Take Advantage of the Market's Short-Termism," CCI is suffering right now not from a crash in the value of its cell towers or fiber lines but rather (1) higher interest rates and (2) the cancellation of some Sprint leases after its acquisition by T-Mobile (TMUS). But both of these headwinds are temporary.
Almost everyone in the market expects the Federal Reserve to begin lowering interest rates by sometime next year, which should ease pressure on CCI on the interest expense side. And given the oligopoly that now exists among the three major wireless carriers, further consolidation appears highly unlikely in this industry. As such, more lease cancellations do not appear likely.
Meanwhile, even amid these headwinds, Q1 AFFO per share rose 3.4% YoY, and CCI's balance sheet remains strong with its BBB/BBB+ credit ratings and net debt to EBITDA of 5.0x.
Bottom Line
Is commercial real estate crashing? No, I don't think so.
But REIT stock prices are a different story. They have indeed crashed, even while their fundamentals remain strong. This is the setup for some incredible, generationally good buying opportunities.
My dividend growth portfolio is already overweight REITs, and I am happy to make it incrementally more overweight because, as Warren Buffett once said, "Diversification makes very little sense for anyone who knows what they're doing."