When you think 'modern garden ideas', you likely think about sleek, contemporary landscapes. However, there's an evolution in modern garden design – and it's no longer about creating spaces based on looks alone.
Modern gardens must, say experts, be climate-positive. This doesn't mean that all your garden ideas have to sustainable garden ideas, nor that you have to be particularly green-thumbed.
It's all about making the right choices at design stage. Here, we show you how.
Modern garden ideas
From contemporary backyard landscaping ideas to eco-friendly planting, this is how to prioritize your modern garden design.
1. Consider soil health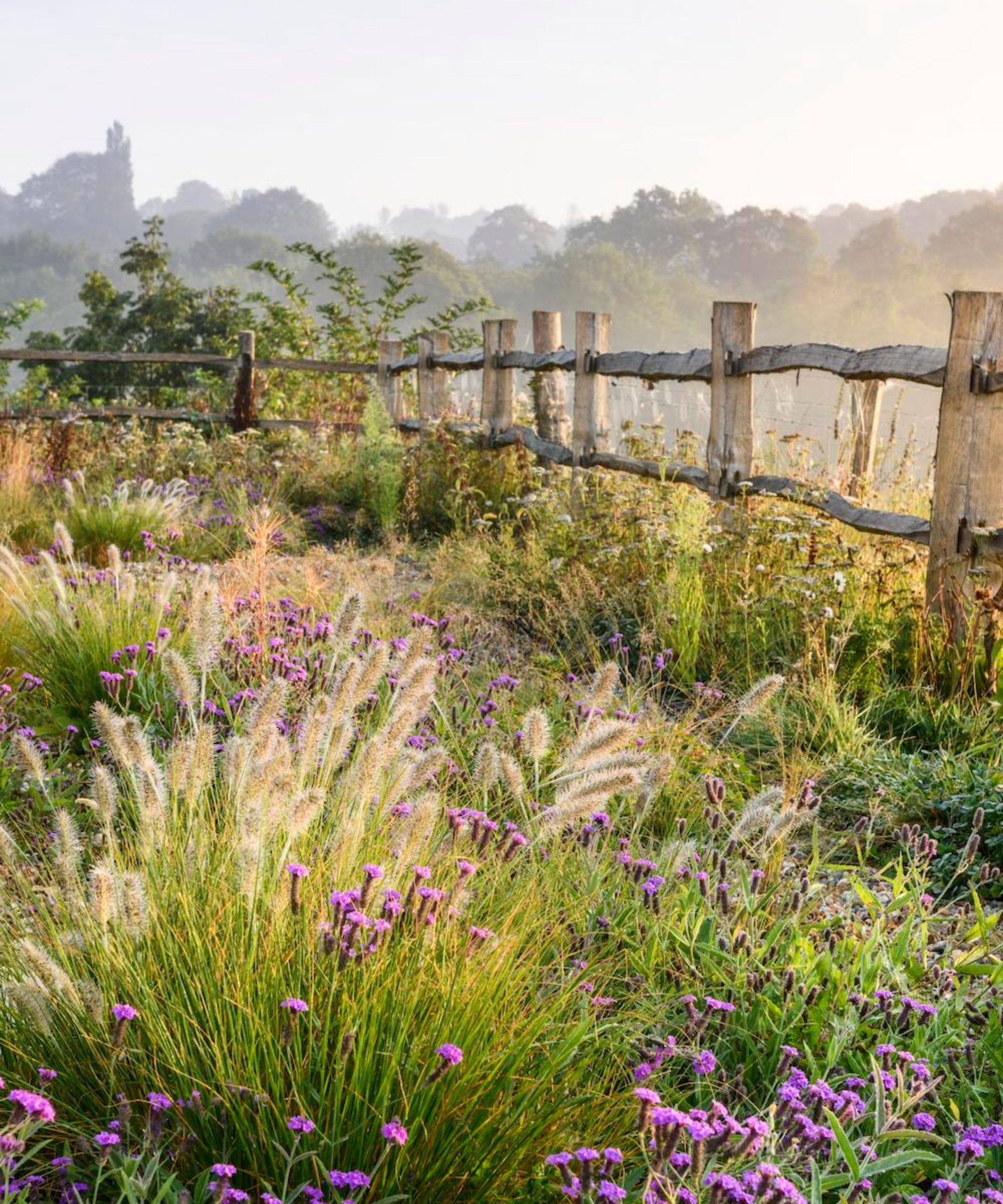 Whether you are hiring a landscaper or doing the work yourself, prioritize soil health. 
'My designs always focus on the soil because it feeds our plants and us,' says designer Marian Boswall, whose book Sustainable Garden (at Amazon) was shortlisted for Garden Book of the Year. 
'In protecting it, and feeding the microbes within it, we create a garden which is resilient, beautiful and healthy both on and below the surface.' 
She suggests avoiding pesticides and fertilizers, and no dig gardening, planting in layers to keep carbon locked up and digging as little as possible to protect root networks.
2. Design with the landscape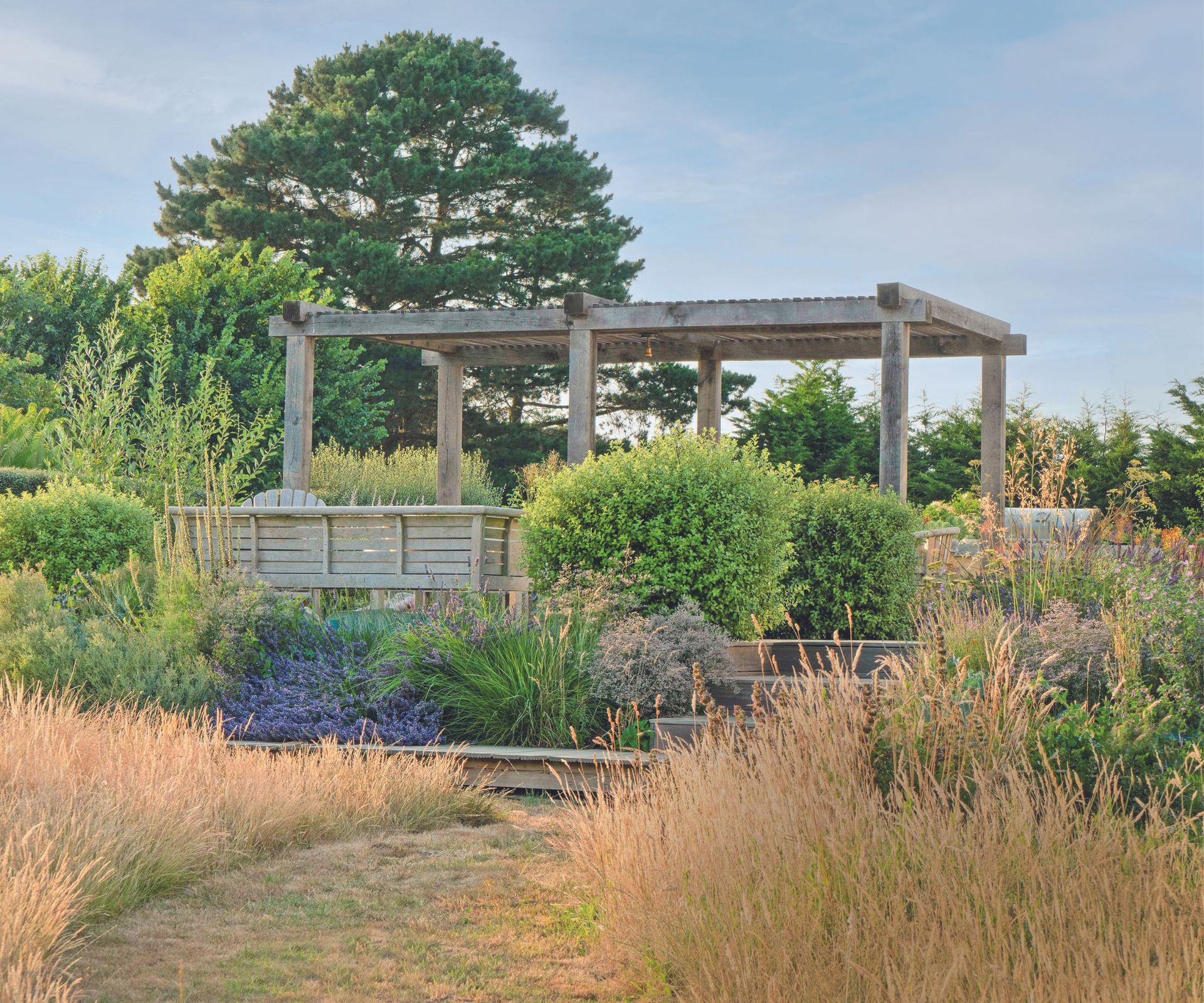 More than ever, designers are balancing human needs with environmental needs and making connections between the two. 
'Bringing people back to nature so that we have more respect and admiration for it is informing a looser, wilder aesthetic in which we have a deep consideration for where our basic requirements come from and how to nurture them; including food, water and shade,' says Creative Director Harriet Farlam of Farlam & Chandler. 
In this backyard overlooking a creek, the pergola acts as a place of escape to appreciate the wide reaching vista from dawn to dusk and, alongside the pine tree, acts as a shade sanctuary. 
3. Instil structure with planting not landscaping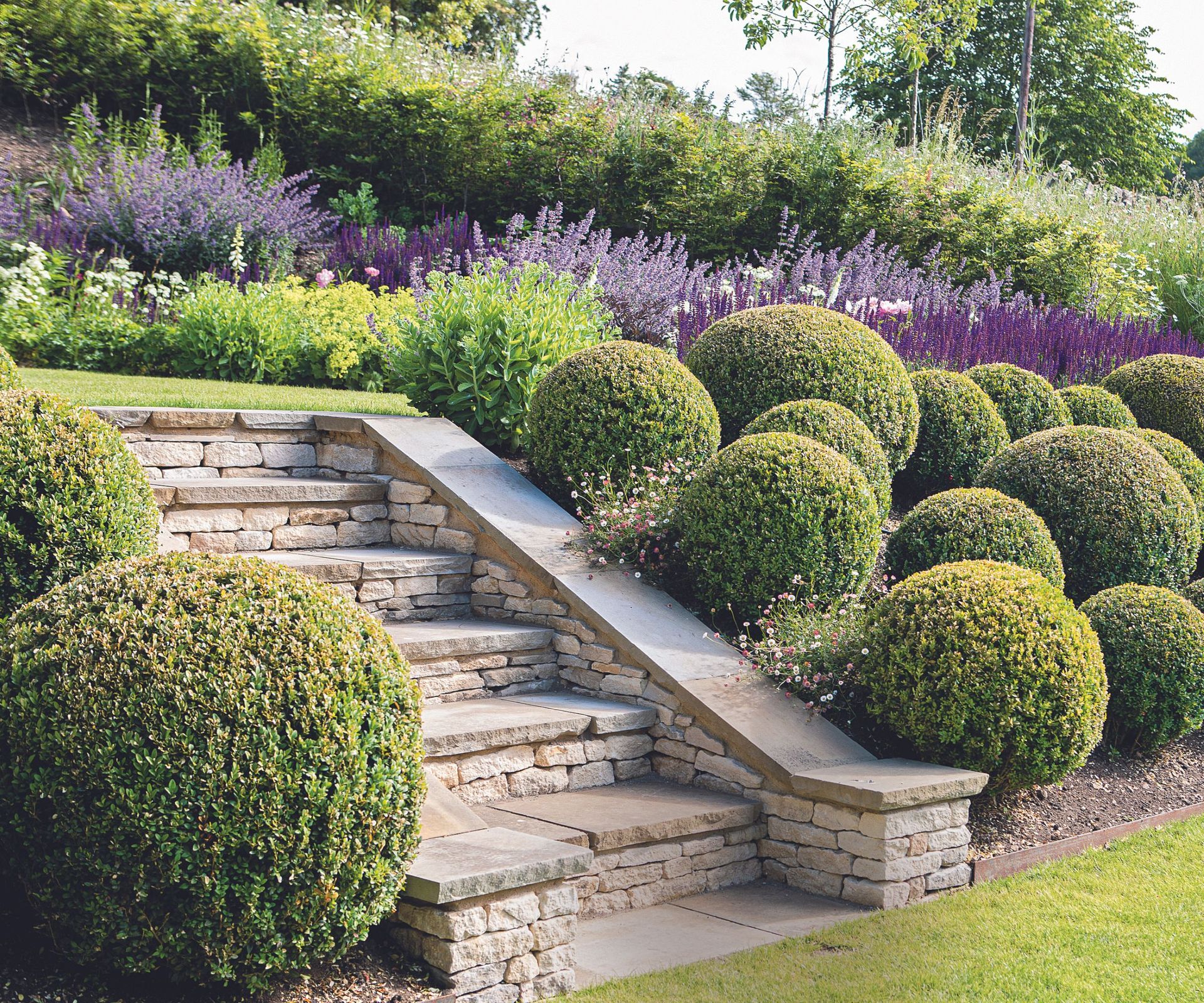 Where once modern gardens were defined by streamlined edges and hard materials, now architectural shaping is being provided with structural or shapely planting, and landscaping with evergreens. 
It is worth investigating 'xeriscaping' and planning a dry garden to ensure you are planting appropriately for your local climate, but this might mean putting in ornamental grasses, desert plants or, in wetter climes, even topiary. 
Let's take topiary as an example of what can be achieved through structural planting. It has always served as the architectural bones and structure for a formal country garden design, and is now making its way into more modern garden schemes. 
Above, it is seen in the Cotswold garden of interior designer Emma Sims-Hilditch. 'I had always dreamed of a cloud box feature,' she says, 'and we decided to create this on the slope between the upper and lower lawn. It adds incredible drama.' 
The box balls were chosen for their varying sizes. Gradually the plants will meld into each other and the pruning will create a soft cloud effect.' 
Maintenance is key. The vuxus needs treatment against box blight and the pruning that is required to create the cloud effect needs to be done by an expert, ideally twice a year.
4. Rethink the lawn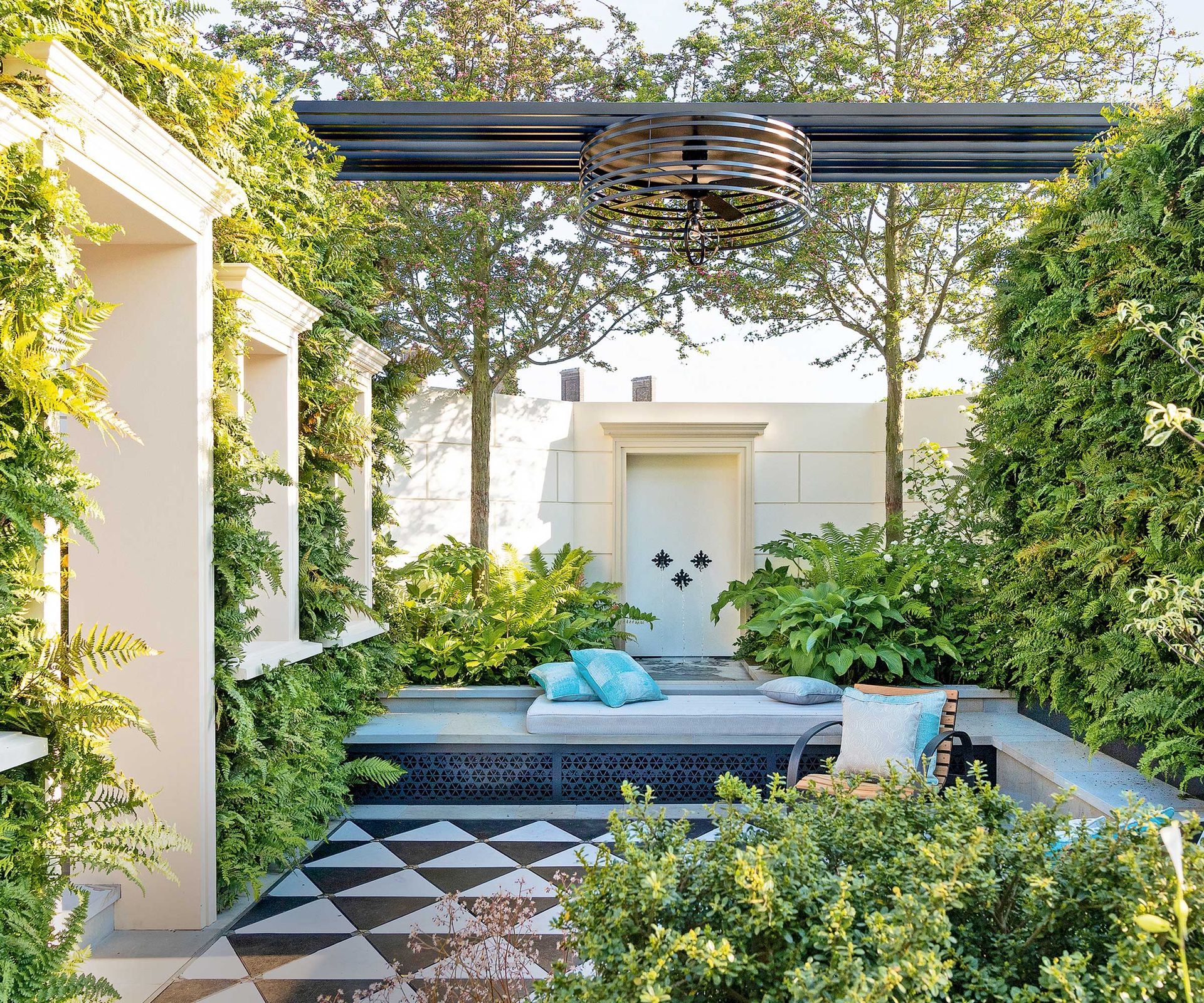 No-grass backyard ideas are gaining momentum, even in America. And it makes sense – with climate control measures, constant watering is not always a wise or permitted option.
So, there's a move to replace large areas of lawn with planting, breaking up green expanses to make a softer and more wildlife friendly garden. 
'The design intention in this scheme (below) was to create a warm, naturalistic feel,' says designer James Scott of The Garden Company. 
'Four generous quadrant beds are set into the lawn and look like mass planting as the year progresses.' 
Soft landscaping is not only aesthetically pleasing, it benefits the environment hugely with plants and trees improving air quality and boosting biodiversity. 
'Other key benefits include reducing soil erosion and softening noise pollution,' adds James Scott.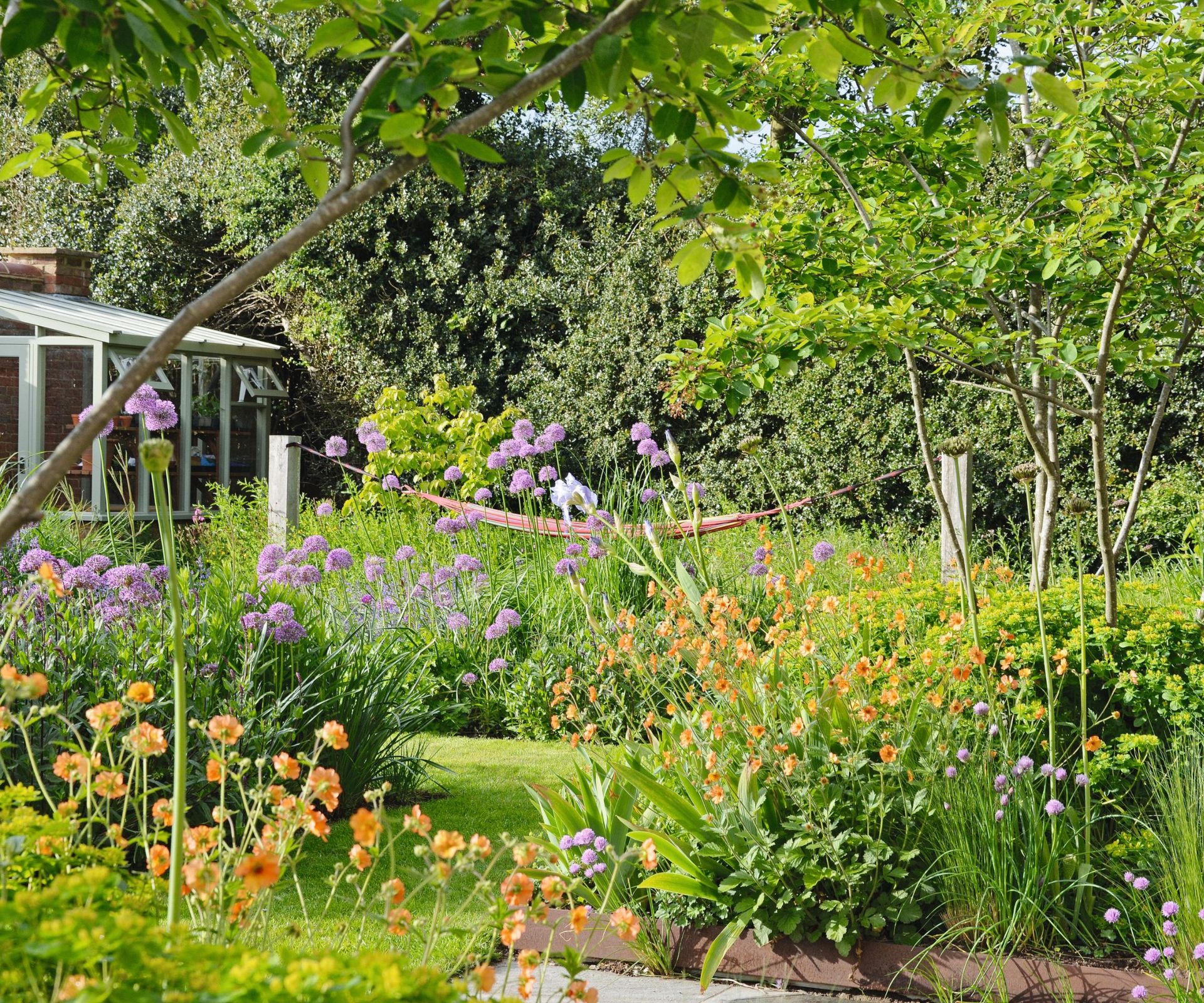 5. Plant green avenues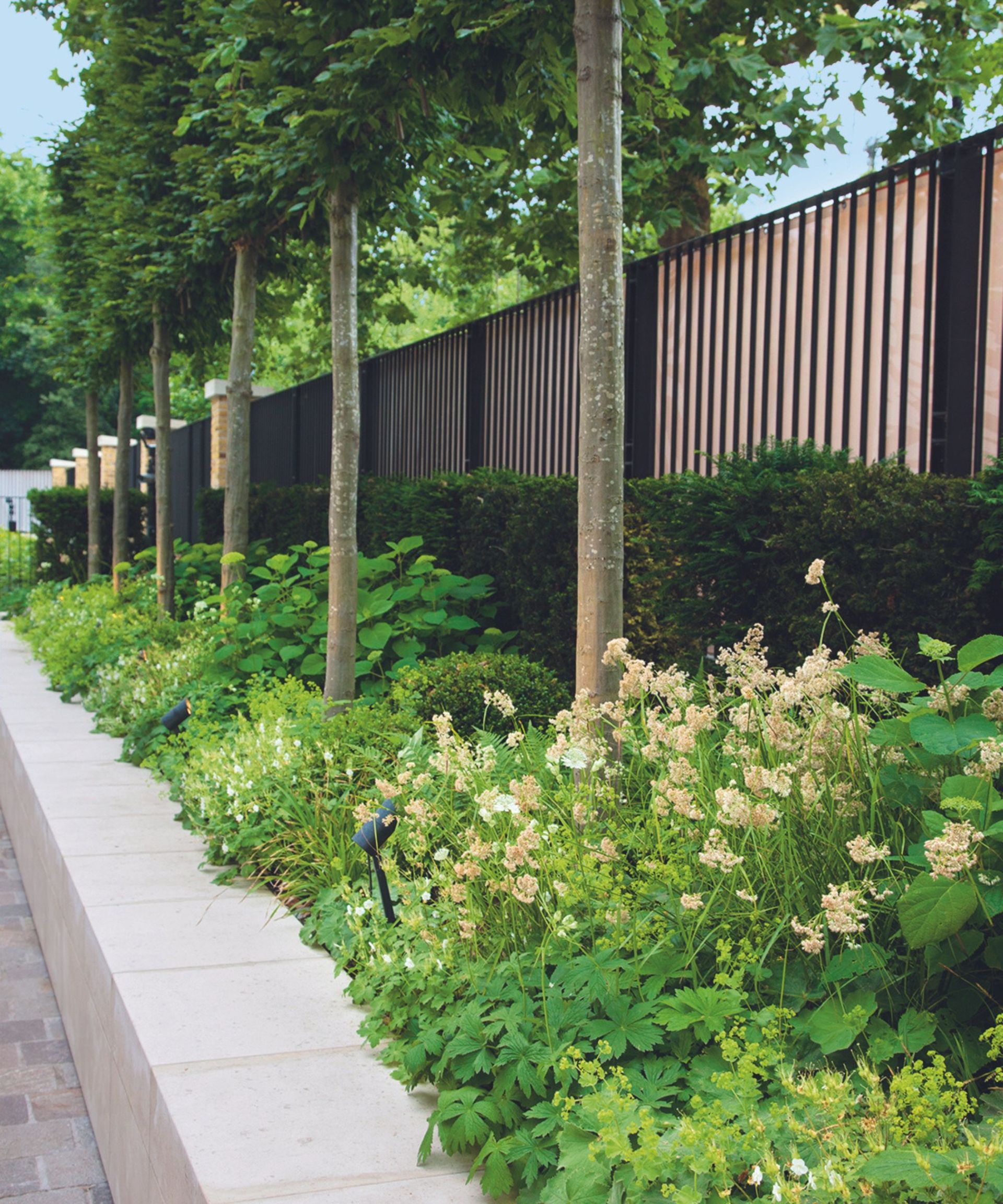 Trees and hedges create structural lines in the modern garden. 
'These architectural bones have been given a slightly more contemporary feel in this design,' says garden designer Henrietta Murray-Wicks, 'with broken up blocks to create strong vistas and views through the space. The light and shadows through these hedges is also important.' 
6. Plant for biodiversity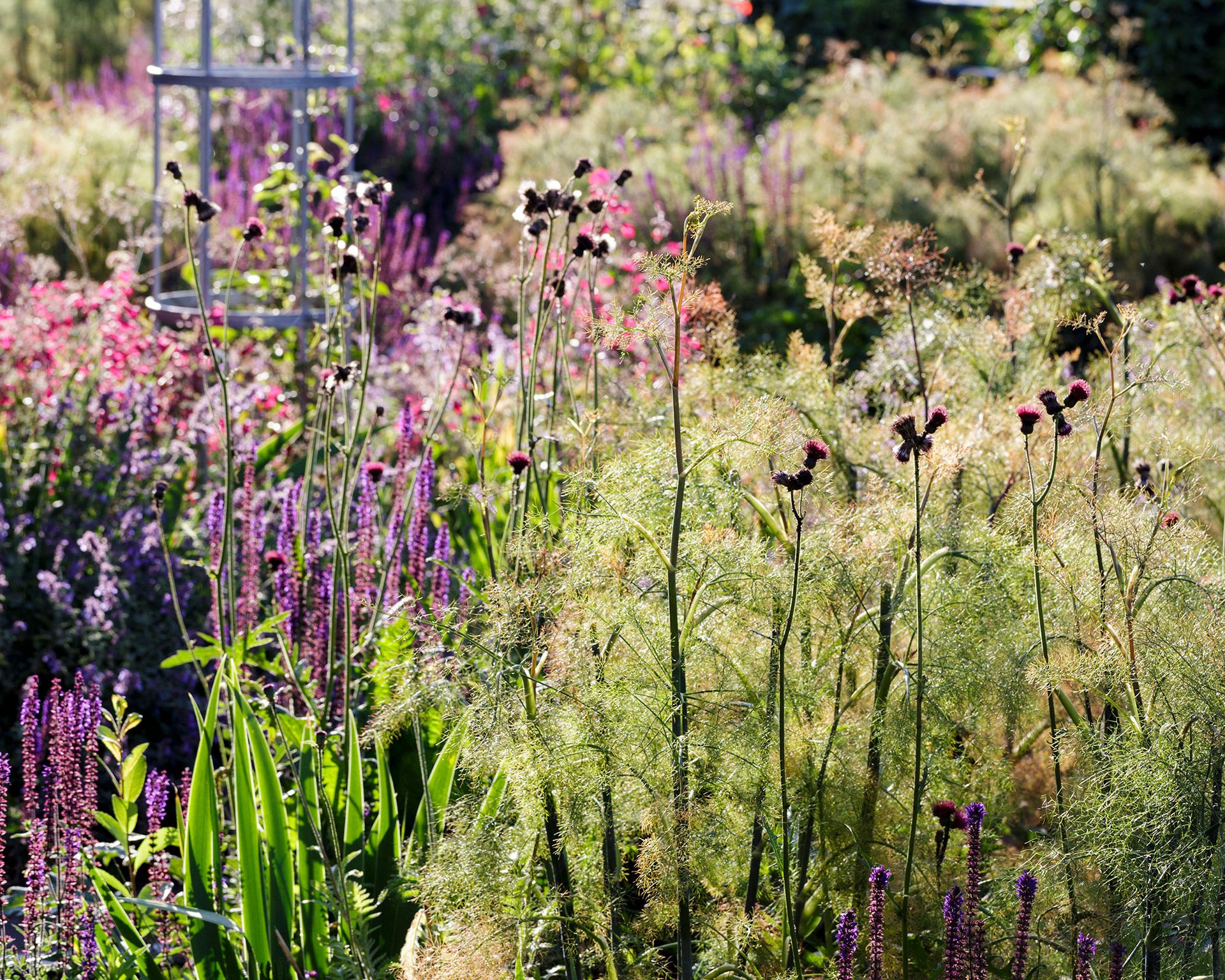 Appreciate a modern garden as a piece of performing art and enjoy the choreography and color thanks to visiting birds, bees and butterflies. 
'Nature positive' planting is a priority. Works. One of the best ways to do this is to specify native planting, the more the better. Garden designer Rachael Austin's go-tos are Wild Dog Rose 'Rosa canina' and Common Valerian 'Valeriana officinalis'. 
Looking to plant for pollinators, specifically flowers that attract bees and butterflies and learning how to attract hummingbirds to your yard are just as much part of this as putting in fly repellent plants, for example, rather than using pesticides.
7. Rethink your backyard staycations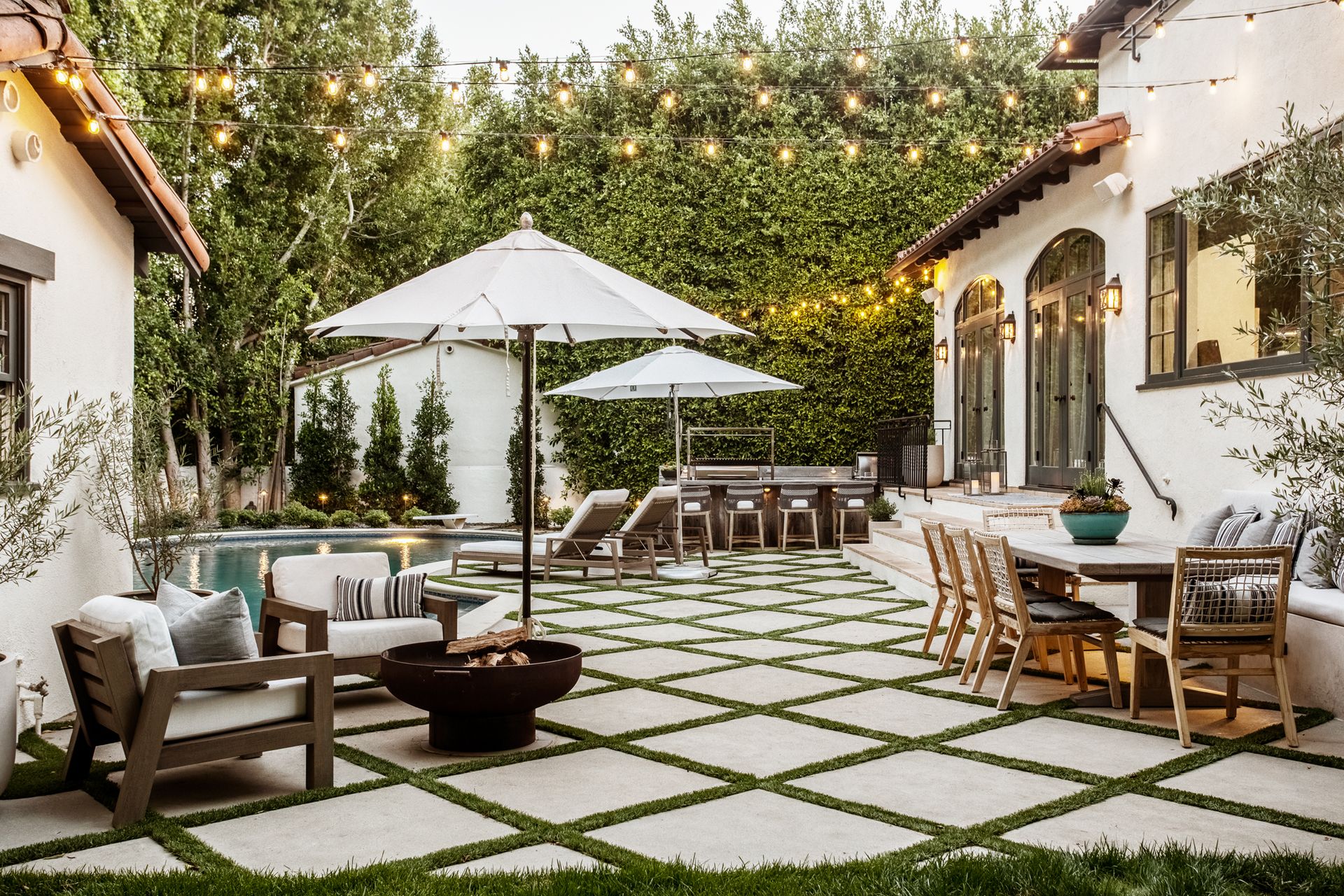 Modern gardens aren't just about planting – the backyards of even those of us in traditionally cooler, more northern zones are increasingly seeing hotter, dryer weather.
While there are obvious downsides to global warming, it does mean that how we vacation is changing, with more8.  and more of us spending time in summer at home, installing swimming pools and hosting spring and fall cookouts. 
So, as well as putting in less thirsty planting schemes, consider both outdoor grill station ideas and pool ideas.
Garden designer Stephane Lustig recommends 'natural stone for the pool coping and surrounding terraces. It has a more casual feel to it underfoot, with a riven finish for extra slip resistance.' 
This can be complemented with desert or Mediterranean planting for that holiday at home vibe.
8. Create a place of repose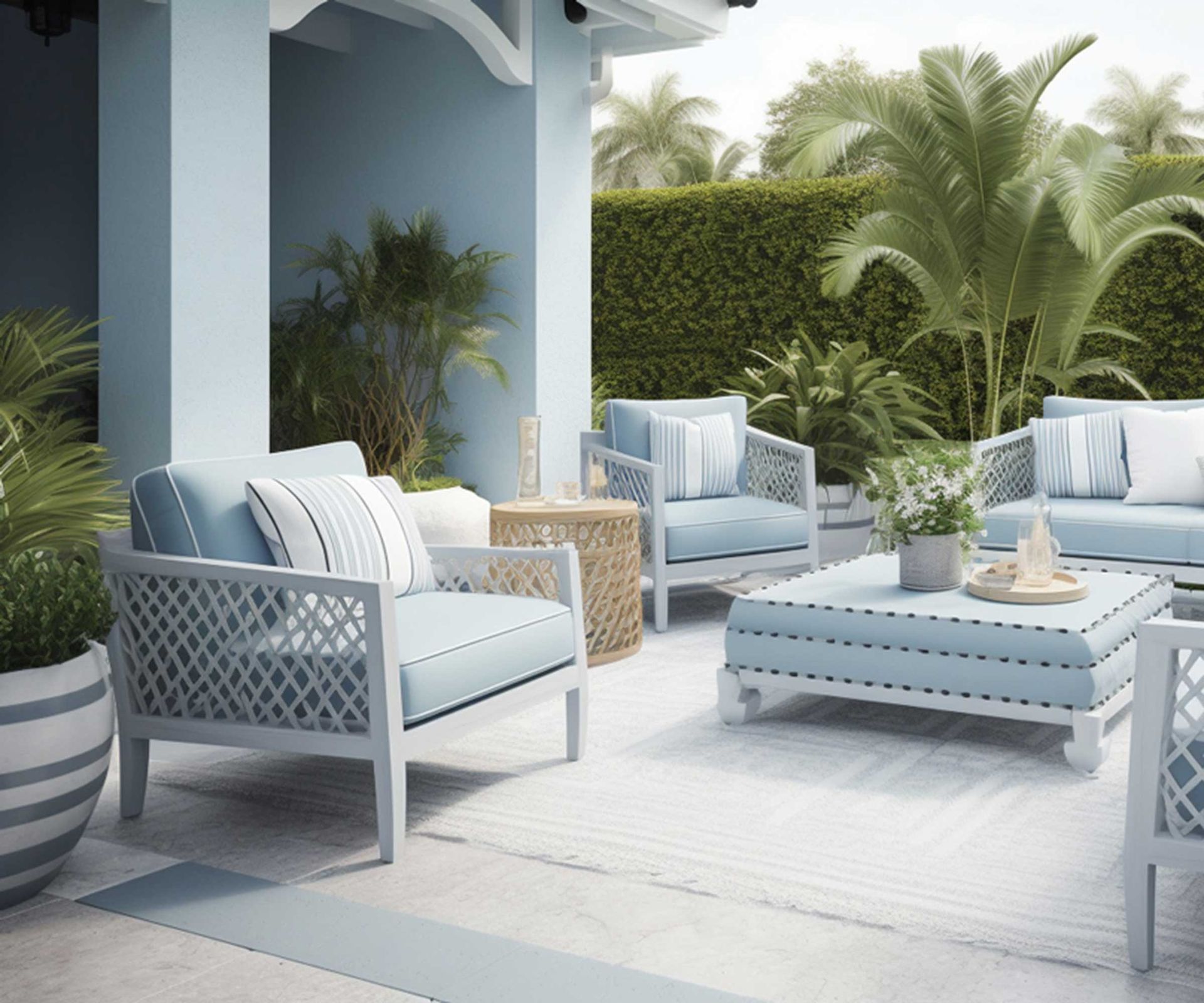 Small patio areas close to kitchen or sunroom doors are trumping formal entertaining areas this summer. These petite rendezvous have a more mindful purpose; they're the places to breathe, sip a latte or enjoy a glass of Chablis at the top and tail of a day. 
'Home entertaining has become more intimate over the past few years, with smaller gatherings and smaller budgets,' says Simon Temprell, Interior Design Manager at Neptune.  
'These outdoor living spaces can make such a difference as they offer a change of scene without having to leave home.' 
9. Add interest with a folly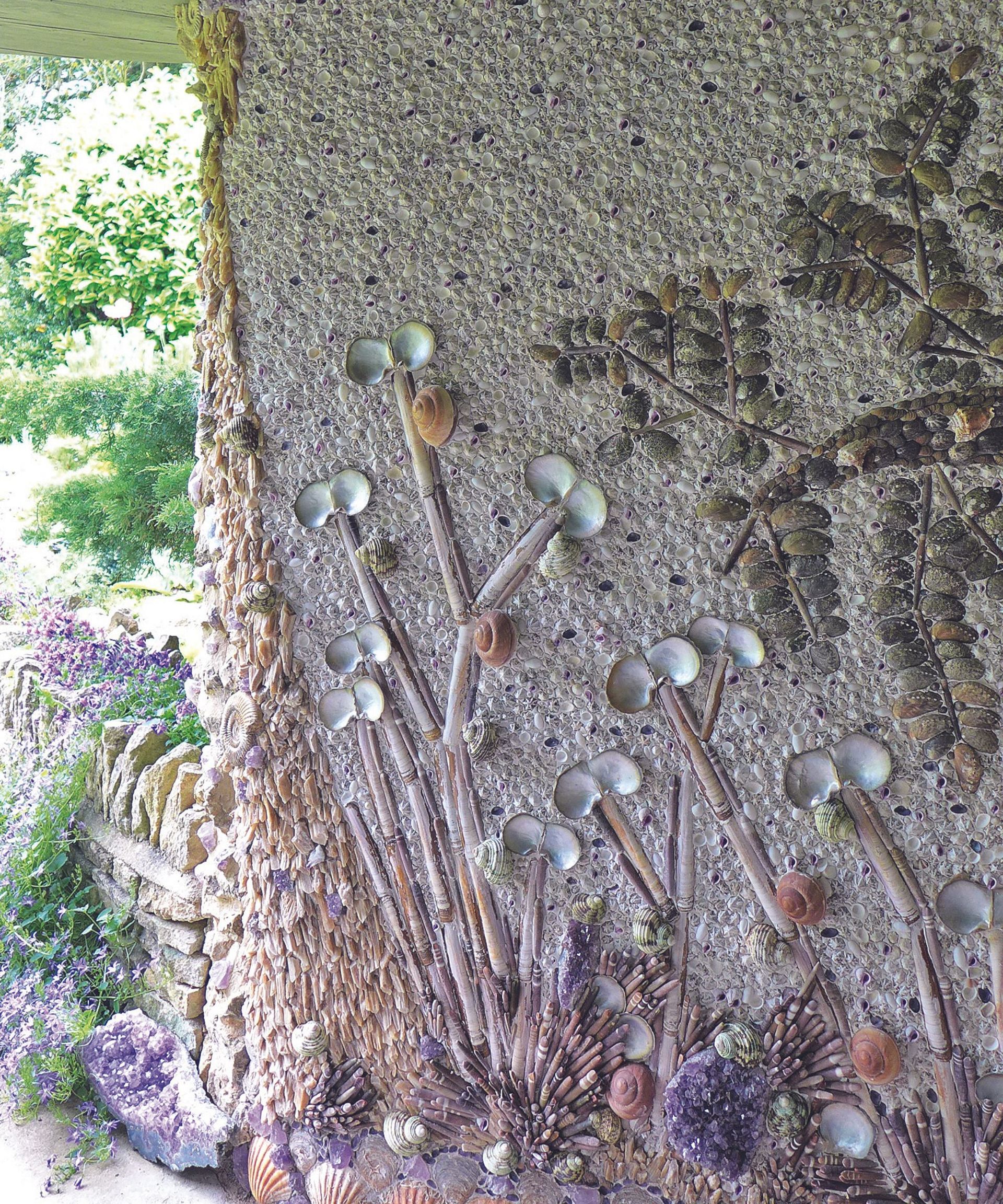 Romantic works of shell art in secret and magical stone structures are back in vogue. 
Using mussels to cockles (from the fishing industry) to sea urchin spines, leading artist Blott Kerr-Wilson is at the vanguard of this renewed interest in the craft of 'shelling'. 
Blott believes that quirky follies and grottoes of the past sit so well in the modern garden 'because on entering they hold surprise and wonderment'. 
'The late Rosemary Verey originally designed this folly,' she says of the dry stone building that is now decorated with her strutting pheasants, preening peacocks and flying owls, and leads to a complementary stone wall rock garden outside.
10. Include sculpture but make it organic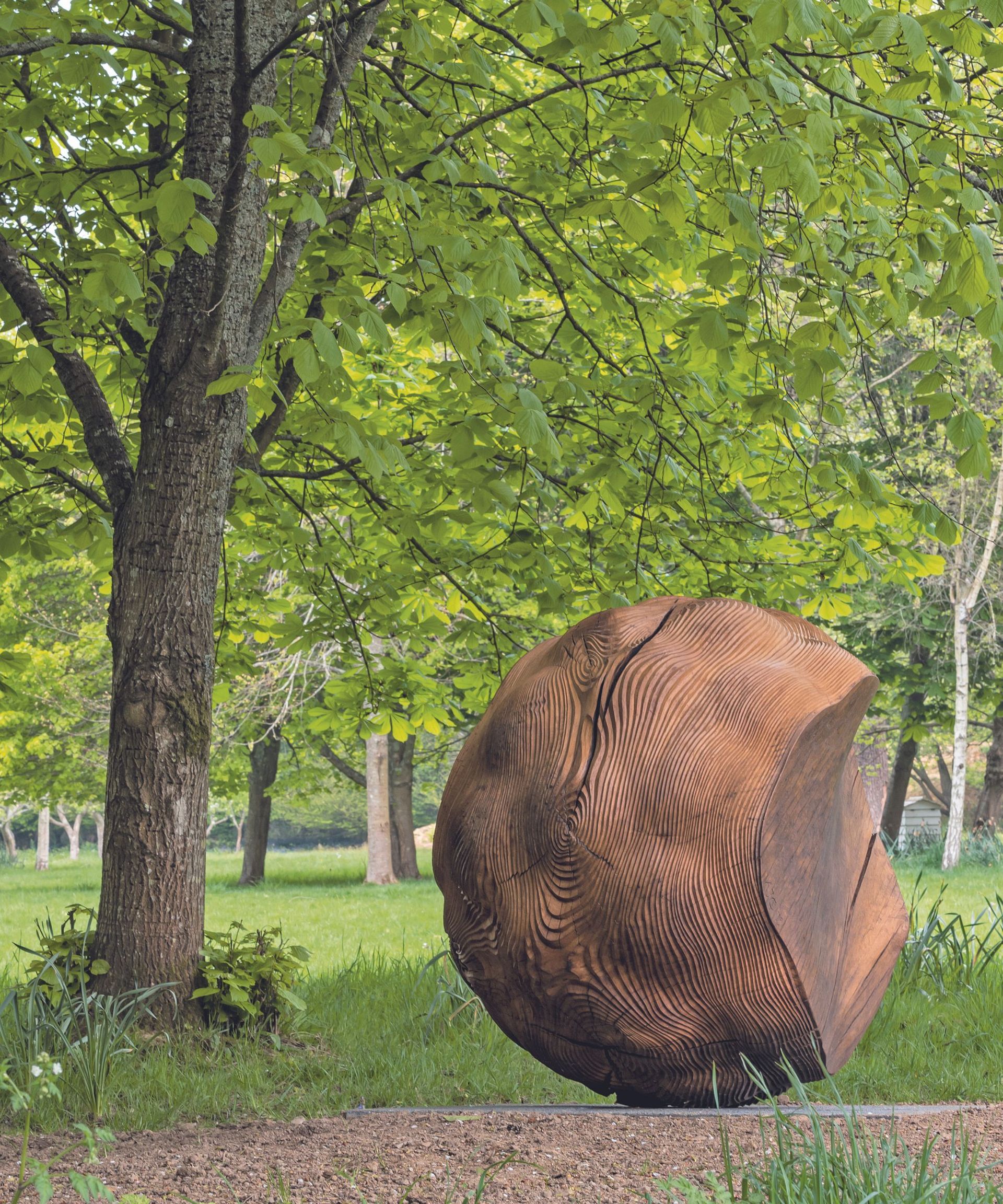 Sculptural works of garden art are known for surprising, drawing and intriguing the eye. Laterally in modern gardens, there's been a step away from the formality of stone and metal surfaces to organic forms that are of, and connected to, landscape.
Sculptor Alison Crowther's vast hand hewn Xylosphere I is made from English oak. Made for clients who love British wildlife, 'the natural oak material is in a continuous process of change and refinement as the timber ages and weathers,' Alison explains. 
'The garden setting offers the perfect backdrop for this process especially when the planting is wild and evocative of its original environment.' 
FAQs
What is a modern garden style?
Typically, modern garden designs are characterized by sharp lines and symmetry, however this classification is slowly changing in favor of climate-aware schemes that not only benefit wildlife and use less water (such as native planting, planting for pollinators and no-lawn yards), but also those that play to entertaining outdoors, with seating for dining, entertaining and unwinding; more of us are looking to put in pools and hot tubs, too.
---
Modern gardens are revolutionizing. No longer bare, stone clad spaces, they are now designed to maximize biodiversity and to cater to our desire to stay home and unwind after a hard day's work. The biggest takeaway? Even the least green-thumbed of us need to think harder about planting.