Long considered an institutional means to an end, the dormitory room has come into its own. 
Dorms of many universities, particularly ones in the SEC, have undergone something of a transformation in the past few years. Moms and daughters (and even sons) are turning up the design volume to 11 — and we are here for it.
Way back in the '80s when I was a freshman at Ole Miss, move-in day was a spectacle to behold. Some girls had decorators who unloaded custom Laura Ashley bedding sets with coordinating window valances and throw pillows. Not to be outdone, my own mom had a dust ruffle and shams made in shades of dusty rose and country blue. One word: florals. It was the '80s after all. I even had color-coordinated coat hangers and milk crates in the same tones of the era. I really thought I was something. How quaint those rooms were in retrospect.
Dorms of many universities, particularly ones in the SEC, have undergone something of a transformation in the past few years. 
Fast forward a few decades and now the coeds of 1988 are the mothers of 2023 college girls.
Welcome to the age of the posh dorm. With Instagram and now TikTok upping the ante, it is game on. We've done this to ourselves of course, but it doesn't help to look at pages on Instagram such as Dorm Rooms of Mississippi (I'm not making this up) that reveal the latest trends happening all over the Southeastern Conference. Resistance is futile.
Specialty design firms saw an opportunity and ran with it. One in particular, After Five Designs based in Jackson, Mississippi, offers packages ranging from bedding and art to curated furniture pieces installed with specialty lighting. Prices range accordingly from a few hundred dollars to a few thousand dollars per room. If you have the resources, these folks are the people you need to know. They have all the measurements and details of every dorm room at Ole Miss, Mississippi State and Alabama. They will hook you up. 
When my own daughter entered LSU in 2020, I was determined I would not fall victim to the urge to make her own room Insta-worthy. There would be no copycat dorm rooms for her. No ma'am. However, since design is my profession, the temptation was too much and I succumbed. I'll admit: It was a lot of fun to put together.
We started with a cute patterned rug (found on Overstock … I'm not insane) and added matching headboards with bed skirts made for lofted dorm beds, found on Amazon. Simple white bedding was personalized by adding some cute tape trim in orange to add some color. One small splurge was the designer pillows I found on Etsy … hiding that tiger in a chinoiserie pattern was a clever move, if I do say so myself.
We found some statement art at HomeGoods and she was good to go. Her dorm, East Laville, has spacious rooms so we were able to add a shelving unit I spray-painted gold for the microwave, coffee maker, etc. She loved it and I'm glad she did, because it was 2020 (the COVID-19 lockdown) and she spent a lot of time in that dorm. A lot.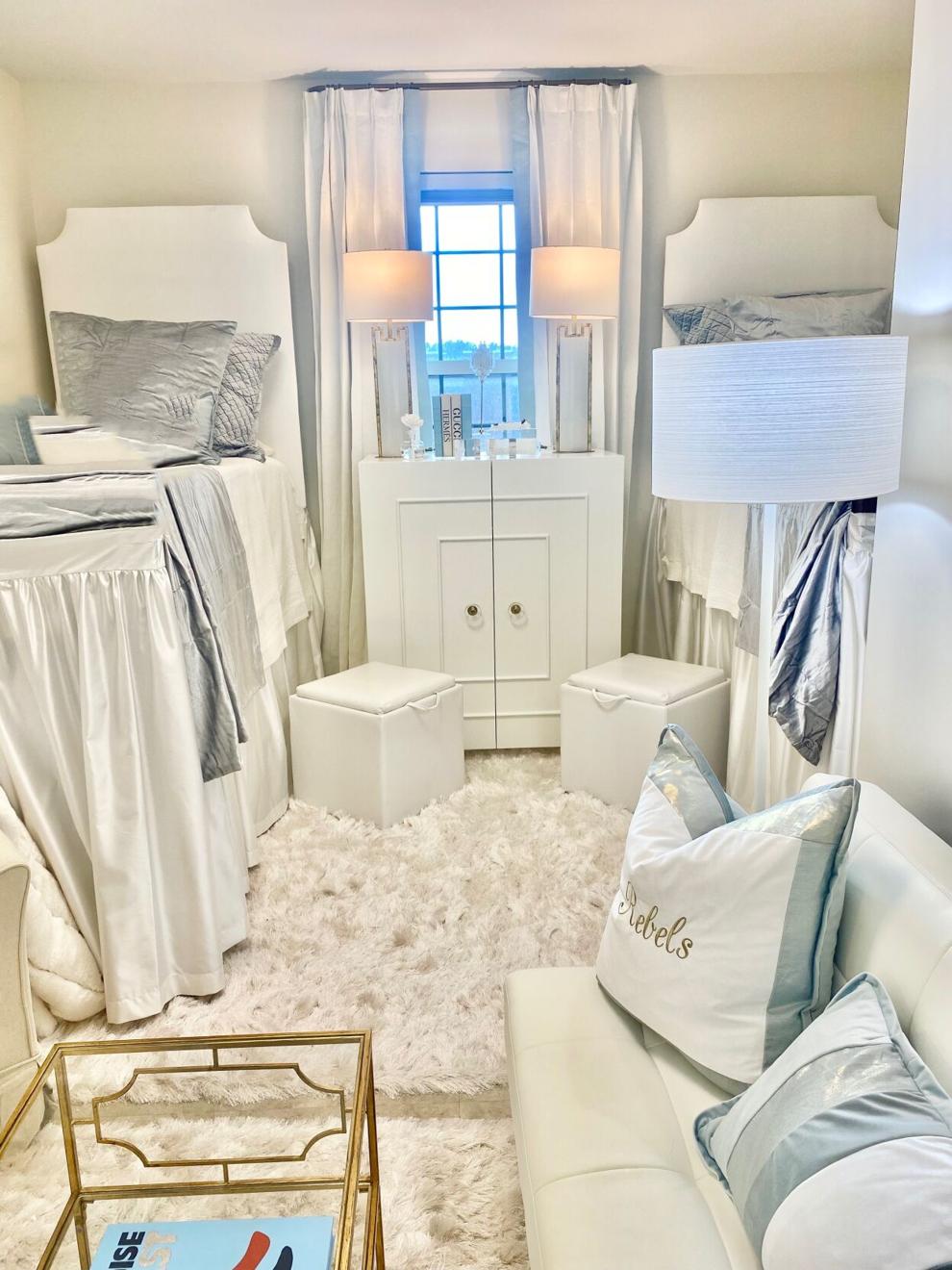 Colleges are getting the memo that comfortable, spacious, stylish student housing is a crucial recruitment tool. They are knocking down the relics of the '60s and building 21st century facilities more aligned with the aesthetics of today's students. LSU has built several new dorms, such as Azalea and Camellia, which feature a suite layout and ceiling fans. Amenities include lots of study spaces, work rooms and social areas with comfy seating.
Thankfully, most schools have very detailed measurements of the furniture and layout of the rooms in the dorms for your reference. This will come in handy and can be found by going to the website for your school and searching for resident life links. One such source for LSU is https://www.lsu.edu/housing/options/halls/azalea.php.
Bedding can be inexpensive and is usually a shade of white or pink, depending on the color scheme of the room. Guys are in on the trend too, with more rustic themes and lots of plaid and stripes. Start with duvets, quilts and shams. Add in some color with throw pillows and voilà — it's starting to come together.
The latest must-have is a "Dutch Euro" pillow, which is basically a huge pillow, about 38 inches-by-32 inches, that goes in front of the headboard. Pile on the pillows in front, creating a cozy place to study — maybe too cozy? Inserts can be found online.
Bed skirts for dorm beds are also available. They are split down the middle for access to the storage beneath. We added trim for some interest — a grosgrain ribbon along the lower edge is a nice accent to plain white. Headboards are sold in pairs just for this purpose and zip-tie to the bed frames.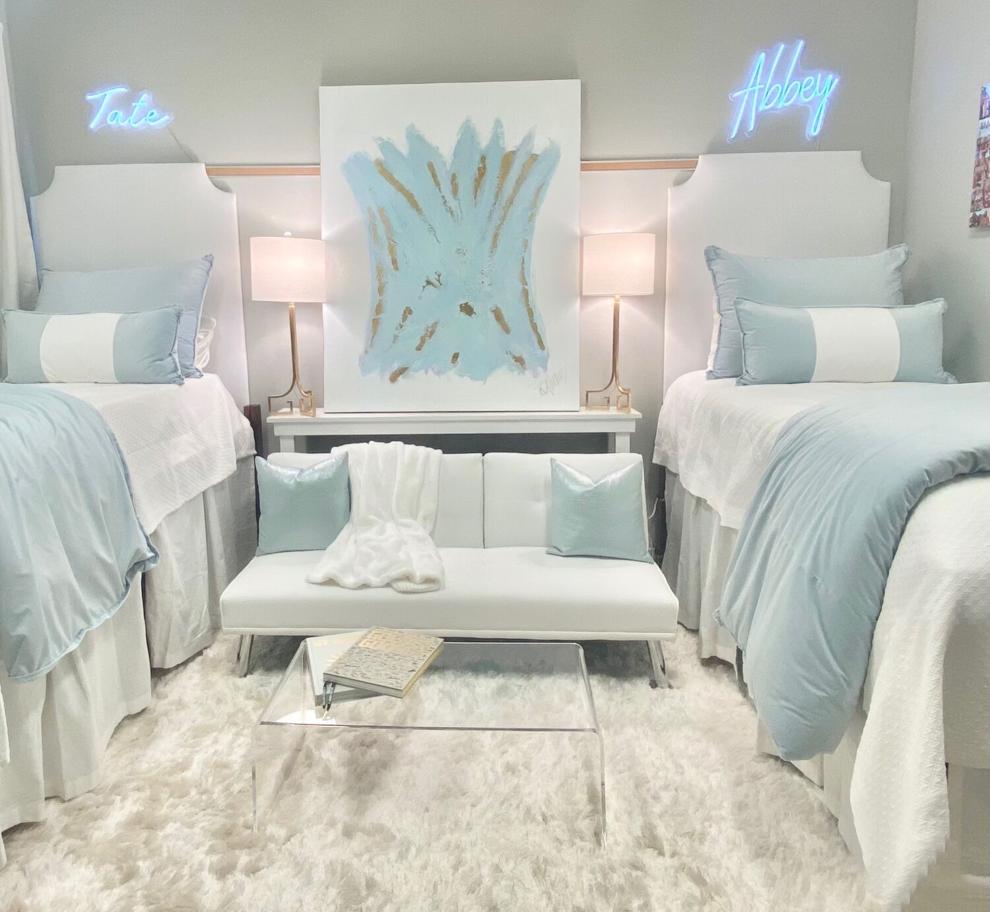 Windows are usually pretty bland with standard issue white blinds — so adding drapery panels or a Roman shade is a way to inject some softness into the room. Drilling into walls is not allowed, so 3M Command brackets will need to work their magic. Just don't put a lot of weight or pressure on them.
Basically, hang them and leave them alone.
Instead of panels, we hung a faux Roman shade with a tension rod in my daughter's dorm. These can also have blackout lining for those mornings when the sun shines just a little brighter than normal.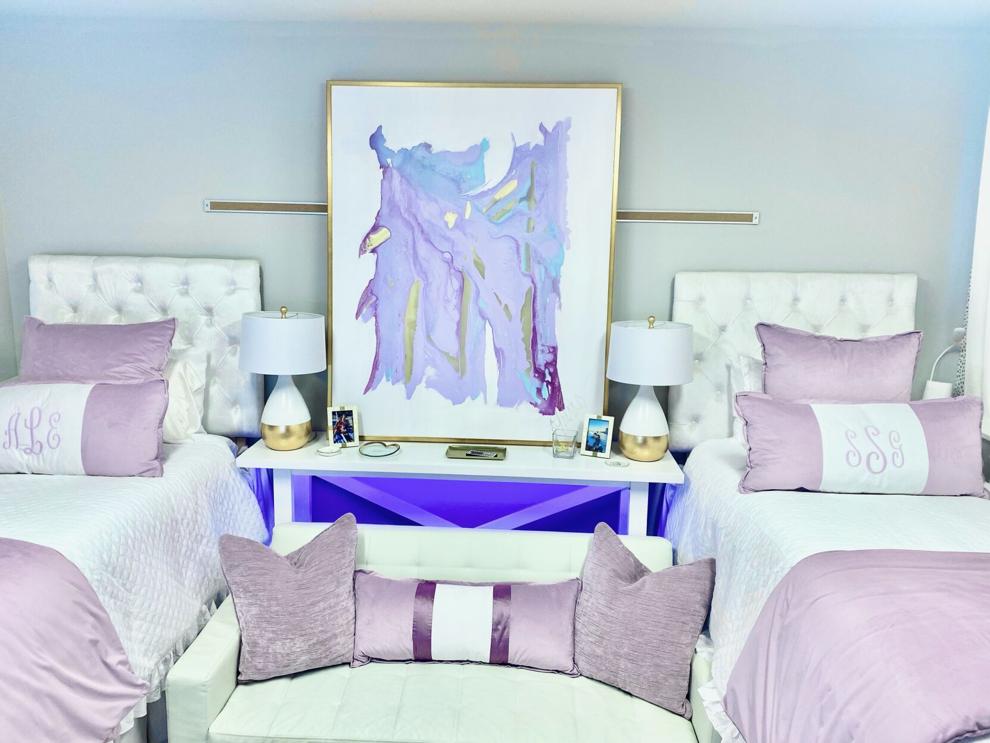 Bringing in additional furniture is usually allowed but removing any existing dorm furniture from the room is not, so make sure you can fit everything.
Some popular additions are the cabinets between the beds, which can house a dorm refrigerator and microwave, snacks and various supplies. Many are handed down or sold from one occupant to the next each year. Many Facebook pages for dorm life are out there and can be helpful in this regard. Same goes for bedding and headboards. Inexpensive love seats can be added under the fully lofted beds for a cool hang-out spot. Cute lamps set the mood for the room.
You don't have to spend significant dollars to make a basic dorm room look cute. Local thrift shops for furniture and lamps, plus Amazon, Overstock, Wayfair, Target, HomeGoods have many options.
The most important design rule of all is to remember that this room is for your college student, not for you (something I had to constantly remind myself, I admit) and it should reflect their personality and style.