Grey and white living room ideas can be anything from restrained and restful to daring and glamorous. With such a vast array of white and grey tones to choose from, the scope for creating different looks and styles is endless.
As neutral colors, grey and white makes a brilliant pairing if you're looking to layer your living room with color, print and artwork, but a carefully considered monochrome scheme can also have wow-factor. 
If you're thinking of decorating with grey together with white then you're in the right place as we've gathered a host of different room ideas to help get you inspired as well as some handy advice from the interior experts. 
Grey and white living room ideas – 11 stylish monochrome schemes
While grey and white room living room ideas can be seen as a safe choice, there's no reason why they should be drab and boring. With the right treatment grey living rooms can be show-stopping, the key is in mastering tone and texture.
'Using a white or natural palette is all about adding depth and contrast in different layers and textures,' says Jane Landino, creative head of studio at Taylor Howes (opens in new tab). 'To make a neutral palette feel designed and considered it's important to mix and match patterns, albeit neutral ones and occasional pops of color.
'Just because something is white doesn't mean it has to be plain: think about the application – is the wallpaper silk or textured, as an example.' To bring extra interest to grey room ideas consider introducing, 'colorful art, accent soft furnishings and antique furniture and objects,' adds says Jane Landino.
1. Use dark grey with white for a cozy feel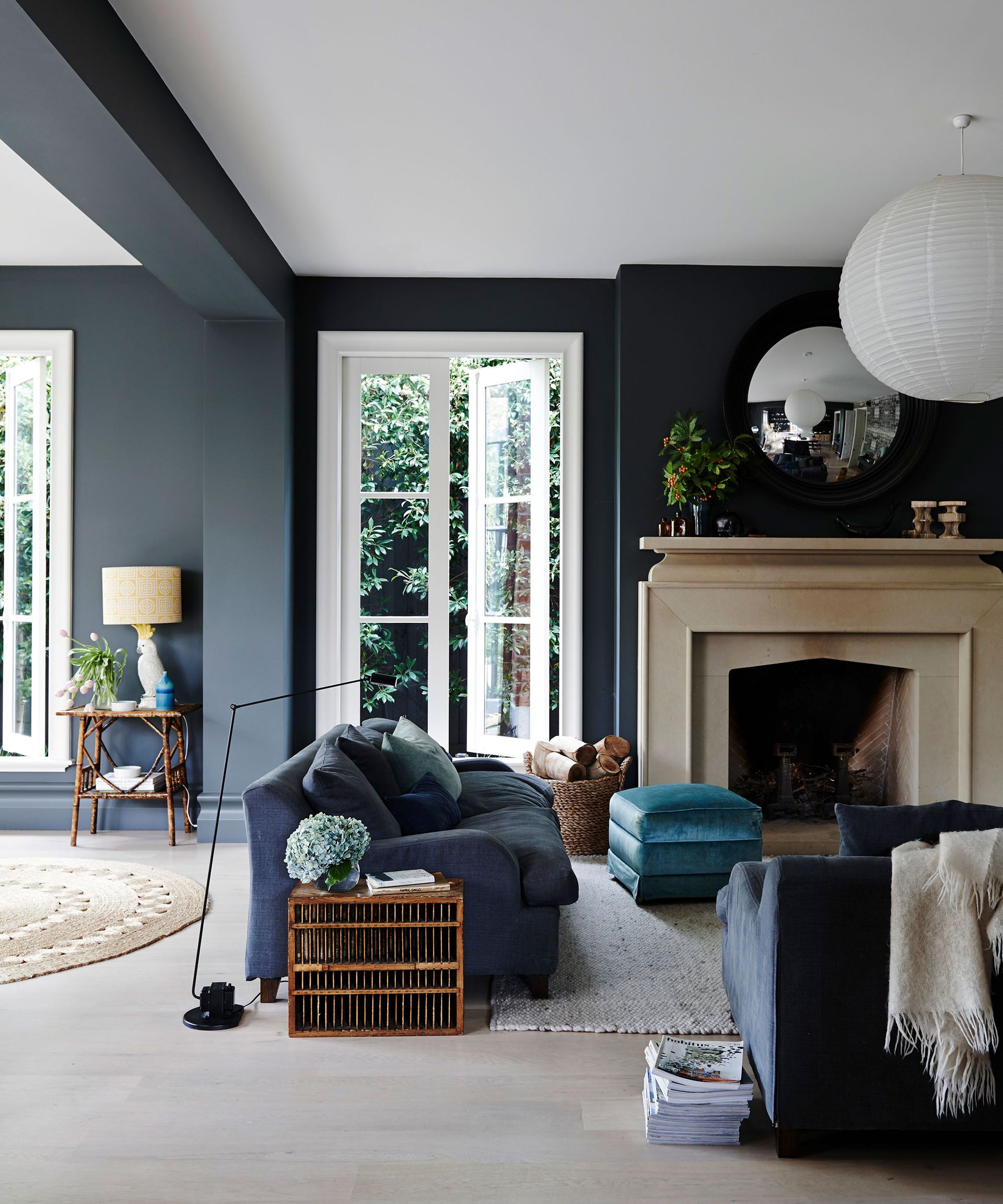 Choosing dark grey living room paint ideas may feel daunting, but they can be wonderfully effective for creating a cozy feel.
'Using dark charcoal greys or black shades can create a sense of intimacy, and an encompassing feel when used in an all-over scheme,' says Ruth Mottershead, creative director of Little Greene.
With its white French doors and light wood floor, this dark living room remains feeling bright and welcoming. The large space also has the luxury of being flooded with light, which makes the deep walls less dramatic, however, 'don't be afraid to use darker shades in spaces lacking natural light,' says Ruth, 'these can often be great places for creating impact and a real wrap-around feel.'
2. Layer light, warm greys for a tranquil feel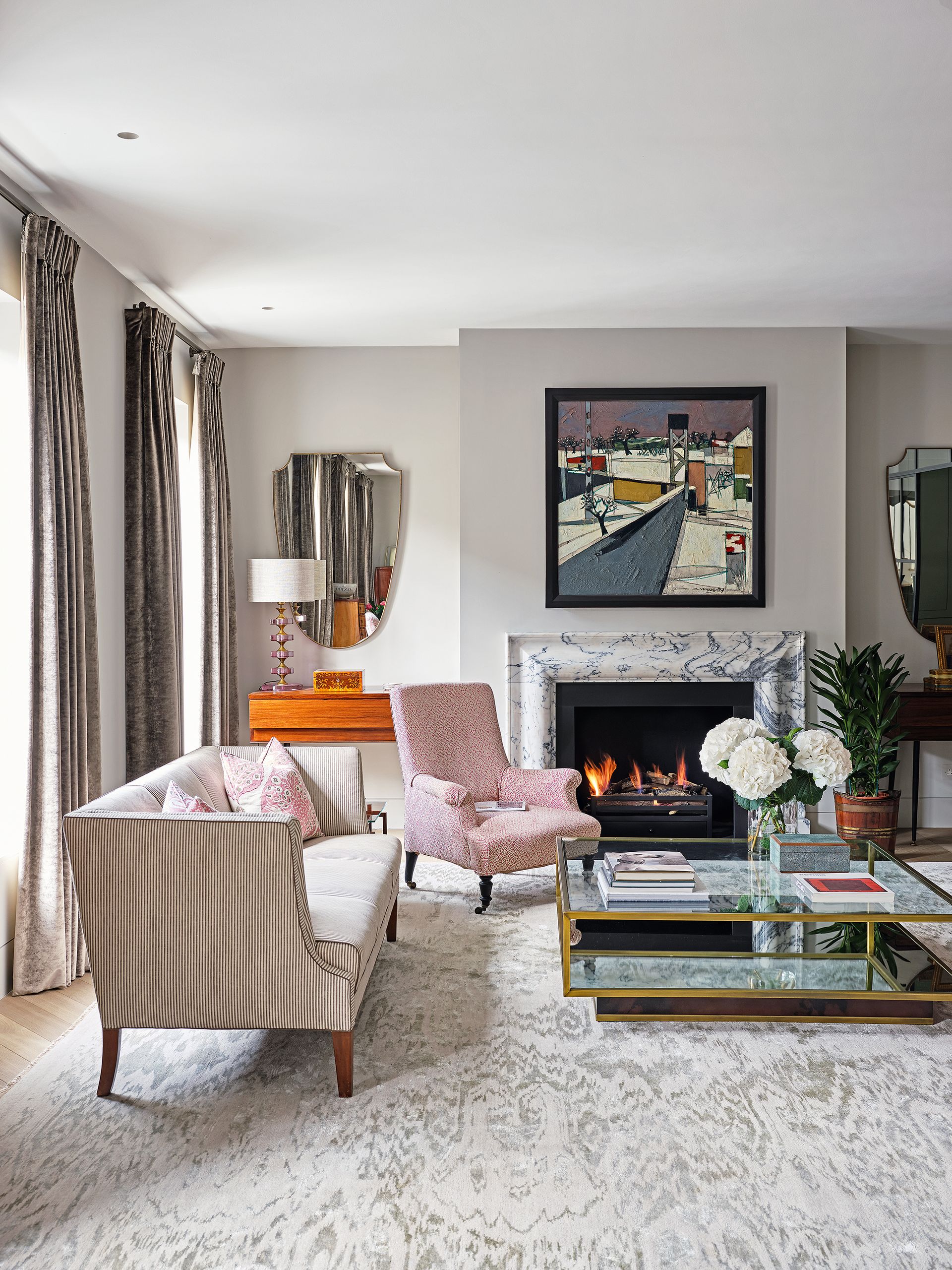 For a restful yet uplifting living room to retreat to at the end of a hard day you can't go wrong with a scheme of delicate greys and subtle off-whites with warm undertones. 
'Warm mid-greys and setting plaster tones are very calming and gentle in the summer, which evoke feelings of fresh open spaces. These colors also work really well in winter months as they don't make a space feel cold,' says Martin Waller, founder of design brand Andrew Martin (opens in new tab).
Elements of white introduced through the marble fireplace, lampshade, artwork and in the textured living room rug help lift and elevate this grey scheme, while hints of blush pink bring softness and elegance.
3. Add pattern with a grey and white carpet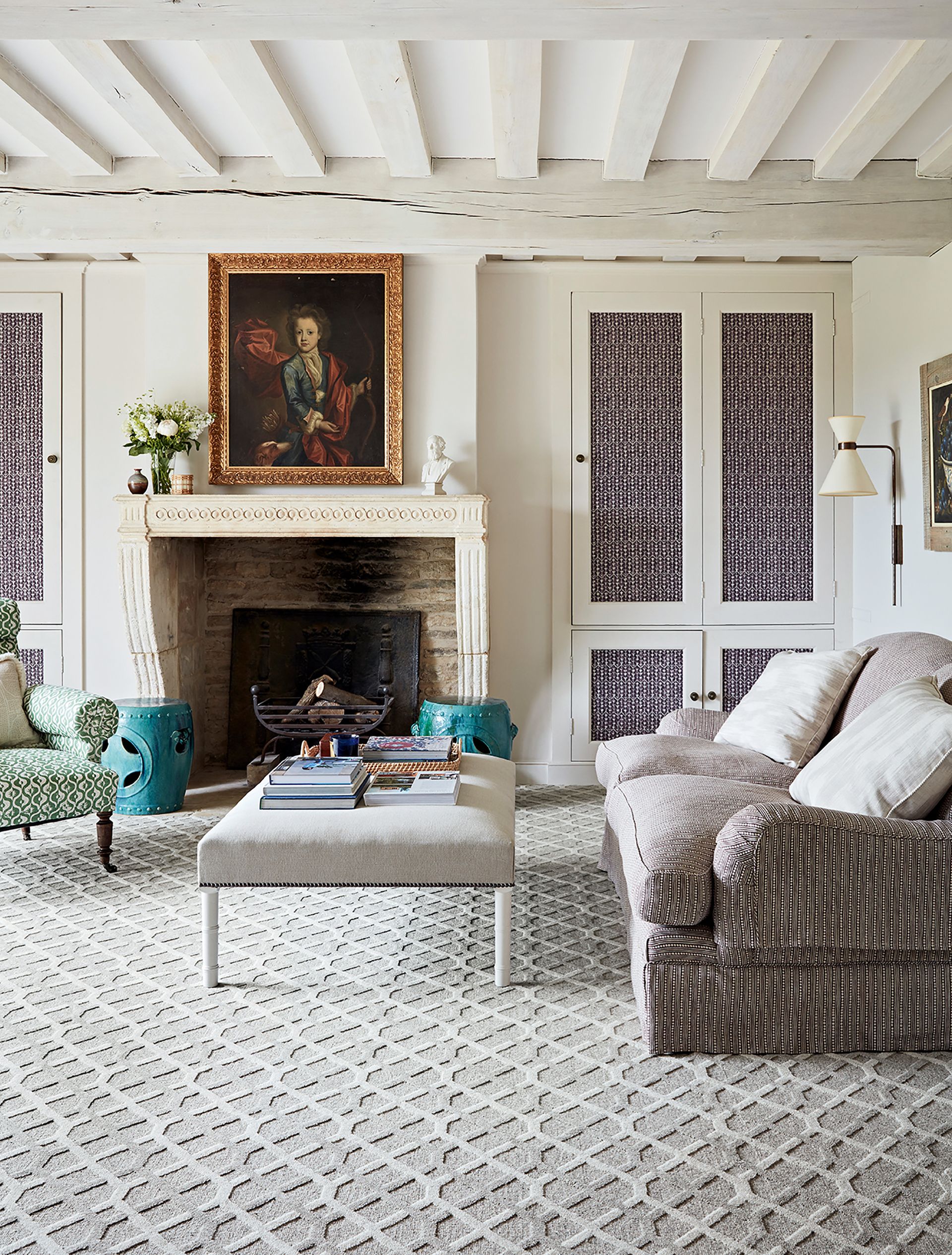 White living rooms can run the risk of feeling cold and stark – adding a carpet in a light grey will instantly warm up the look and bring coziness underfoot while keeping the space relaxed and neutral. 
'A neutral color palette is best suited to rooms you spend a lot of time in, such as a bedroom or living room, where relaxing tones are key to creating a happy space. Neutrals are versatile with the ability to provide a platform and set the scene,' Jodie Hatton, design manager at Brintons (opens in new tab).
When choosing a living room carpet for a neutral scheme you may want to consider a patterned design, not only will it bring extra texture and interest it can help disguise stains and wear and tear which is great for busy rooms.
4. Create a minimalist look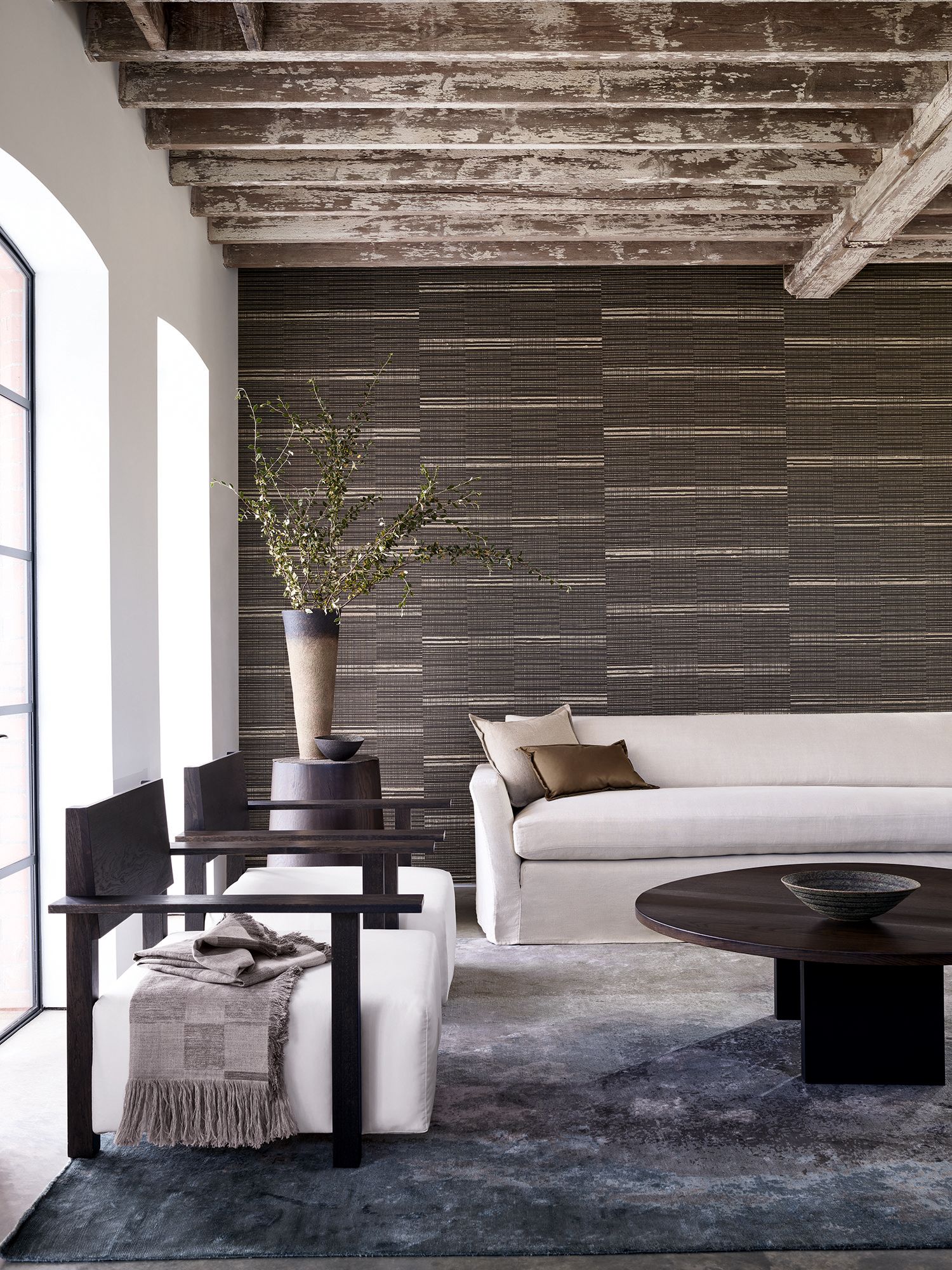 Monochrome palettes are a hallmark of minimalist living rooms, in which pared-pack and purity of design reign supreme. 
In this space the high-contrast combination of dark grey and white helps focus attention on the beautiful streamlined forms of the furniture, creating a head-turning and contemporary look. 'Natural qualities and understated design come together to form a stylish and minimalist space,' says Mark Butcher, head of Mark Alexander (opens in new tab) wallpapers of the look.
Elements of texture introduced through the Mark Alexander wallpaper and the large wool rug help bring warmth to the space and prevent it from feeling stark. 
5. Pair grey and white with gold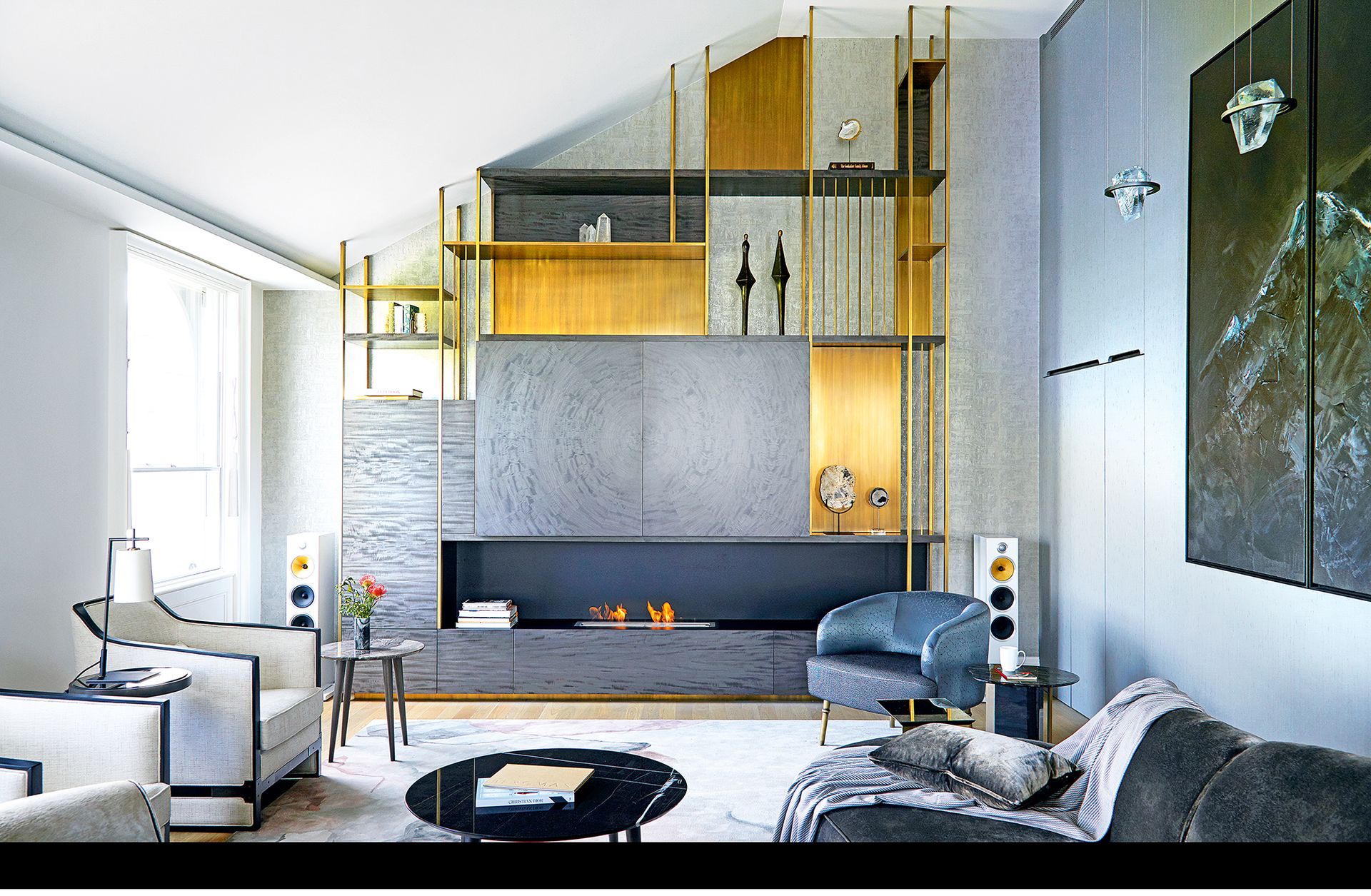 Introducing metallics into a grey and white living room will instantly lift the space and bring an element of glamor – perfect if you're looking to create a luxury living room.
Combining textured grey surfaces, dazzling gold detailing and a beautiful angular shape, this bespoke living room shelving unit by Bergman Design House (opens in new tab) radiates warmth into this cool space, but also serves as a piece of functional sculpture. 
6. Add an accent color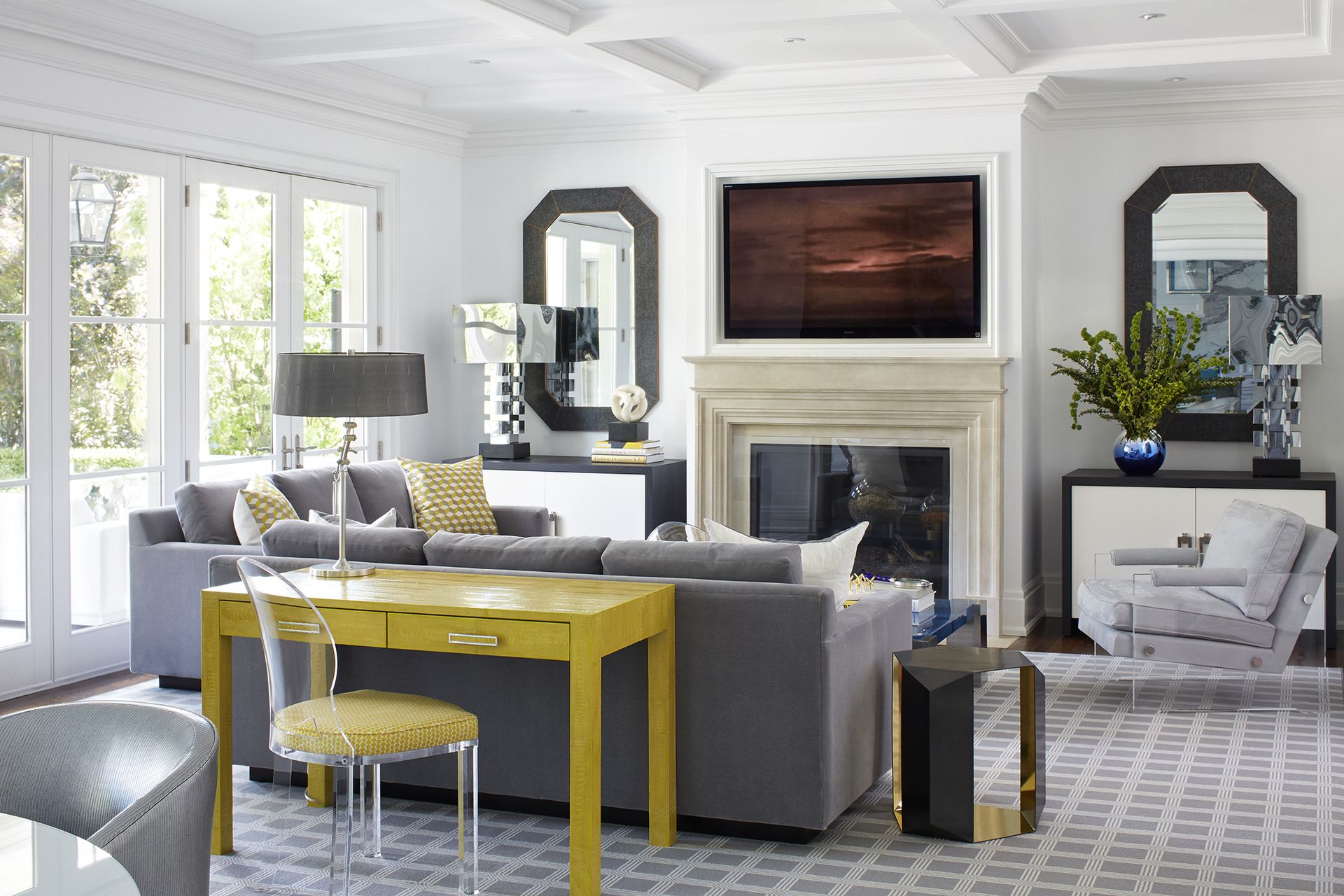 If you love bold colors but are cautious of using them in large quantities, consider using them as accents in a grey and white scheme. 
Thanffully, choosing accent colors for grey and white is easy, as being neutral shades they pair well with pretty much every color. Yellow is a popular choice which will bring instant zest to a grey and white living room. Choose mustards for a mid-century feel or zesty citrus shades to keep things cool and contemporary.
7. Use a two-tone palette to showcase the architecture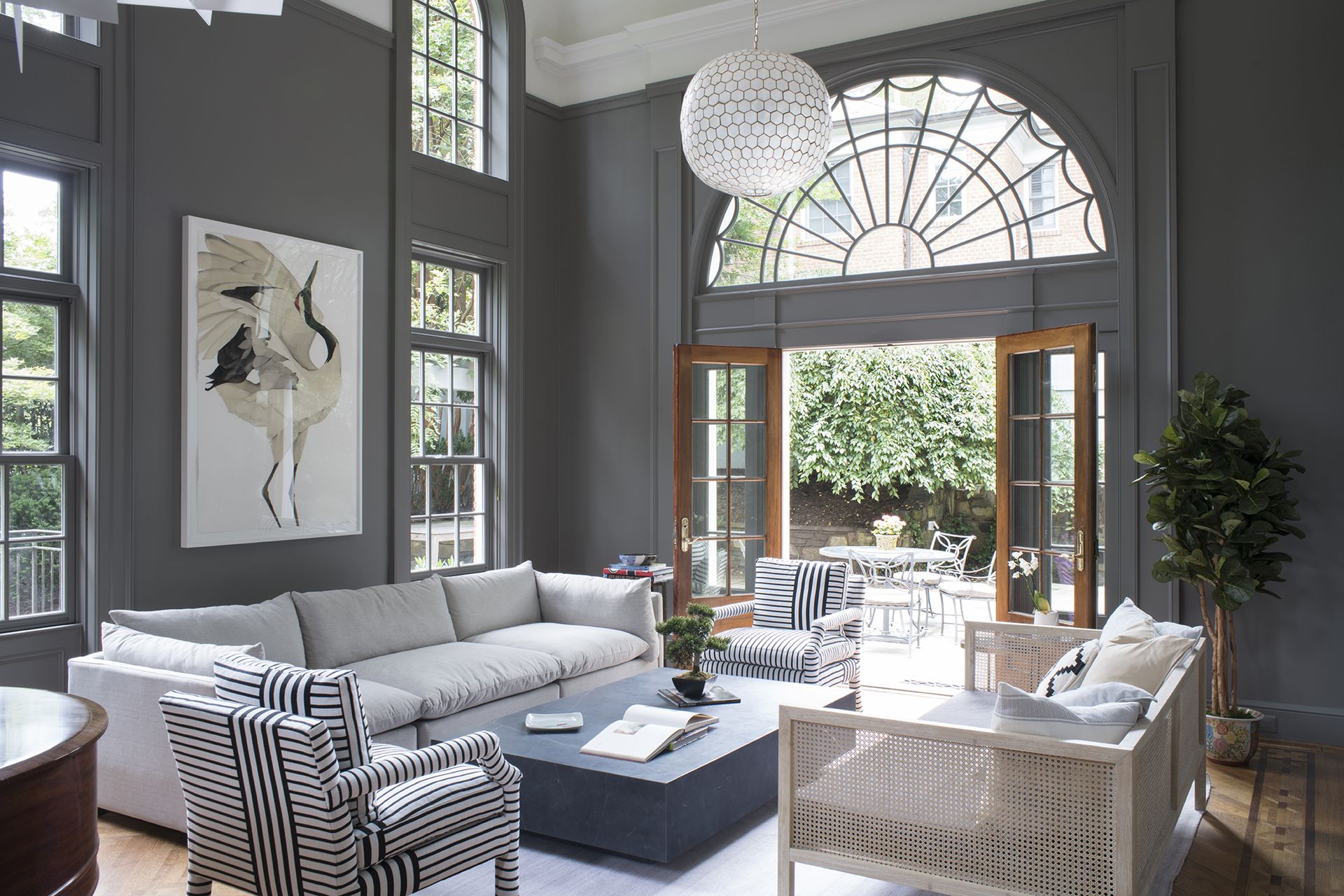 Decorating with a pared-back palette of grey and white in a living room can be a great way to showcase the beautiful architecture of a space, as demonstrated in this two-tone living room design by Catherine Fowlkes of the DC-based architecture firm Fowlkes Studio. (opens in new tab)
'I like using warm greys to give depth to walls without dictating the room's furniture palette – light greys add a layer of softness while rich greys add depth,' says Fowlkes. 'Coating the windows, doors and trim in the same grey wall color further unifies the backdrop to a living room and can give the illusion of a higher ceiling when painted in a contrasting color. I gravitate towards greys with less blue and more brown in them.'
8. Layer greys with beige and brown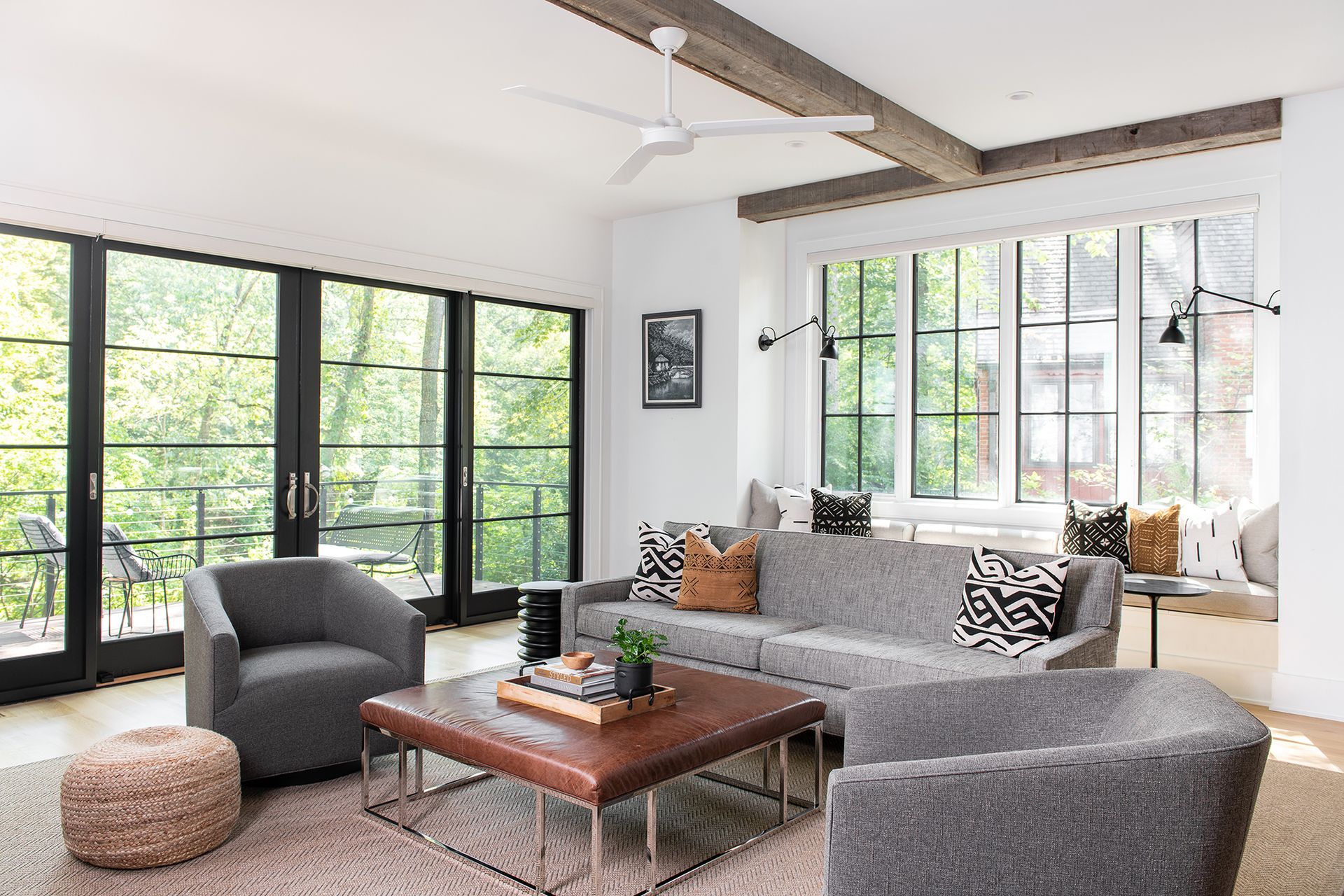 If you're fortunate enough to have a space flooded with light from large windows then decorating with white is a great way to enhance the light and airy feeling, however an all-white scheme can lack warmth.  
In this space by MV architects the a wooden floor in a honeyed tone helps warm up the space while furnishings and accessories in grey, taupe, oat and tan all combine to bring depth and interest.
9. Add texture with natural materials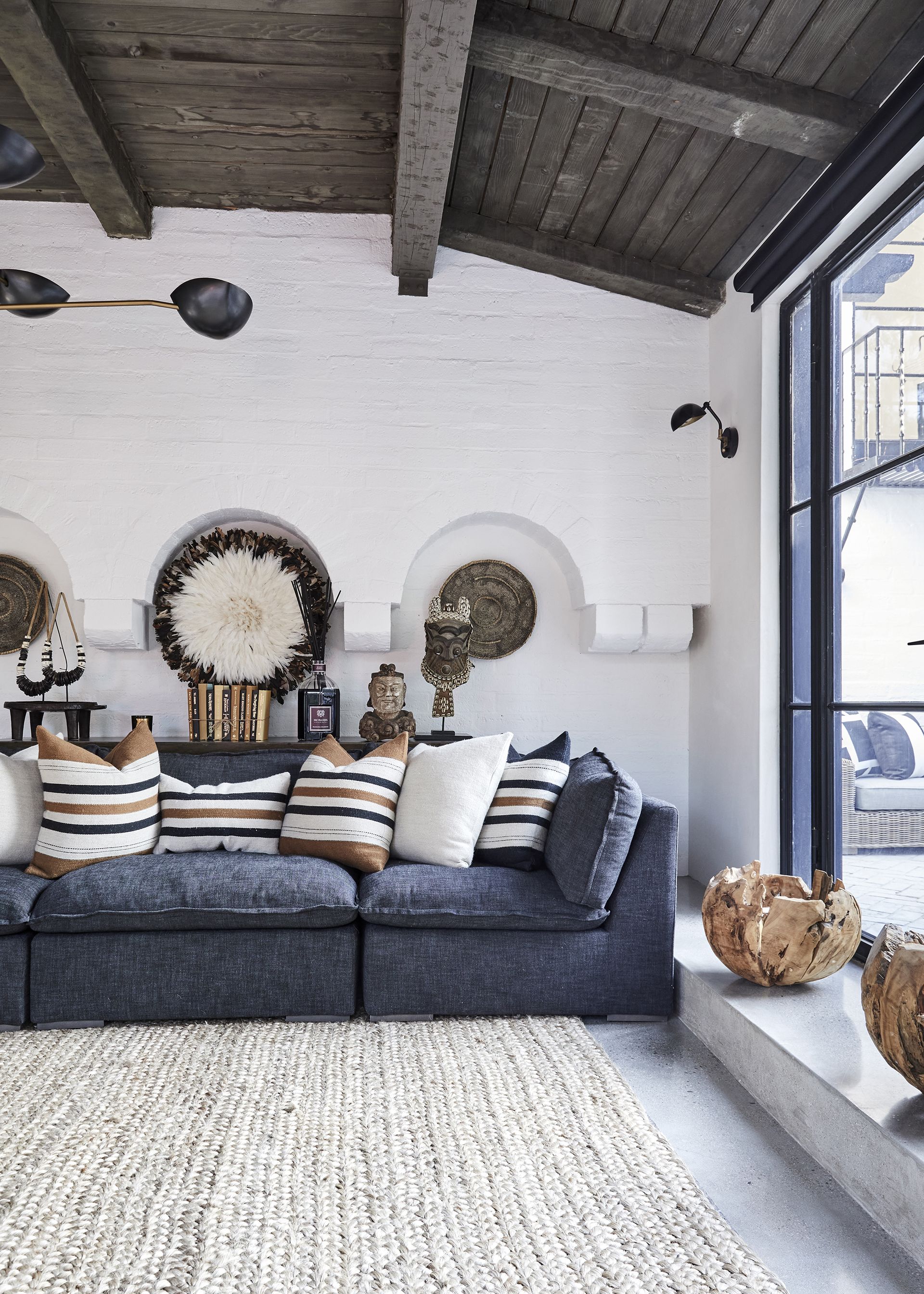 When decorating with neutrals it's important to introduce plenty of texture to prevent the scheme feeling austere, and furnishing with natural materials can be a brilliant way to do this.
In this farmhouse living room, interior designer Julia Dempster has paired a chunky wool rug and a relaxed grey sofa in charcoal linen with wooden sculptural bowls to create a rustic feel. To finish the space Julia has added a selection of antiques to bring further character.
'In this living area I selected textural pieces such as a 3D Juju hat made of feathers from St. Frank and vintage tribal handwoven baskets from Fragments of Identity,' says Julia Dempster (opens in new tab).
'The architectural features were curved, and I wanted the artwork emphasize the architectural elements, the three pieces were selected to reflect both the wall and the colors and textures within the sisal rug and the cushions on the sofa.'
10. Choose a grey and white wallpaper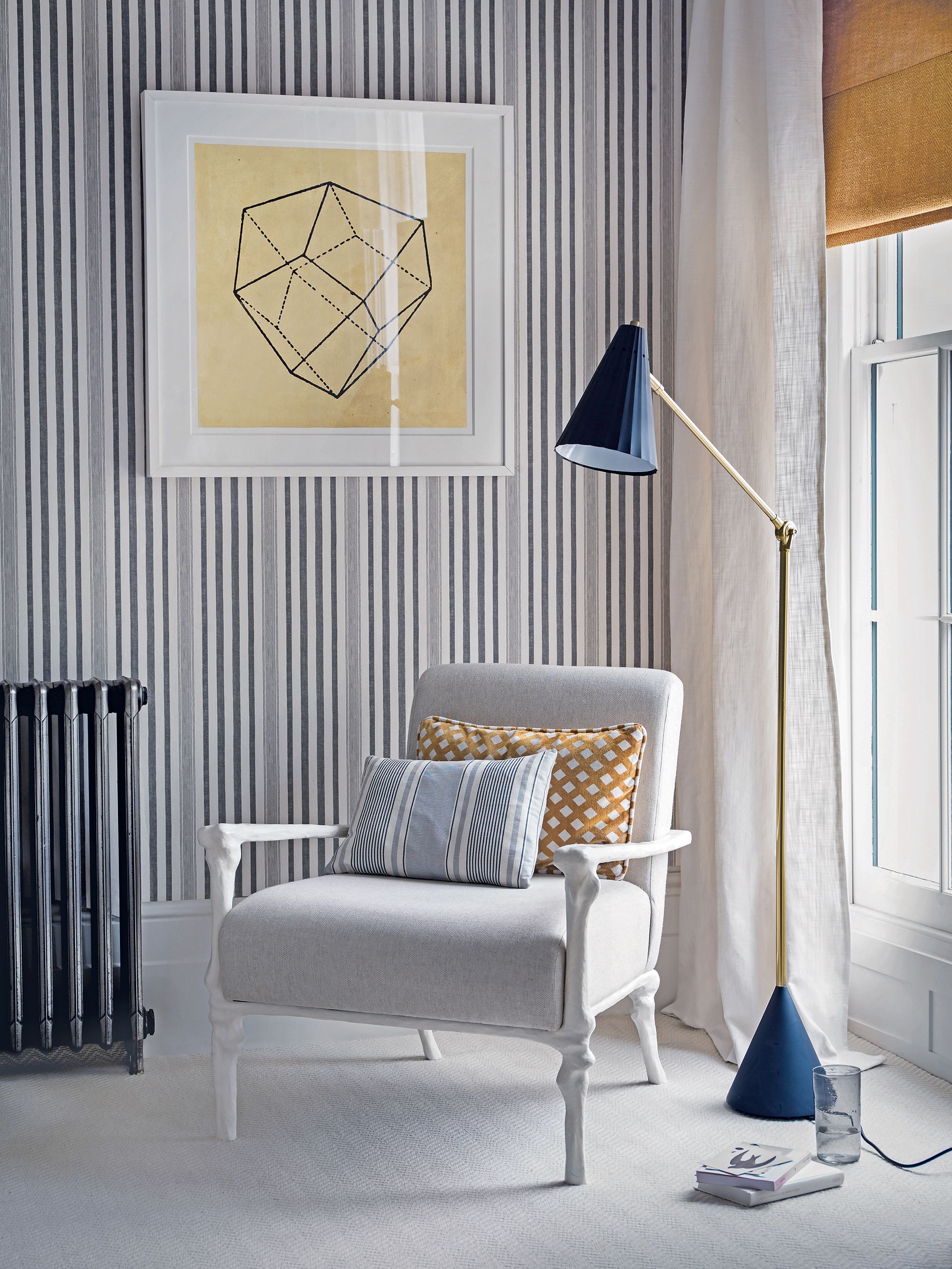 Whether used wall-to-wall, or as single feature wall, patterned wallpapers are a wonderful way to bring interest to a grey and white living room. 
A large scale floral or statement mural is guaranteed to make an impact, but for something that's easier to live with you can't go wrong with a living room wallpaper in a stripe, plus it will endure across the years.
11. Pair grey and white with navy for a smart look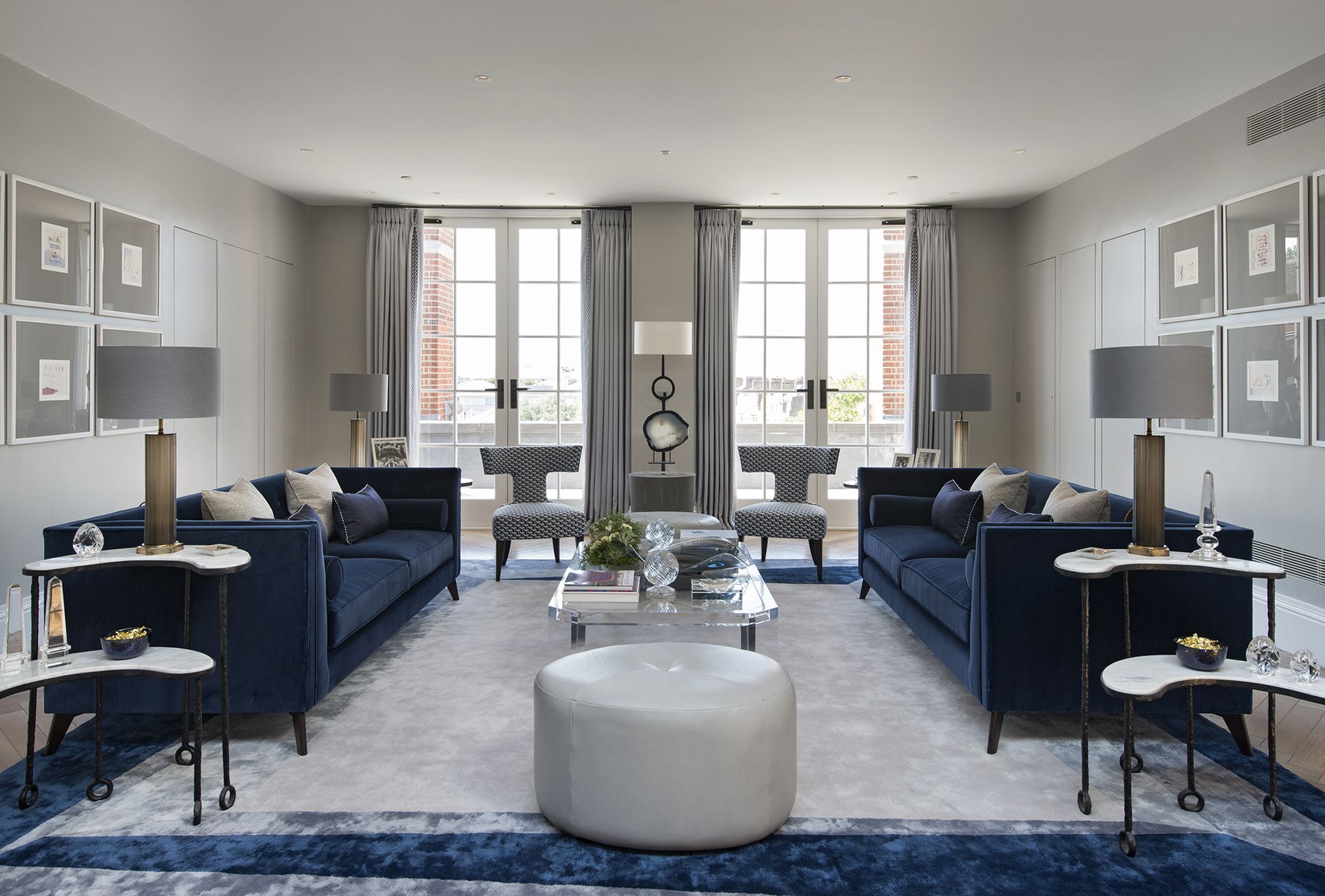 A versatile and tranquil color, blue is a popular accent color for grey and white living rooms. While blue together with grey and white often conjure coastal decor ideas, the palette can be used to evoke a smart and sophisticated look. In this blue and grey living room, interior designer Joanna wood has combined layers of grey with deep navy velvet and glossy finished to achieve a luxe feel. 
'French doors call for light and bright colors but we wanted to add some darker tones to keep the room warm. I love navy with grey and there's something about a velvet sofa that is so luxurious,' says Joanna Wood (opens in new tab). 
'If you've got paler colors on the walls and ceiling and color on the floor then have some tall table lamps so that the room doesn't seem split in half.'
How do you add warmth to a grey and white living room?
There are many ways to add warmth to a grey and white living room, from adding warm accent colors such as reds and terracottas to the addition of textural materials, cozy rugs and ambient living room lighting. 
'However, to bring a feeling of warmth to a living room the best place to start is to think carefully about the shade of white or grey you use on the walls, as the tone can have a big impact on the feel of the space,' advises Dominic Myland, director of Mylands paints (opens in new tab).
'Shades of white can range enormously, from a bright, brilliant white like Pure White No. 1 to a warmer shade with hints of yellow or orange like Whitehall No. 9, and so choosing the right white is an important decision.'
'South-facing rooms with plenty of light can take cooler whites with their undertones of blue or green, like Greenwich Time No. 8, but we recommend warmer whites for darker, north-facing rooms. We always advise testing paint choices in situ first to see how they appear in different lights throughout the day.'   
A good lighting scheme can instantly lift the atmosphere of a monochrome space making it feel instantly warmer.
'Don't forget the lighting, as this too plays a big part in a white room, says Simon Temprell, interior design manager at Neptune (opens in new tab). 'Choose a light bulb color temperature of 2700K and it will draw out the warmer shades, making it feel inviting and cozy.'
What colors go best with grey and white?
As neutral colors grey and white make easy colors to decorate with as they pair brilliantly with many other shades on the color wheel. When paired with different colors, grey and white can be used to create all manner of different looks.
Combining light shades of grey and white with muted natural tones of beige, stone, cream and off-white is a brilliant way to create a calming, laid-back feel. Alternatively, consider pairing grey and white with bold colors like acid yellow, red or teal for a more energizing and dramatic look.
Grey white and navy is a great way to create a smart and sophisticated look, palette of grey, white and blue is a perfect base for cool coastal living room ideas. 
'Combining light and airy blues and greys also works effectively to create an elegant and sophisticated look that is soothing. The brighter shades and muted hues help create a calming space that can be updated time and time again with more affordable accessories to refresh the look,' says Emma Deterding, founder and creative director, Kelling Designs and KDLoves (opens in new tab). 'You can add texture and dimension to this by layering light and airy linens and natural textures that pay homage to the nautical look.'
Primary colors such as yellow, red and blue can work well with grey and white if you're looking to create a mid-century modern decor scheme, alternatively, for an elegant and feminine scheme you can't go wrong with pairing grey and white with blush pink or soft lilac.