Lawn edging ideas can provide the perfect finishing touch to your garden landscape. Not only does it tie the whole look together but lawn edging ideas also help you to maintain that picture-perfect appearance with minimal effort. From demarcating a path from a grassy space to providing a hard border between flower beds and lawns, lawn edging ideas can bring order to a variety of different spaces. 
Lawn edging is an often overlooked element of garden ideas, however, it can add interest to your plot while also disguising what are often otherwise left as rough edges. 'Decorative edges are both functional and attractive, especially during the winter when gardens can tend to look quite bleak and featureless,' says restoration expert Helaine Clare.
Lawn edging ideas to define your space
Selecting the right lawn edging for your garden landscaping ideas will primarily depend on the style of your garden design. Cottage garden ideas will benefit from a more organic look, perhaps terracotta edging or decorative borders, while more modern garden ideas will suit a sleeker edging whether minimalist metal or a white brick path. 
1. Lawn edging ideas with evergreen plants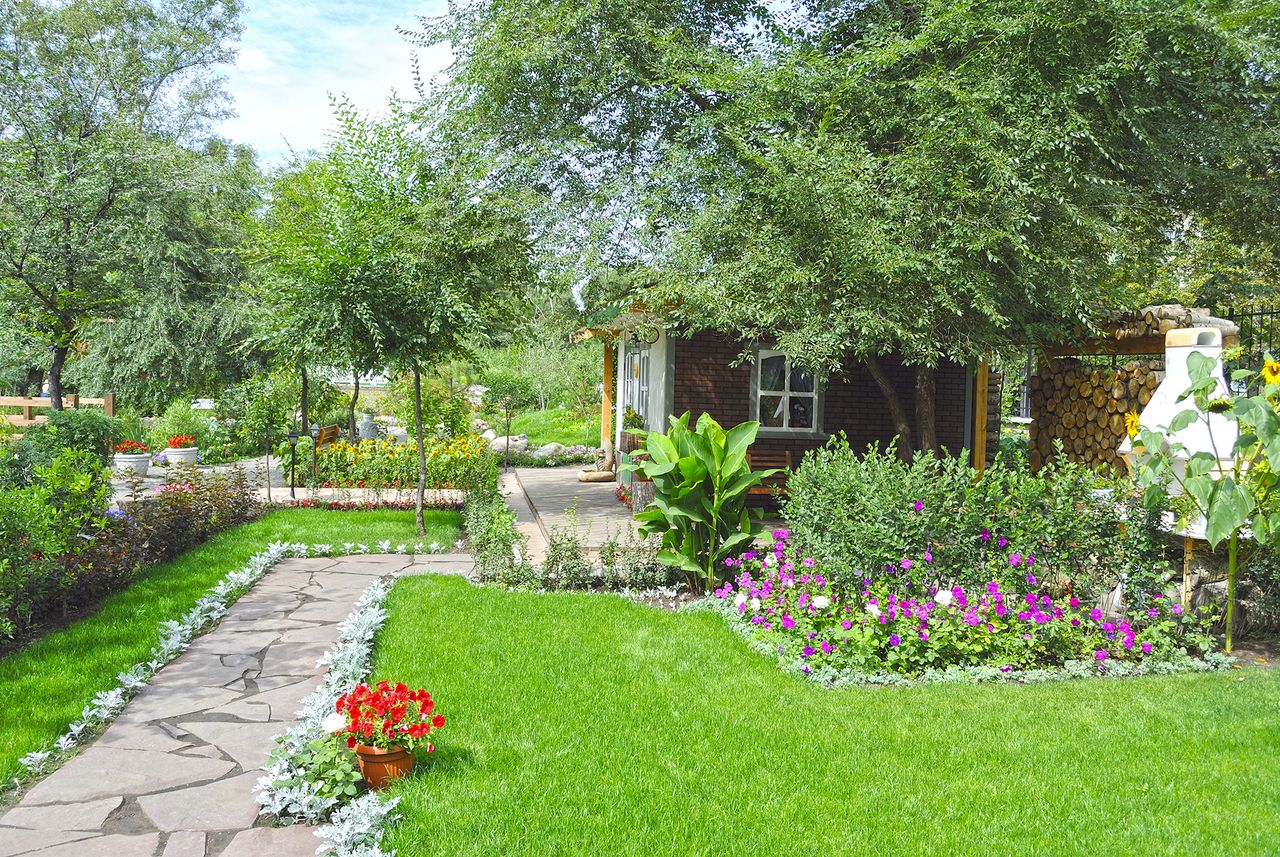 If you're looking for natural lawn edging ideas that will look great all year-round, then be sure to pick an evergreen plant. Small hedges, like box or privet, offer traditional lawn edging ideas but why not consider planting more unusual evergreen plants which can add unique texture and interest to your plot.
In this garden, the beautiful leaves of Silver ragwort, also known as Jacobaea maritima 'Silver Dust', frame the edges of the lawn, providing demarcation between the lawn and the path and the borders.  
Due to its year-round color and beautiful textured leaves, silver ragwort is particularly valuable during the colder months of the year and is a stunning addition to winter garden ideas. Despite being a half hardy perennial, it is more typically grown as a half hardy annual. While silver ragwort does produce bright yellow blooms in spring, these are typically removed in order to promote leaf growth, which is beautiful in its own right.
2. Add a path to create practical lawn edging ideas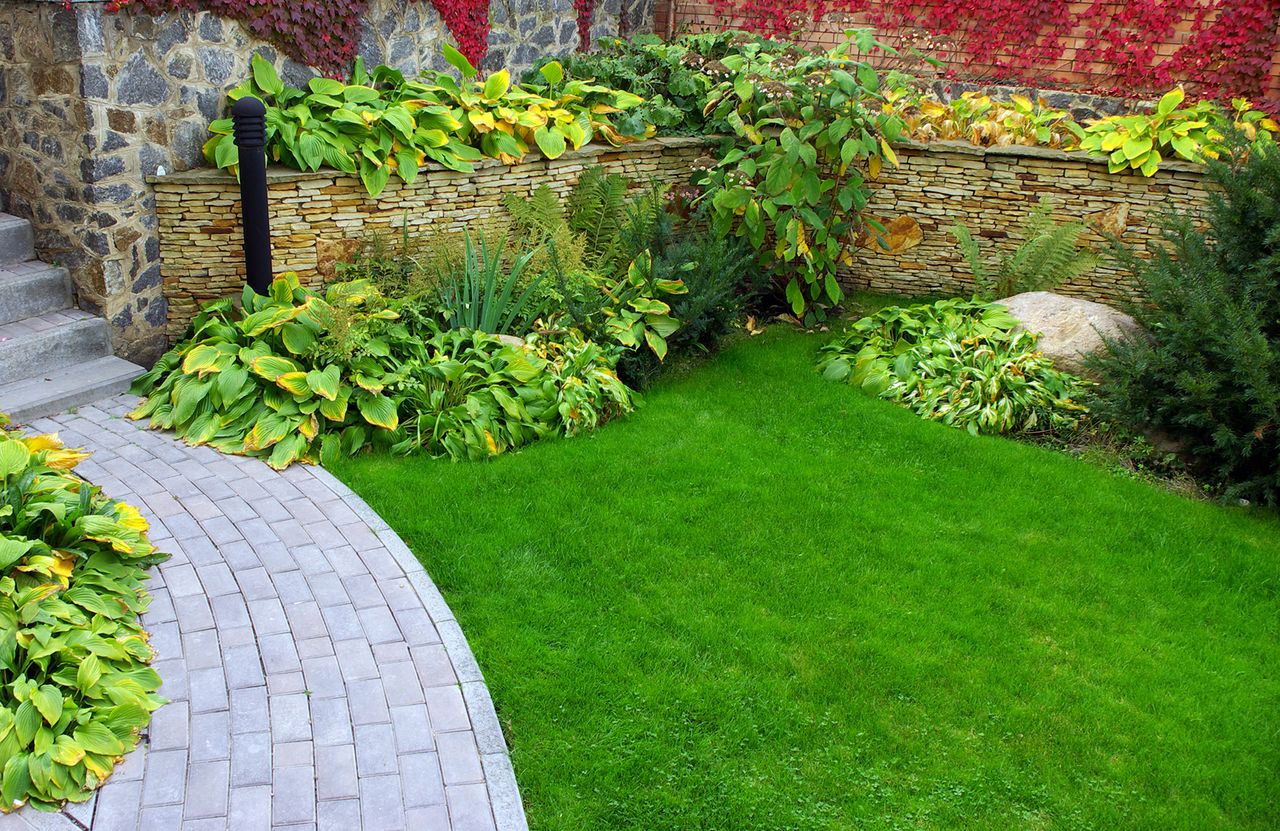 Garden path ideas are an essential part of the garden, adding structure to your space as well as providing a decorative touch. Add a path that abuts your lawn for lawn edging ideas that are practical as well as pretty. Here, a narrow white brick border blends seamlessly with the path and provides an elegant and minimalist lawn edging, which is the perfect foil to the luscious lawn.
'When installing edging, consider exactly where it's going. If you want to edge between a lawn and patio or between a lawn and path, consider the fact that raised edging in the middle of your garden could cause a trip hazard or cut off these spaces from the rest of the garden. In these spaces, a flat edging or setts offer the best option,' says Lee Dunderdale, product manager at Bradstone.
3. Add floral lawn edging ideas for a cottage-look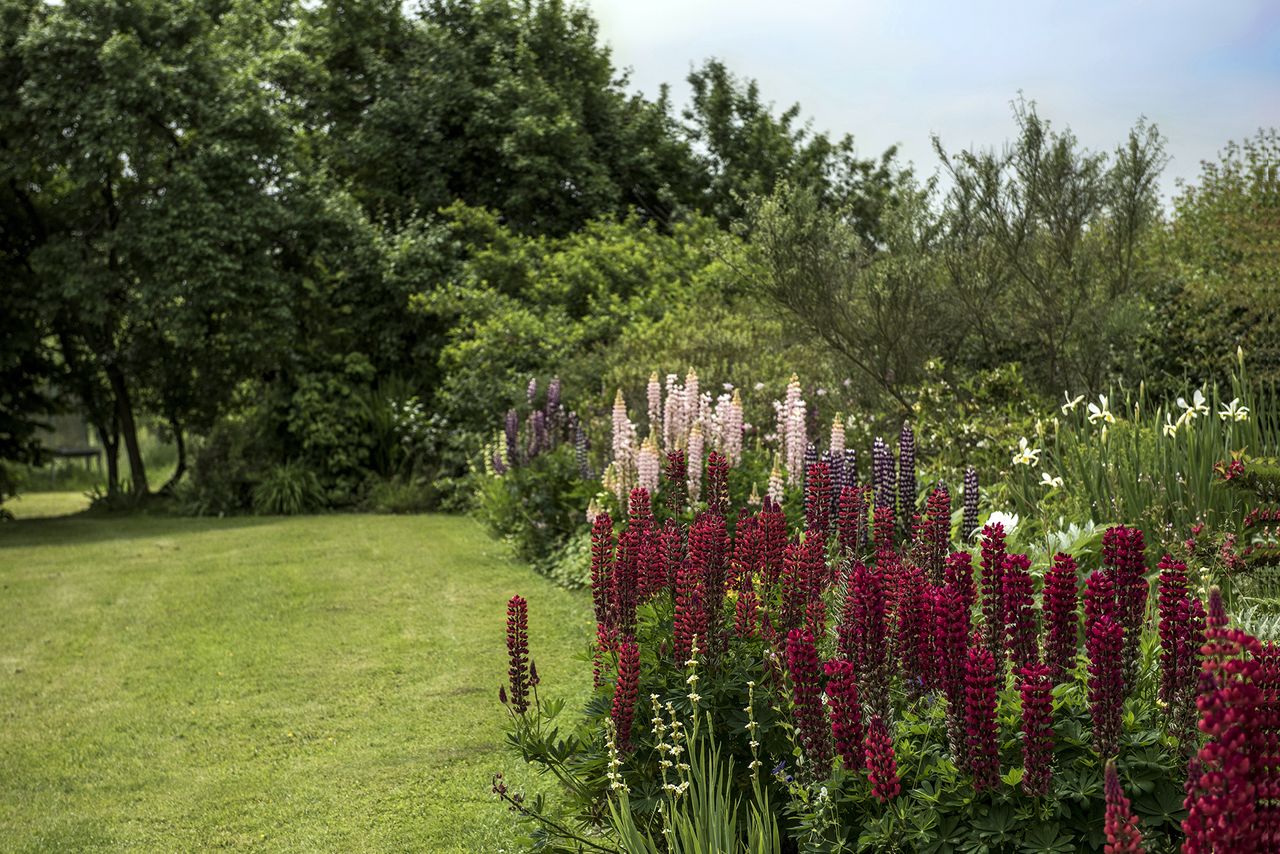 If you're looking for lawn edging ideas that will make your garden more wildlife-friendly, then consider using flowers that attract bees to edge your lawn. In this garden, tall foxgloves provide a pretty edge to the lawn as well as offering a valuable source of pollen to visiting insects. Plus, with a range of different colors and patterns, they provide a beautiful addition to the garden.
When used for lawn edging ideas, it is important that you know how to grow foxgloves to ensure the healthiest plants to frame your plot.
4. Draw on natural materials with terracotta lawn edging ideas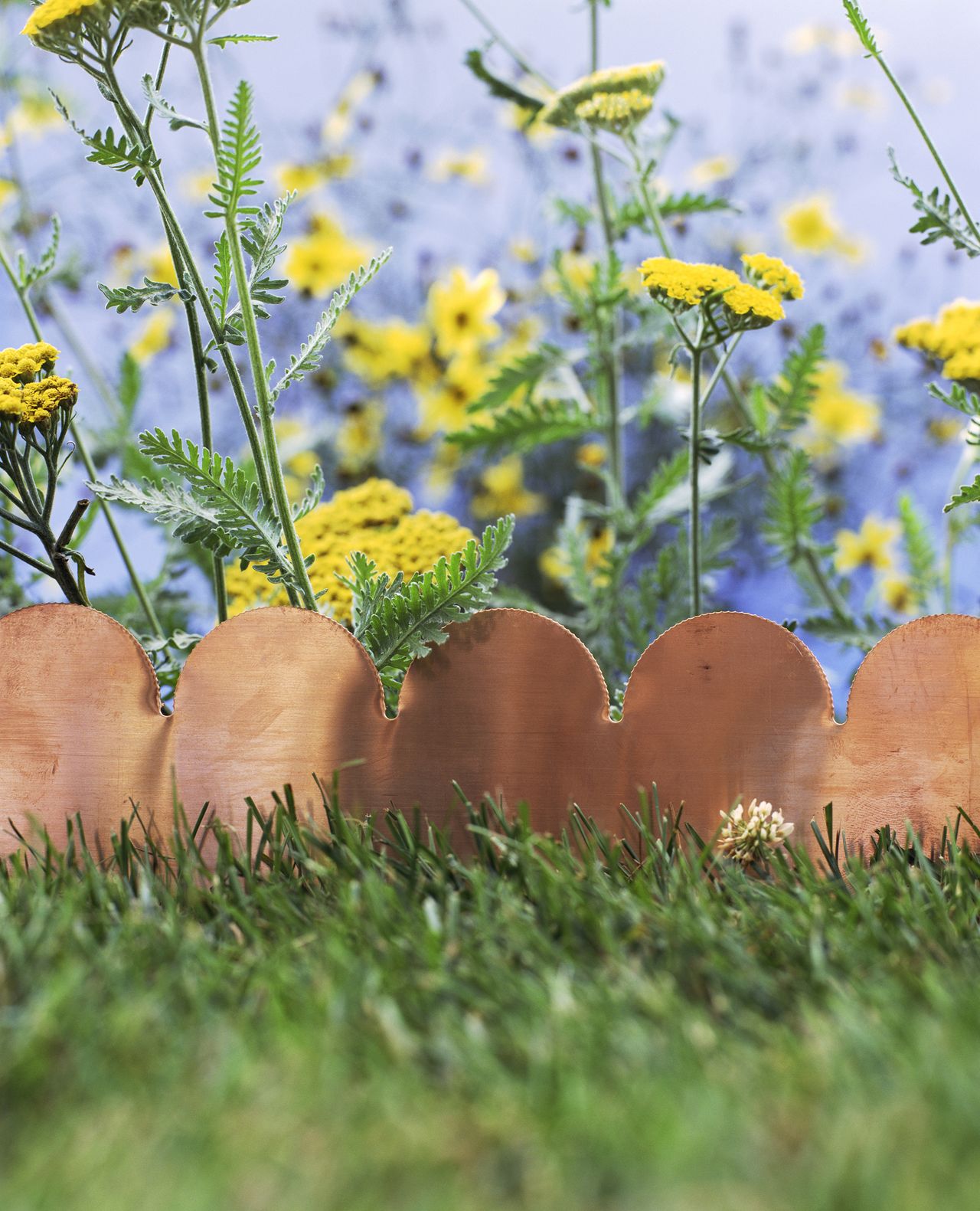 With its warm russet tones and natural texture, terracotta is a favorite material in gardens. Most commonly used for plant pots, it also brings a rustic warmth to lawn edging ideas. There are lots of different designs for terracotta garden edging ideas, from a simple scalloped design to more ornate Victorian rope edging which creates a more formal appearance. 
As well as lawn edgings made from terracotta, there are also lots of concrete and cement lawn edging ideas that have a terracotta-look. These edging materials bring the same character and warmth but are more hardwearing. 
5. Create living lawn edging with hedge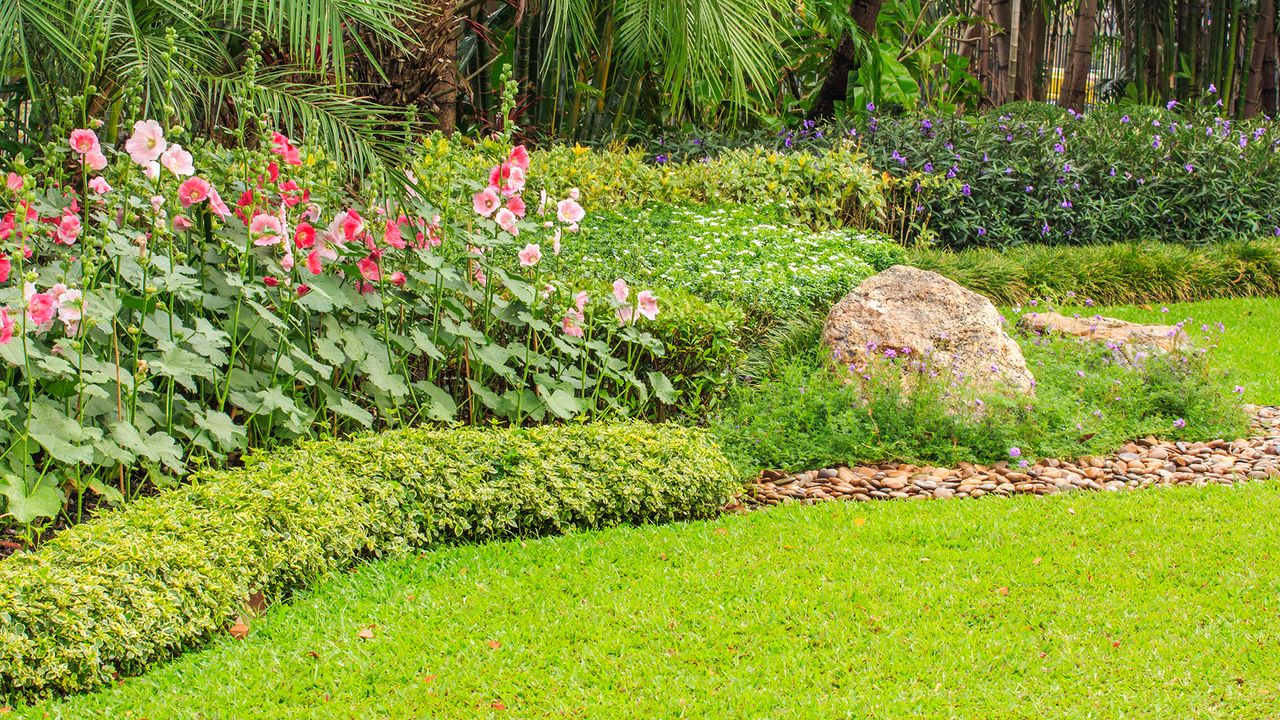 Hedging is one of the most popular lawn edging ideas, bringing a softer appearance than metal or concrete edges. Hedges are also the perfect lawn edging for wildlife garden ideas, as they providing protection to birds as they forage, a great habitat for a wide range of insects and pollinators, and plenty of food for caterpillars and other small herbivore. 
There are lots of different hedges that can be used for lawn edging ideas – for quick growth, consider one of the best fast-growing hedges or best fast-growing shrubs. 
6. Create a border to bridge the gap between the edge of the lawn and fence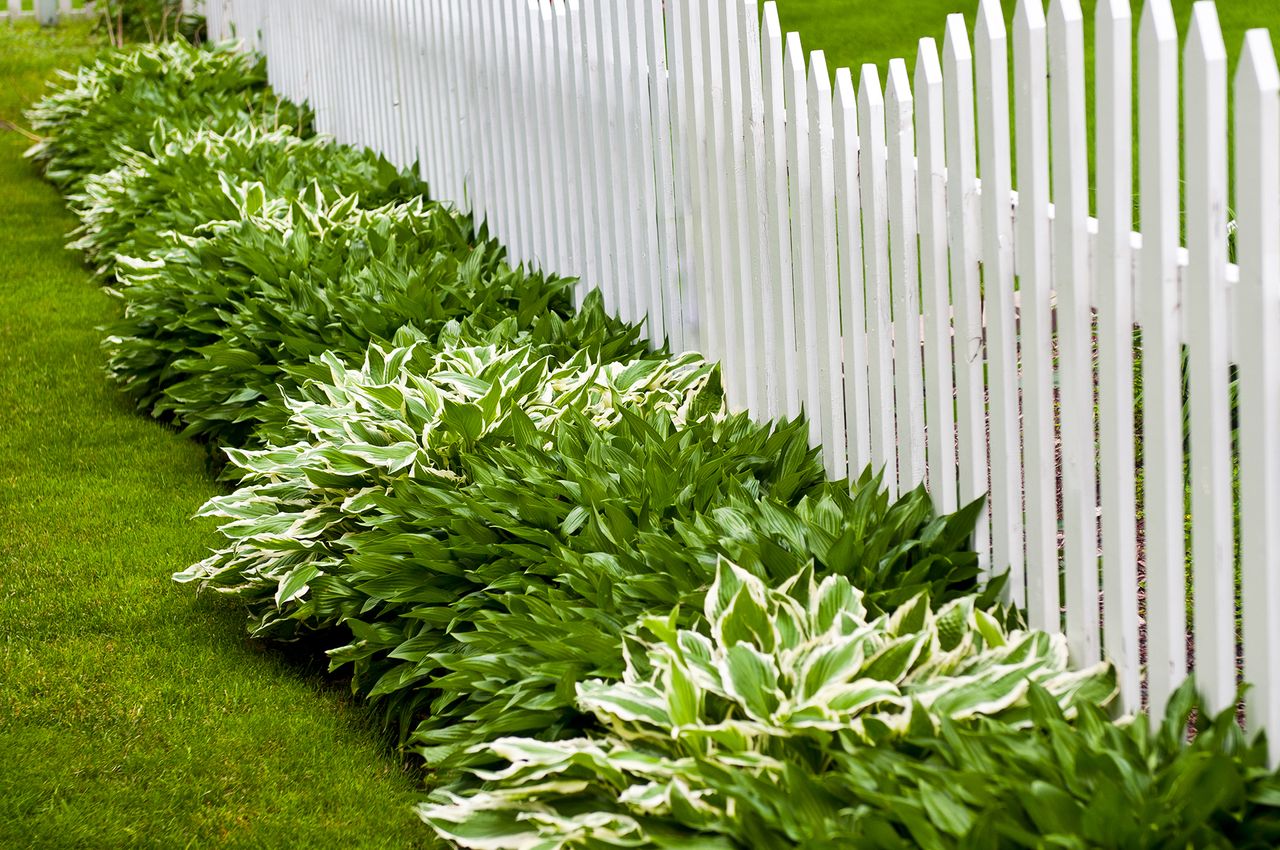 Bridging the gap between lawn and fence, a planted border offers an excellent lawn edging idea. However, when considering which plant to use, it is important that it will spread quickly to cover the gap and will be able to thrive in your garden. 
Here, a border of hostas provide a beautiful edging with its profusion of colorful leaves disguising the lawn's edge. Hostas' dense shrub-like structure also offers a good method of weed control, limiting the sunlight that can access the soil at the borders. Furthermore, hostas grow well in zones 3 to 9 making them great lawn edging ideas for a wide range of gardens. They are also a highly durable choice of plant as the require no additional care or frost proofing during the winter months. As perennials, they will grow back each year, creating a low-maintenance lawn edging while its pretty flowers will add a beautiful finishing touch come spring.
7. For formal lawn edging ideas opt for classic cast iron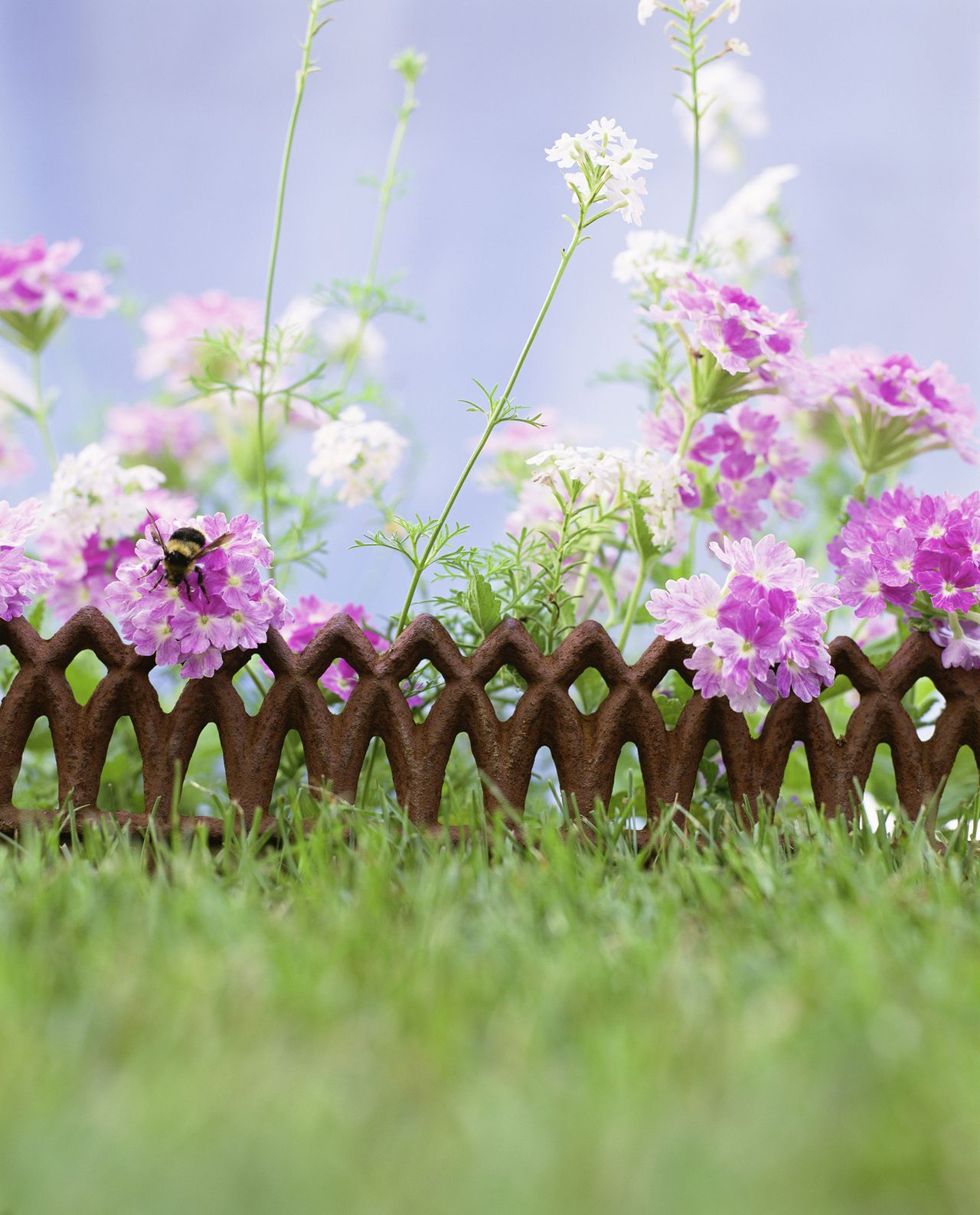 Cast iron is a popular material for lawn edging in Victorian garden design. Able to be cast into an ornamental border, cast iron lawn edging ideas are perfect for bringing decorative details to your plot.
Cast iron is extremely long-lasting and maintenance free, however, it is more expensive than other metal edging materials. If you're searching for cast iron lawn edging, be sure to explore architectural salvage yards where you'll often find them at a fraction of the price of buying new. Plus, adding salvaged materials to your garden will help to bring unique character to your plot.
8. Use concrete when edging curved lawns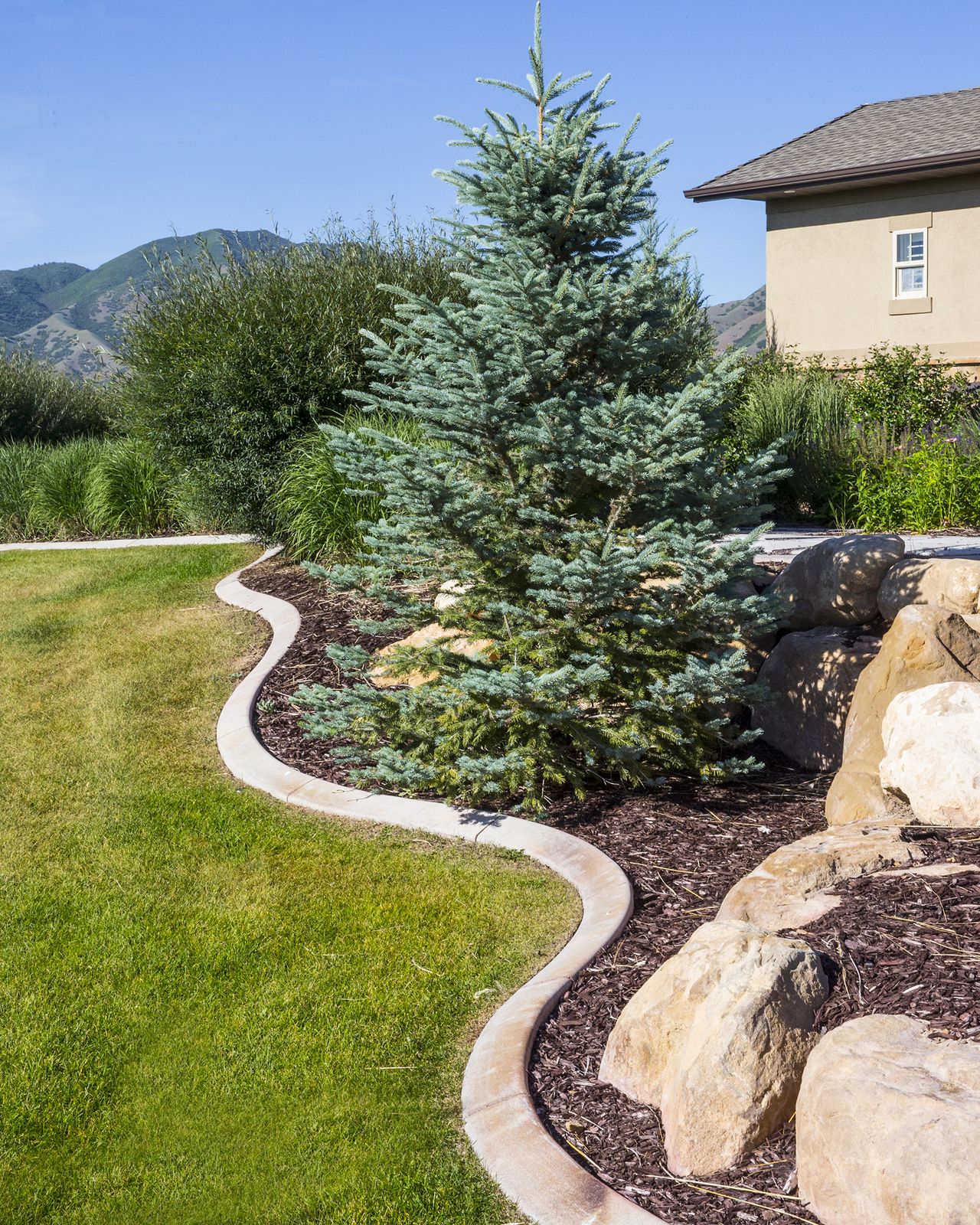 Curved lawns add interest and character to your garden. However, when it comes to lawn edging ideas these sinuousy lines can create a challenge as straight lawn edging pieces will force it into a more angular look. However, when applied wet, concrete is semi-liquid and as such will fill any border required. This can be done on a DIY-basis, though there are lots of companies that will professionally edge your lawn. 
Start by mapping out the edging with rope, then dig a channel. About eight inches wide and between four and six inches deep is ideal. Then compact the soil, also known as tamping, to create a soil base. Mix and pour your concrete into the channel, smoothing it to create a sleek finish. Apply an acrylic concrete sealer to ensure its durability.
9. Edge your lawn with a lavender border for a fragrant border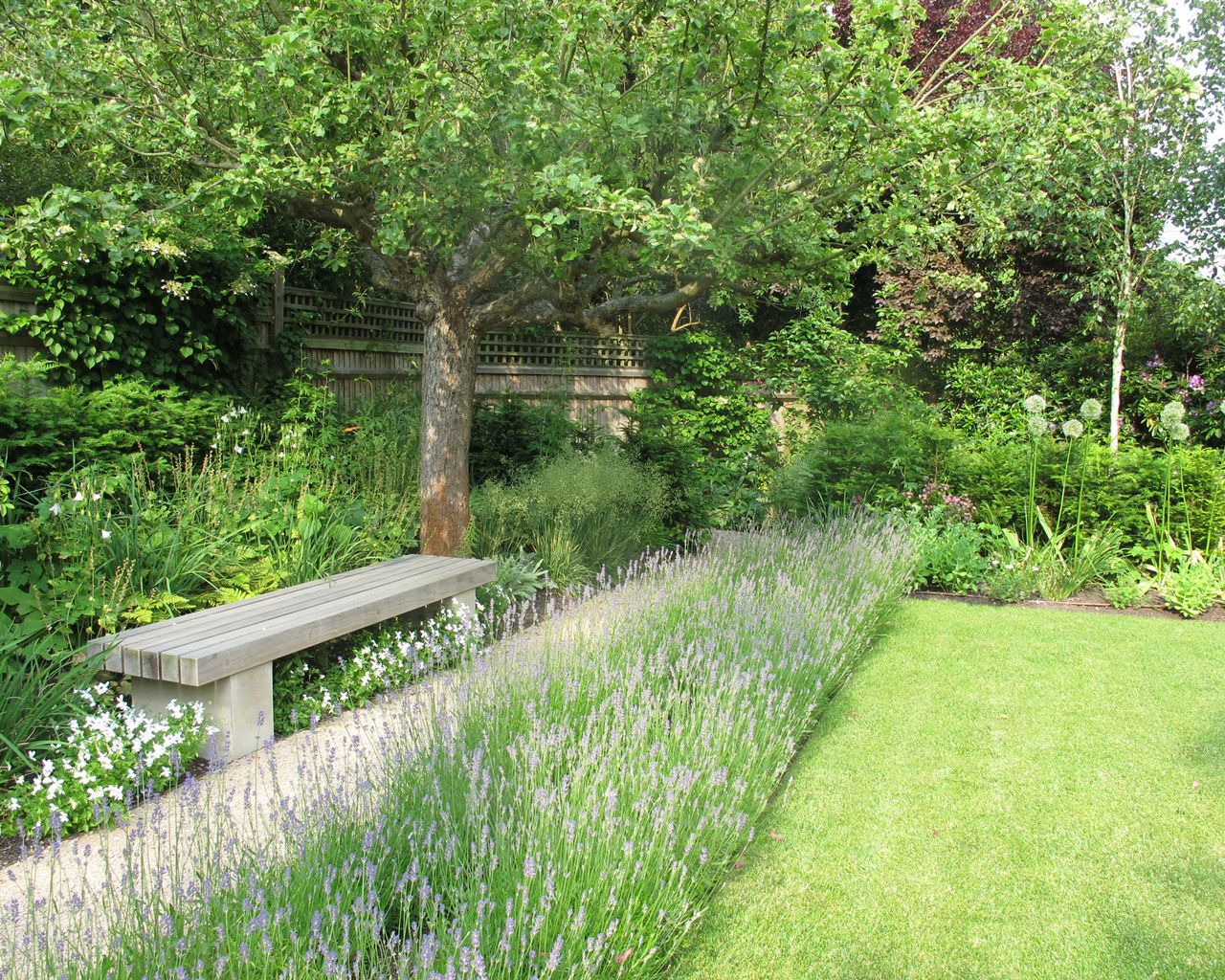 Lavender is a favorite shrub in nearly every style of garden, loved for its beautiful blooms and delicate calming fragrance. When used as part of lawn edging ideas, it provides the perfect frame for your garden design. Here, a beautiful row of lavender shrubs disguise the otherwise rough edge of the lawn in a haze of deep green foliage and pretty purple flowers.
When learning how to grow lavender for lawn edging ideas, it is also important that you know how to prune lavender as this will help it to look its best while also prolonging the life of your hedge.
10. Consider decorative patterned lawn edging ideas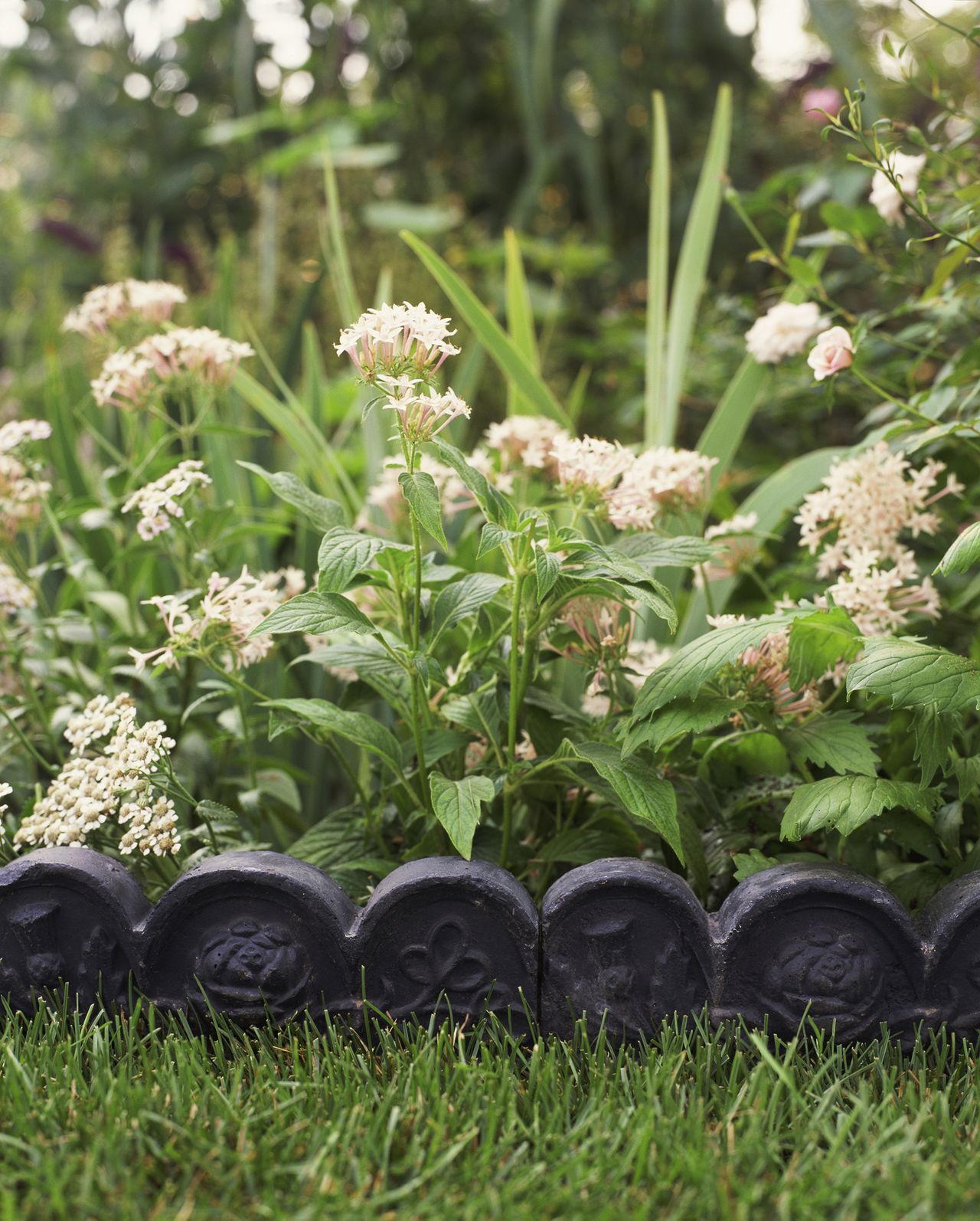 One of the more minimalist lawn edging ideas, decorative garden edging brings understated color and pattern to the garden's design. Featuring rose and thistle motifs, this pretty black concrete lawn edging is the perfect complement to any cottage garden, offering the perfect foil to the profusion of cottage garden plants in the border.
11. Try river rock lawn edging ideas for a natural look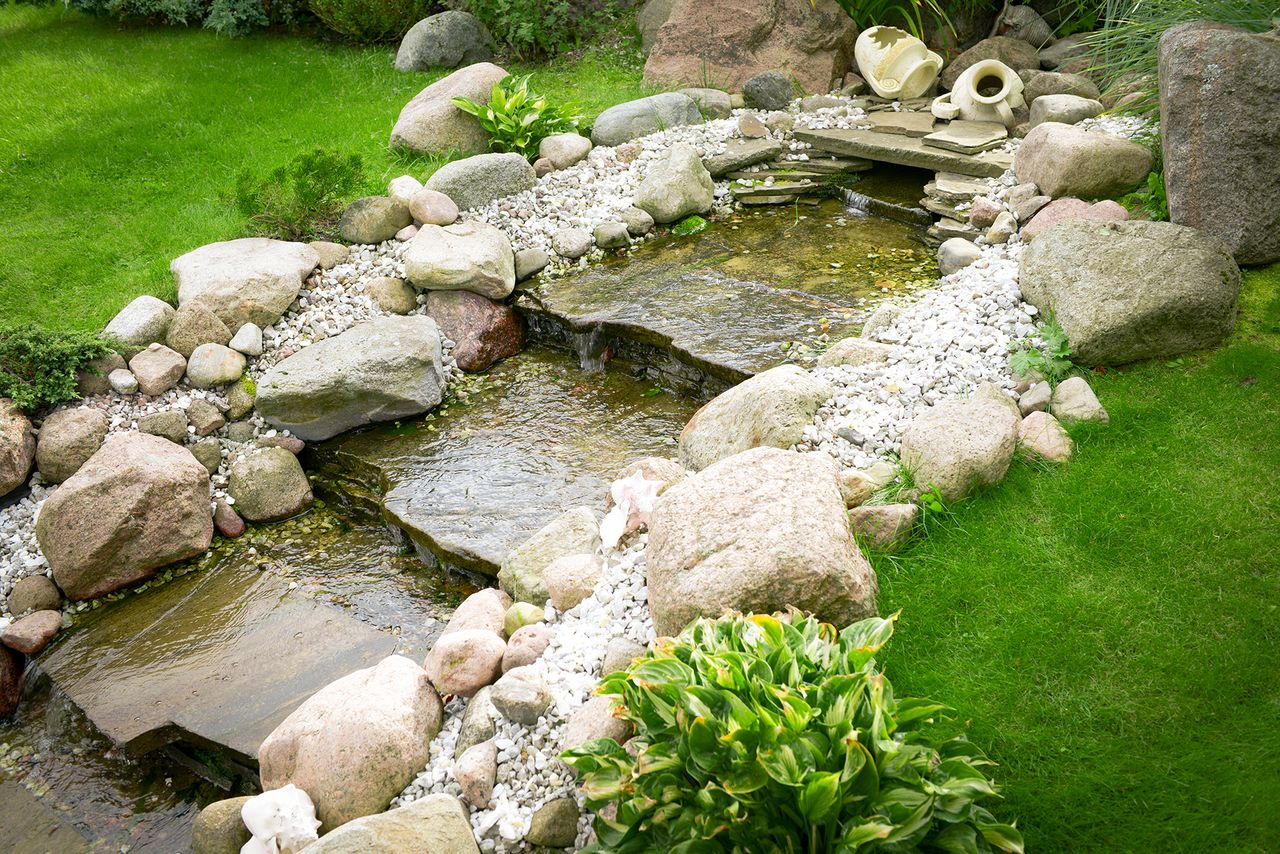 If you're looking for lawn edging ideas to frame your water feature ideas or rock garden ideas then river rock edging is great solution. Composed of a border of different sized and shaped rocks, it is a great edging to suppress weeds and grass while also providing a rustic, natural look that is perfect for country garden ideas. 
'I'm a big fan of using river stones for lawn edging,' says Jeremy Yamaguchi, CEO of Lawn Love. 'What I like about it is that you can create a look entirely to your own liking – from the size of the stone to their color. You also can often find these stones on your own, which saves you money. When used for lawn edging, they help your yard look neat without looking too "perfect." It has a more natural feel while also looking sophisticated.'
When installing river rock lawn edging ideas be sure to lay a weed suppressant covering before you create your rock display as this will keep the space easy to maintain. It would also be worth looking in to how to build a rockery as the approaches are very similar.
12. Consider reclaimed timber for a sustainable lawn edging idea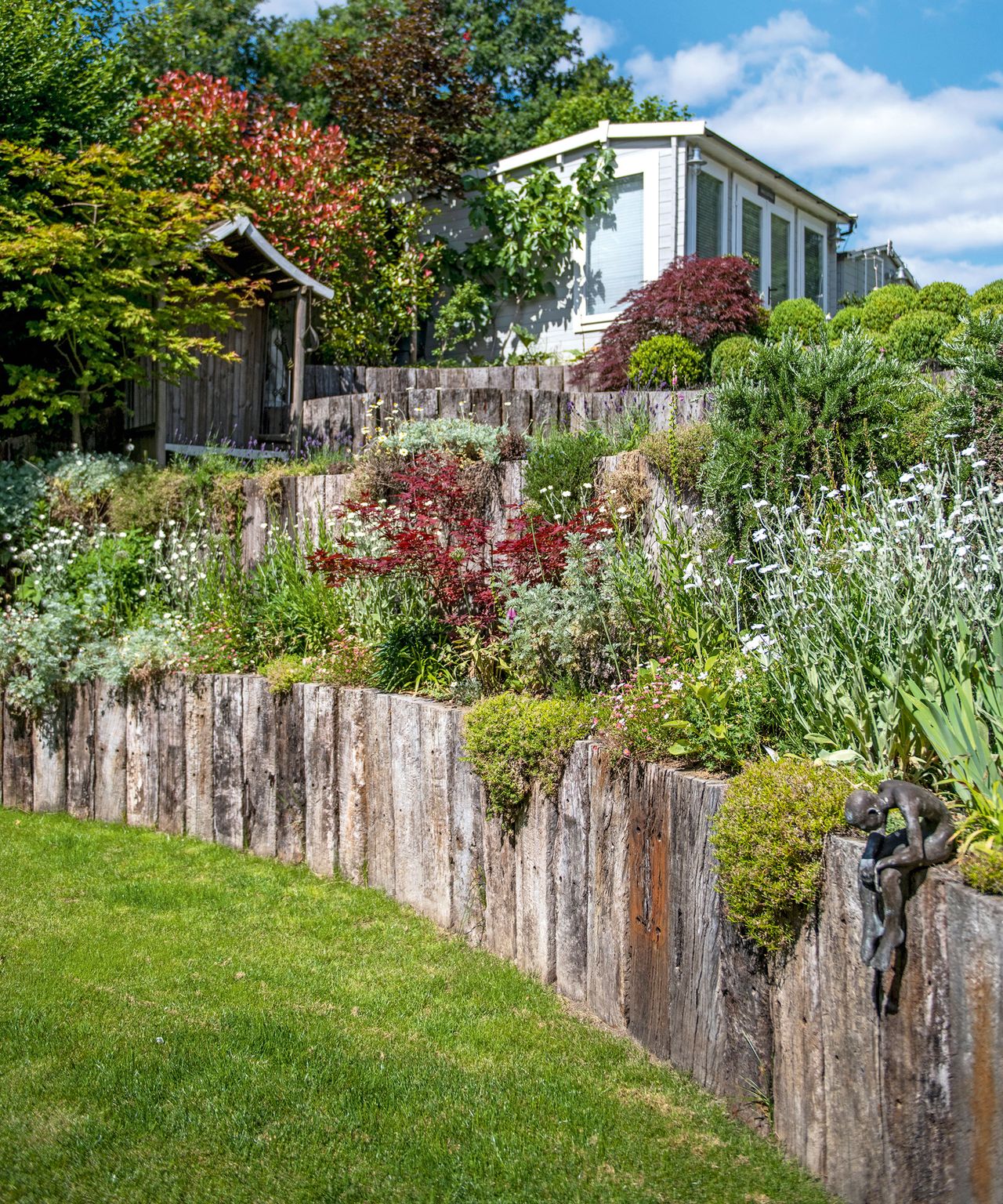 If you are looking for sustainable lawn edging ideas, that also add rustic charm to your space, then timber is an excellent choice. When purchased new and painted, timber lawn edging ideas will offer a curated and ordered look to your garden. 'A simple and classic look for your lawn edging, timber is a cheap and easy option that can last for years,' explains Lindsey Hyland, founder of UrbanOrganic Yield. 
However, there is a host of opportunities for incorporating reclaimed wood into your lawn edging ideas. Opting for reclaimed lawn edging ideas is also a highly affordable way to edge your lawn. Use short planks of only a few inches to create a small border, or use larger planks to create raised garden bed ideas, like those above, which are great for adding height to your garden design.
What can I use to border my lawn?
From pretty planting and hedges, to harder landscaping ideas such as bricks, timber or metal edging, there are lots of materials that you can use to border your lawn. When deciding on what to use to border your lawn, factor in whether you will need access. If your lawn is adjoining a plant border, you can opt for raised edging as you will only need to access the border when planting or weeding. However, for a lawn adjoining a path or patio, you may need to cross between the two areas and as such, lower-level borders will be a safer and more aesthetically pleasing option.
Does a lawn need edging?
No, a lawn does not need edging, however, by edging your lawn you will create a sleeker and more curated look in your garden. 
'Garden edging has a number of benefits. It's not only a stylish way to add extra layers of color and texture to your outdoor space, but it also adds a sense of shape and keeps everything neat and tidy,' says Lee Dunderdale. 
'As it comes in many different color and style options, you can choose the edging that best suits your garden design. It can come flat so it is the same level as your patio or lawn, which will look subtle but still effective as it differentiates each aspect of your garden.'