A kitchen is the "workhorse" of your living space. It's where you whip up delicious pancakes for your family and brew that much-needed morning coffee. It fuels your family's gastronomic adventures every day. So it's time to show some love to this unsung hero of your house with these fantastic kitchen backsplash ideas.
A backsplash can add character to your kitchen. Many people think of a backsplash as a protective barrier against spaghetti sauce splatters or grease splashes. But it's so much more than that! The right kitchen backsplash can elevate the aesthetics to a whole new level.
Image credits: Photography by Max Rahubovskiy
Your kitchen is a functional space – but that doesn't mean it has to look boring. We'll cover everything from budget-friendly kitchen designs to statement styles that will make your space look like these celebrity kitchens.
These kitchen backsplash ideas are the ultimate fusion of fashion and function and will leave you inspired and ready to redecorate your own space. Whether you're a traditionalist or a minimalist, there's a backsplash idea in here that's perfect for you. 
We'll also share practical tips on how to choose suitable materials, find the perfect color palette, and opt for modern designs that complement your kitchen's overall aesthetic seamlessly.
Let's turn your kitchen into a haven that reflects your style and personality!
What is the Purpose of a Backsplash?
The primary purpose of a kitchen backsplash tile is that it acts as a protective barrier for the wall. It catches splatters and stains. Whenever your sauce decides to take, umm, a detour, a wall without a backsplash is a goner! It will be filled with permanent stains and grease. With a backsplash, however, the cleanup is quite easy and hassle-free. No more scrubbing for hours!
But there's more! A backsplash isn't just functional; it's a style statement. It adds color, texture, and personality. You can opt for anything from sleek stainless steel or the rustic charm of subway tiles as the backsplash tiles for your kitchen.
Moreover, it defines the space. A well-chosen backsplash draws the eye. It's a visual focal point, setting the tone for the entire space. It can also transform your kitchen into a traditional or cozy atmosphere and give it a unique personality.
A backsplash also harmonizes the color scheme. It ties together the shades of your kitchen cabinets, countertops, and flooring, creating a cohesive and pleasing aesthetic. It's the adhesive that keeps the color palette from feeling disjointed.
In short, backsplashes are both practical and downright fabulous!
Image credits: Photography by Sidekix Media
What Kind of Backsplashes Are Trending Now?
Looking to makeover your kitchen? You can opt for any of these evergreen styles for kitchen backsplash tiles:
Colorful Backsplashes:

 A lot of homeowners now opt for colorful backsplashes to inject personality into their kitchens. Blues, greens, and deep jewel tones are quite popular.

Subway Tiles with a Twist:

 Subway tiles are timeless, but modern variations include colored subway tiles or arranging them in unique patterns like herringbone or vertical stacks.

Large Format Tiles:

 Larger tiles, often measuring 12×24 inches or more, create a sleek and seamless look with fewer grout lines.

Patterned Tiles:

 Intricate and bold patterns, such as Moroccan, Mediterranean, or geometric designs, add a touch of global or retro flair.

Textured Tiles:

 Tiles with 3D textures, like beveled or raised patterns, can add depth and visual interest to kitchen walls.

Mixed Materials:

 Combining various materials like wood, metal, and glass in the same backsplash is a trend that offers a unique and eclectic style.

Open Shelving: 

Rather than traditional backsplash materials, some people now choose open shelving or even opt to extend the countertop materials up the wall, creating a seamless and minimalist look.

Metallic Accents: 

Stainless steel, copper, and brass tiles or metal mosaic backsplashes are used to create a contemporary and luxurious feel.

Natural Stone: 

Marble, travertine, and other natural stone tiles are popular for their elegance and durability. Veined marble, in particular, is highly sought after.

Glass Backsplashes:

 Back-painted glass panels in vibrant colors or neutrals are also being used now for a sleek and reflective look that's easy to clean.
Remember that trends can be subjective. So it's important to choose a backsplash that suits your personal style and the overall design of your kitchen. Don't worry, there's plenty of inspiration below.
30 Stunning Kitchen Backsplash Ideas
Let us guide you through a gallery of design brilliance that'll transform your culinary space. Whether you're a fan of vibrant colors, classic tiles, or daring textures, we've got you covered. Your kitchen will be the talk of the town with these showstopping backsplash inspirations!
Image credits: Photography by Max Rahubovskiy
Brick wall designs are ageless. They were a standard in the olden ages. Now, your space might not be as big as these kitchens of yesteryears, but that doesn't mean it won't look good. You'll need to infuse a traditional twist into your modern kitchen to bind the look together. Try adding some bulbs that create a warm glow. Add wooden dining chairs and a table for a cohesive finish to the brick wall.
2. Add Flair with Modern Graphics
Image credits: Photography by casa_918
Geometric patterns can look busy and cluttered. Digital printing, however, now allows for customized and sleek modern graphic patterns. So instead of busy geometric shapes, you can opt for minimalist motifs, modern graphics, intricate mosaics, and even abstract patterns.
3. Use Marble for an Easy-To-Clean Backsplash
Image credits: Photography by my_modernclassic_home
Marble backsplashes exude elegance and luxury. Marble has a distinct veining pattern and also comes in different color options. These backsplashes are a great choice if you're going for a classic, sophisticated look. They are also pretty easy to clean.
4. Add a Little Shimmer

Image credits: Photography by Christian Mackie
Consider a high-shine option, such as metallic tiles or glass with shimmering finishes. The reflective surface bounces light, making your kitchen appear more spacious and luminous. These kitchen backsplash tiles will give subtle hints of gleam without an over-the-top bling effect.
5. Use Neutral Shades for an Elegant Backsplash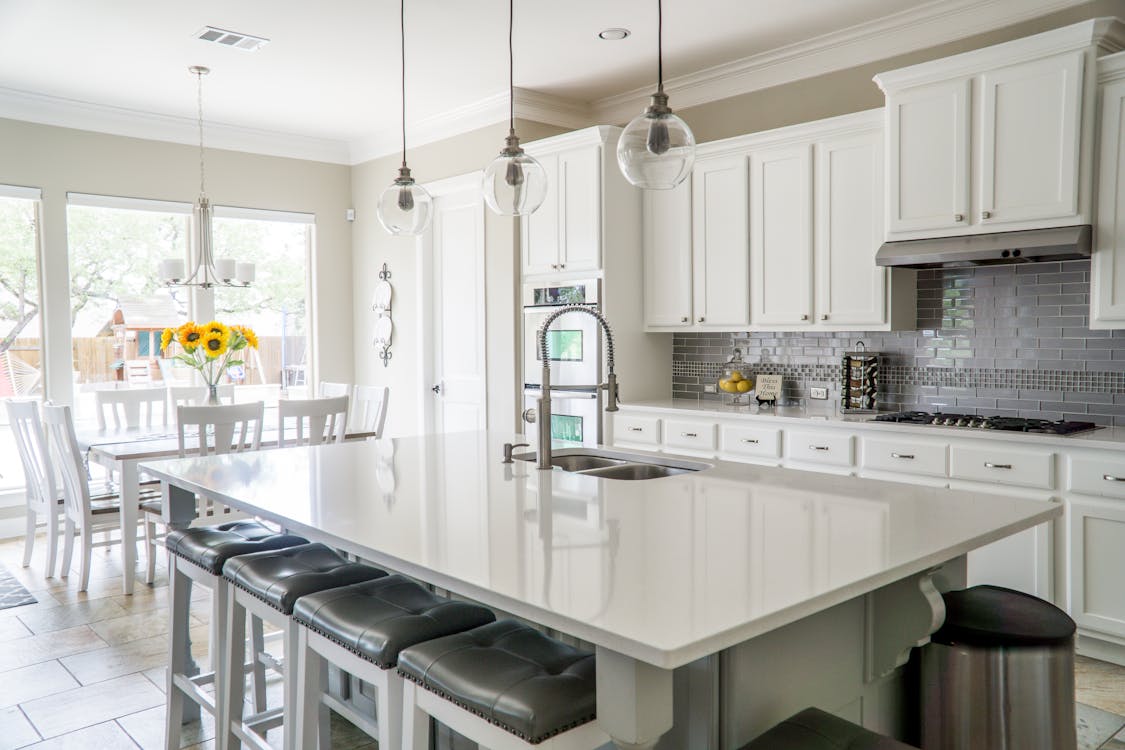 Image credits: Photography by Mark
A soft neutral backsplash works well with an open-plan kitchen. It will make your space appear relaxing and grounded. Opt for kitchen backsplash tiles in soft whites, muted grays, warm beige, or gentle taupes for this look. Another advantage of this style is that it effortlessly blends with diverse kitchen styles, from rustic to modern.
6. Go for a Timeless Pattern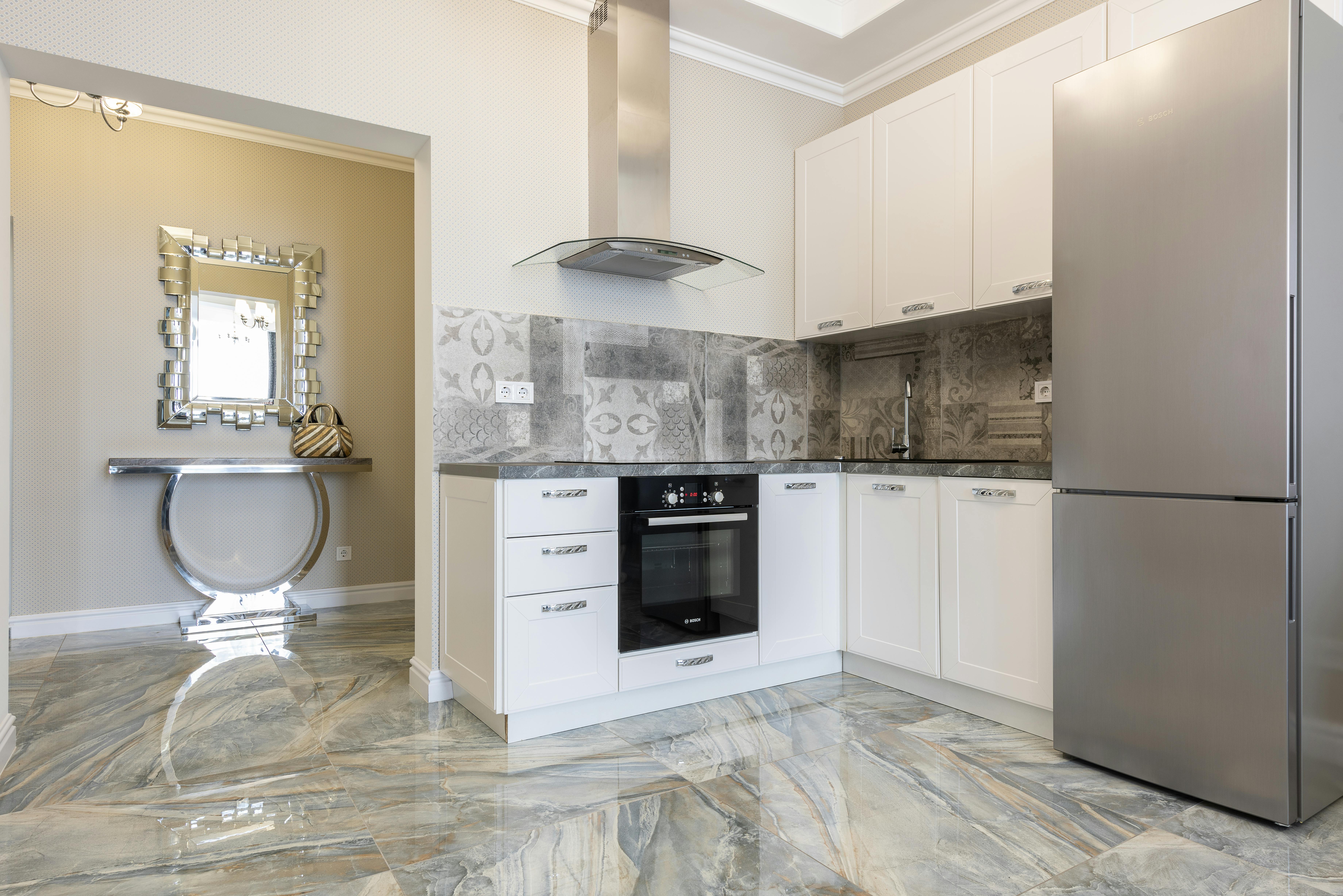 Image credits: Photography by Max Rahubovskiy
A patterned kitchen backsplash adds a decorative note to an otherwise plain white kitchen. But make sure it's just the right dose of colors and patterns. Don't go overboard with busy-looking tiles. A subtle color and pattern against light walls will never go out of style.
Image credits: Photography by Alexey Vecherin
A copper hammered sheet behind the stovetop creates a contrast and a focal point. You can leave it polished for a shiny appearance or allow it to develop a natural patina over time. If you're not ready for a full commitment though, try a subtle touch with copper accents or trims along the edges of your backsplash. This can be a great way to incorporate copper without overwhelming the space.
8. DIY with a Peel-And-Stick Kitchen Backsplash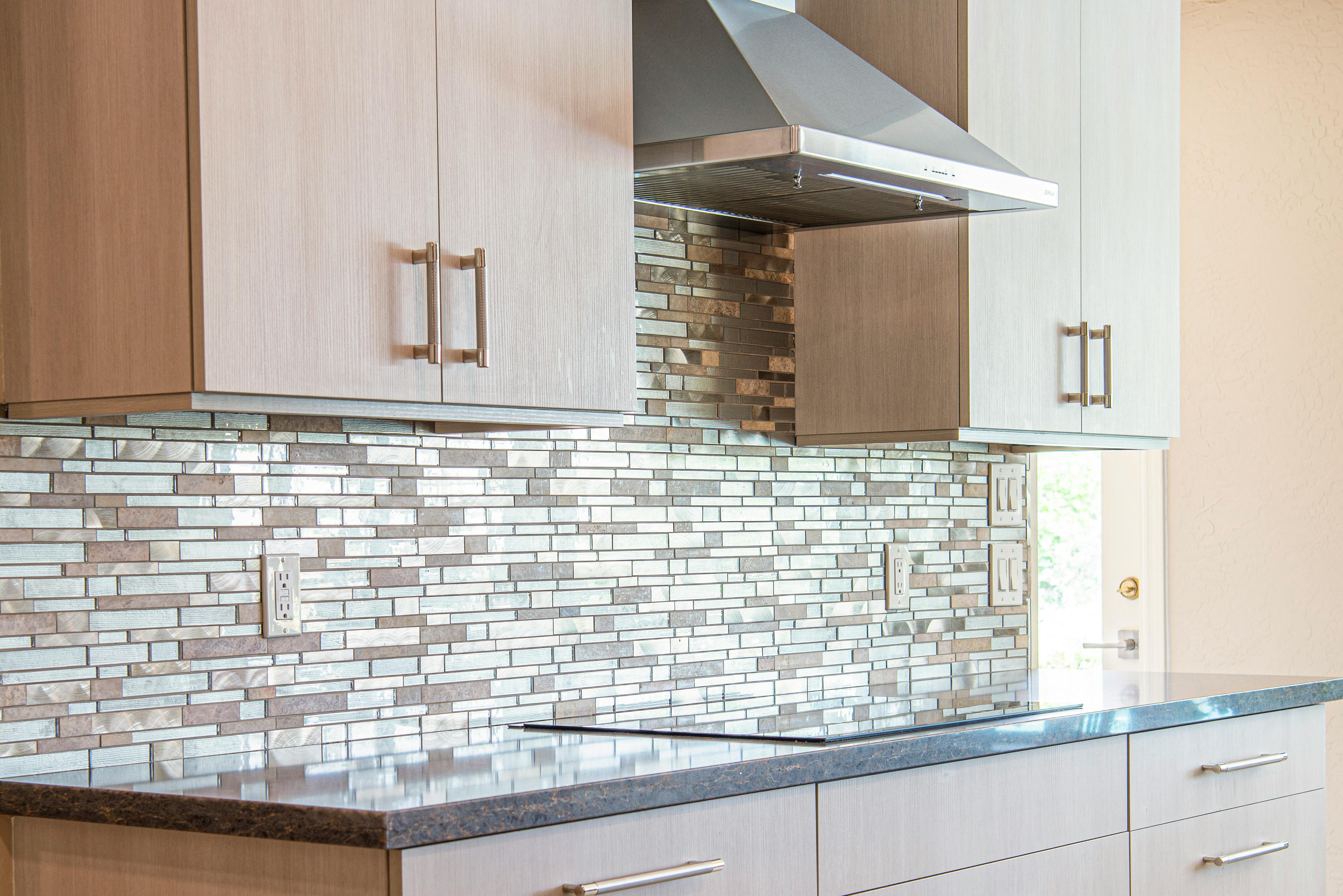 Image credits: Photography by Derwin Edwards
Peel-and-stick tiles work exactly the way they sound. They have an adhesive backing, and you can just peel their cover and stick them anywhere, such as walls, floors, and backsplashes. These tiles can be any material, such as ceramic, wood, metal, and glass. This option will make a great DIY project.
9. Add Texture with Kitchen Backsplash Tiles
Image credits: Photography by Max Rahubovskiy
Textured tiles can add a lot of character to your kitchen. Mosaic tiles are a great choice when it comes to textured kitchen backsplash ideas. These tiles can be of different materials, such as glass, stone, or ceramic. There are also 3D wall tiles available that are designed to create a three-dimensional effect on your backsplash.
10. Bring a Rustic Charm with Wood Backsplashes
Image credits: Photography by Hans Isaacson
Inspired by farmhouse décor? Then you'll love this kitchen backsplash made of natural reclaimed wood. Cedar, pine, or oak are popular choices for interior decoration. Make sure to protect the wood with a sealant and polish. This will also bring out its natural beauty and make it easier to clean.
11. A Modern Twist to Subway Tiles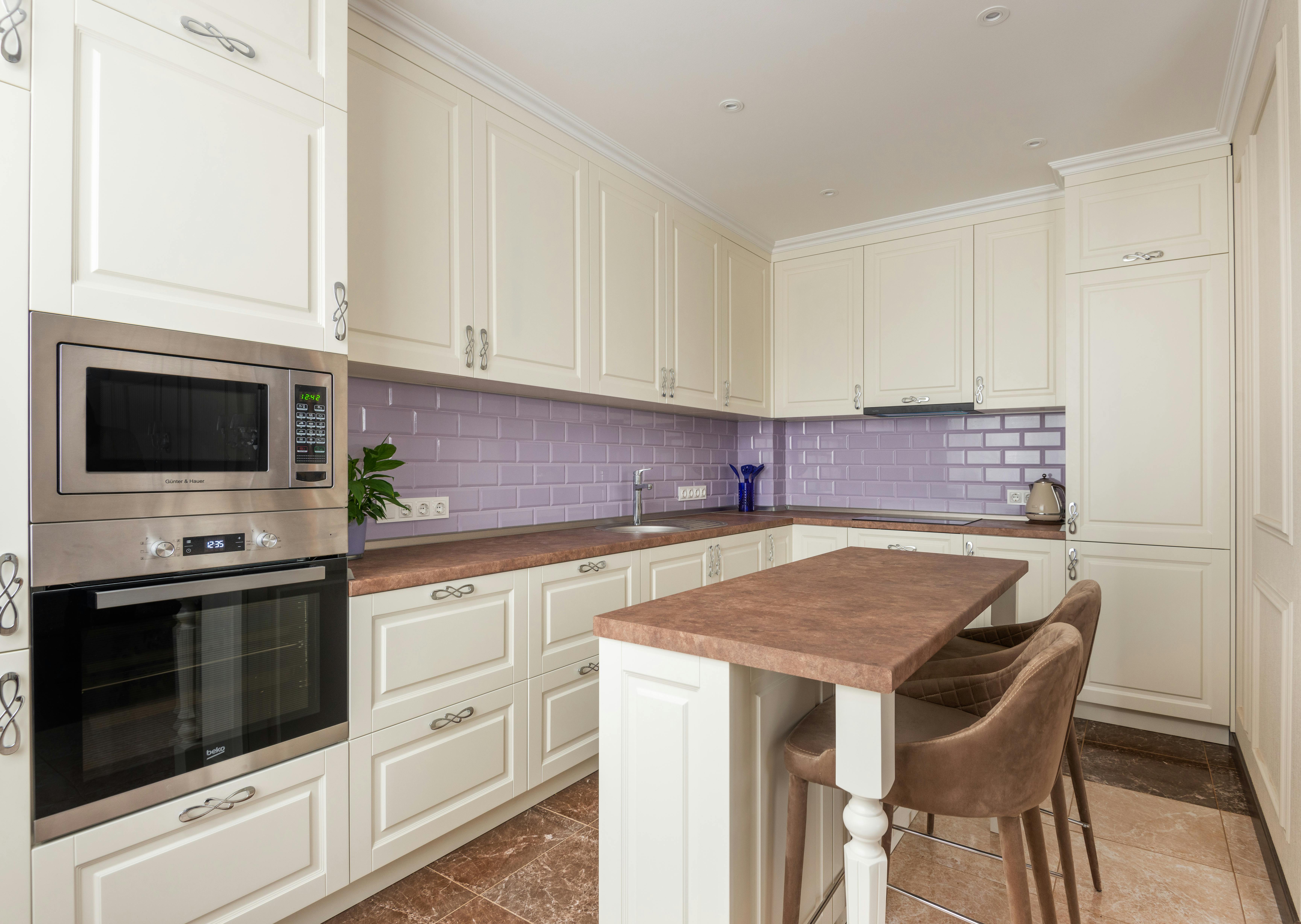 Image credits: Photography by Max Rahubovskiy
Twist up the regular white kitchen backsplashes made of subway tiles. Consider using subway tiles in various colors, such as dark greens and blues. You can create a vibrant and unique backsplash by choosing colors that complement your kitchen's color scheme.
12. Play with Ceramics
Image credits: Photography by Christian Mackie
Ceramic tiles are resistant to moisture. They also stand up well to stains and don't absorb odors. But instead of the plain ol' white kitchen backsplash, mix up the ceramic pattern. Choose two colors that are opposite on the color wheel. For instance, white and navy blue and black and white can create a visually appealing backsplash. Or you can select two shades of the same color for a more subtle and harmonious look. Light and dark shades of gray, beige, or blue can work well together to create depth without overwhelming the space. Make sure to test a sample before committing to a color combination.
13. Stainless Steel Kitchen Backsplash Ideas
Image credits: Photography by surfryhder
A plain stainless steel backsplash adds a clean and industrial touch to your kitchen. It's a reflective surface that brightens up your kitchen and instantly makes it look bigger. It's durable, hygienic, and naturally resistant to bacteria and germs. This makes it a good material for food preparation areas. Customize stainless steel backsplashes by choosing different finishes, such as brushed or polished, to match your overall aesthetic.
14. Sheet Glass Kitchen Backsplash Ideas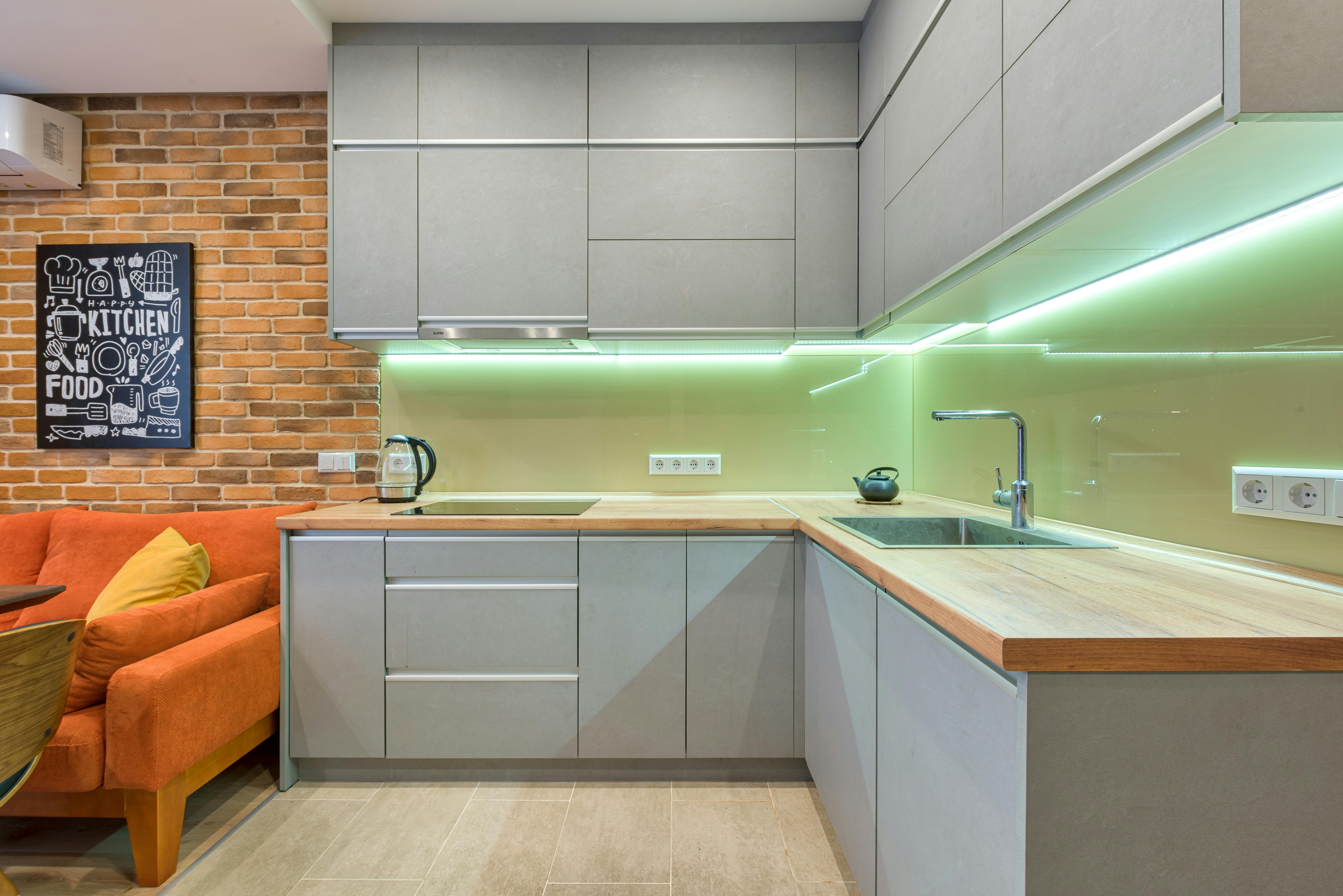 Image credits: Photography by Max Rahubovskiy
A colored sheet glass backsplash will give a vibrant and modern look. You can also opt for a mirror backsplash to make your kitchen appear more spacious and reflect light. Antique stained glass is another great choice for a vintage look.
15. Go Monochromatic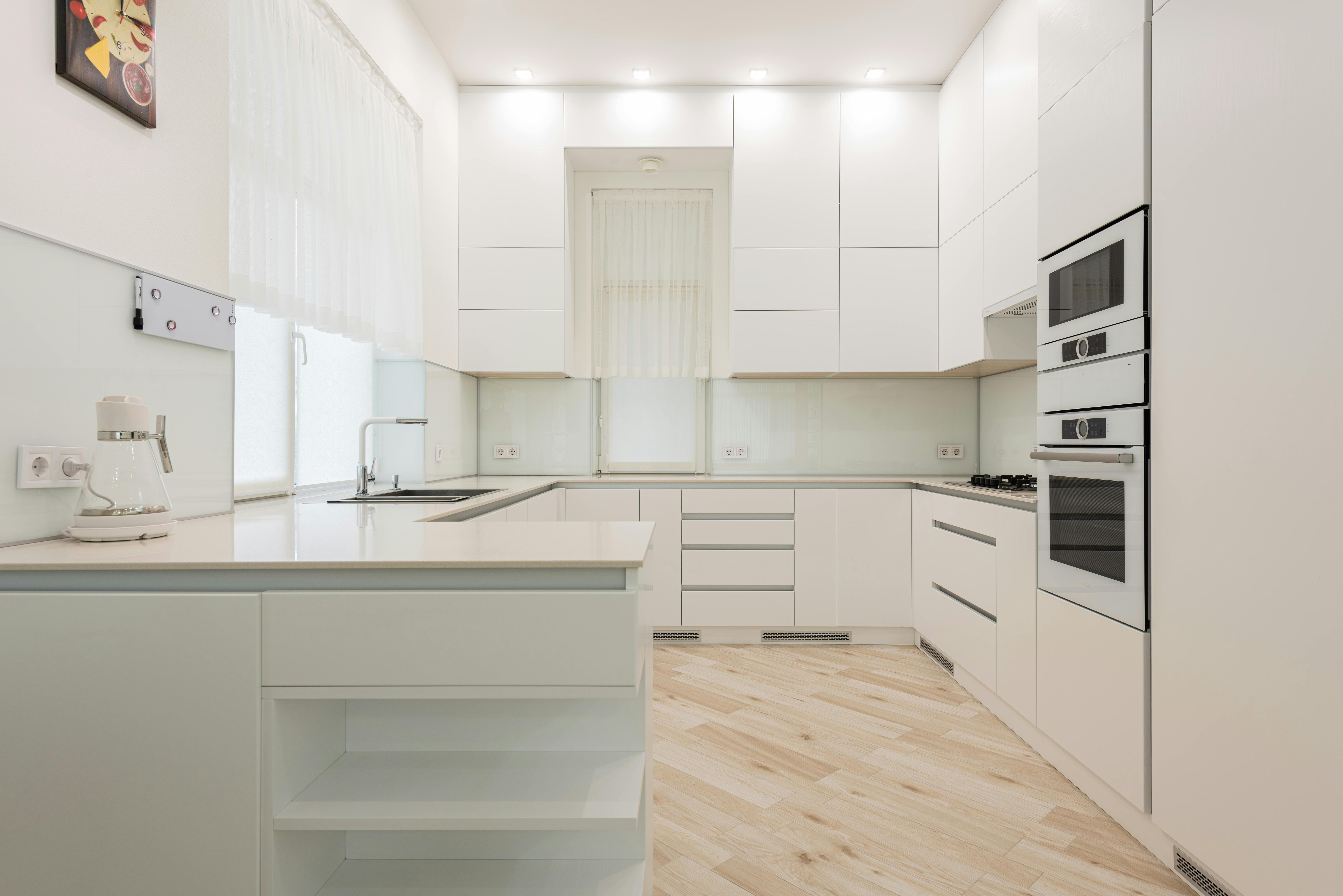 Image credits: Photography by Max Rahubovskiy
How about a single color throughout your kitchen for a cohesive, minimalist look? A monochromatic backsplash can either be a single color block for your entire kitchen, including cabinets, or shades of a single color. Popular options include various shades of white, gray, beige, or even a bold color like dark blue for a dramatic effect.
16. Add a Gradient with Mosaic Tiles
Image credits: Antony_PC
Create a timeless look with mini subway tiles in a mosaic pattern. Choose a classic white or add a pop of color for a modern twist. You can also opt for nature-inspired tiles featuring elements like leaves, flowers, or pebbles. This can bring a calming and organic feel to your space. You can also experiment with geometric shapes like hexagons.
17. Herringbone Patterns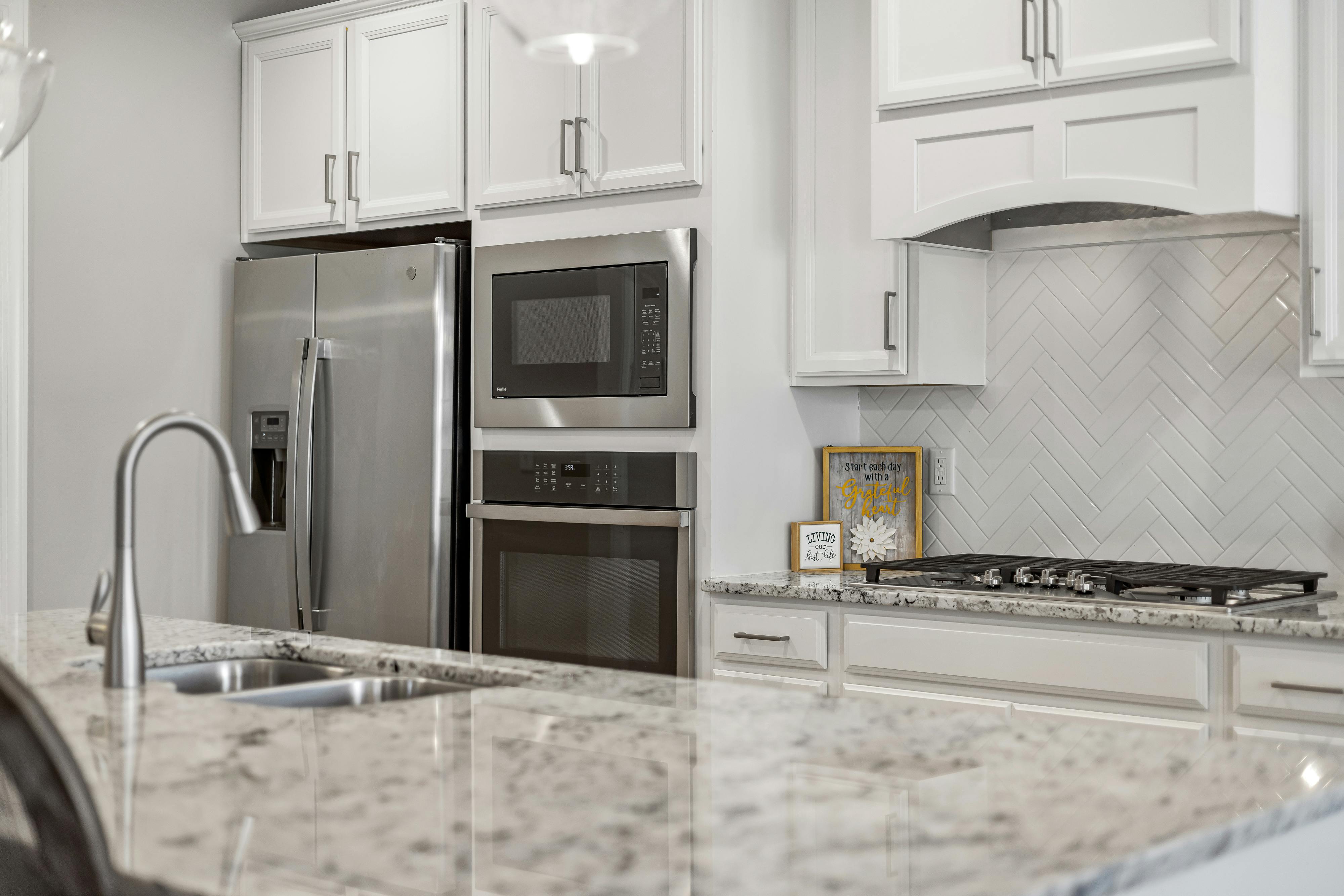 Image credits: Photography by Curtis Adams
Herringbone is a distinctive arrangement of rectangular blocks. It draws the eye and significantly influences the overall design of the kitchen.
18. Terrazzo Kitchen Backsplash Ideas
Image credits: Photography by Prydumano Design
Terrazzo tiles are made from chips of marble, quartz, granite, or other materials, which are then mixed with cement or resin to create a durable and visually appealing surface. A great thing about these tiles is that you can either choose pre-made terrazzo tiles or opt for custom designs to match your specific preferences. They come in various sizes, so you have the flexibility to choose what works best for your space.
19. A Thin Strip of Backsplash for Minimalism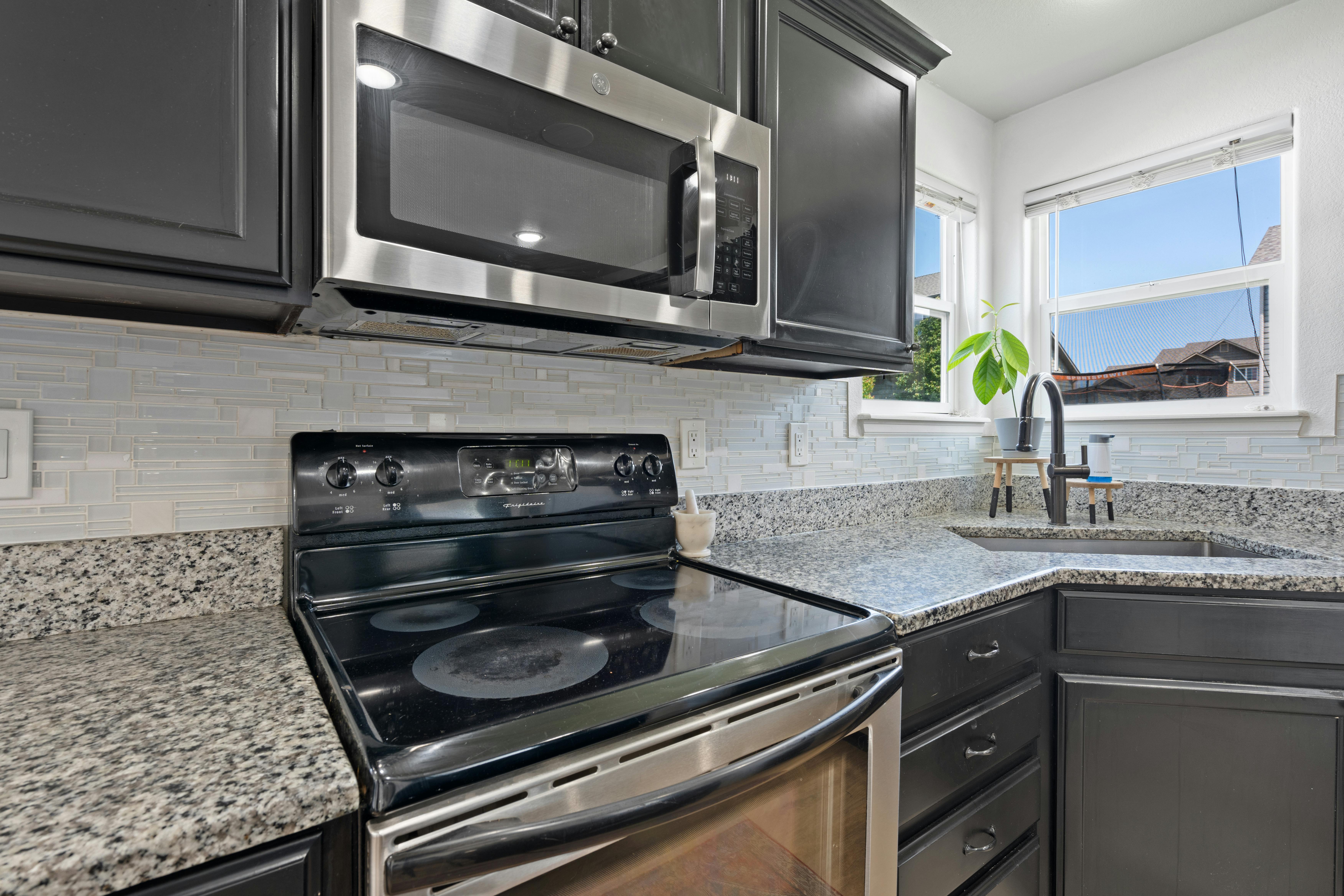 Image credits: Photography by Loi Bui trong
A thin strip of backsplash gives a clean, uncluttered look. Choose a neutral color for the backsplash. Whites, grays, or muted tones work well to create a minimalist look. Avoid bold or busy patterns. You can opt for sleek and simple materials like glass, stainless steel, or plain ceramic tiles. These materials will give a clean and unobtrusive appearance.
20. Groutless Kitchen Backsplash Ideas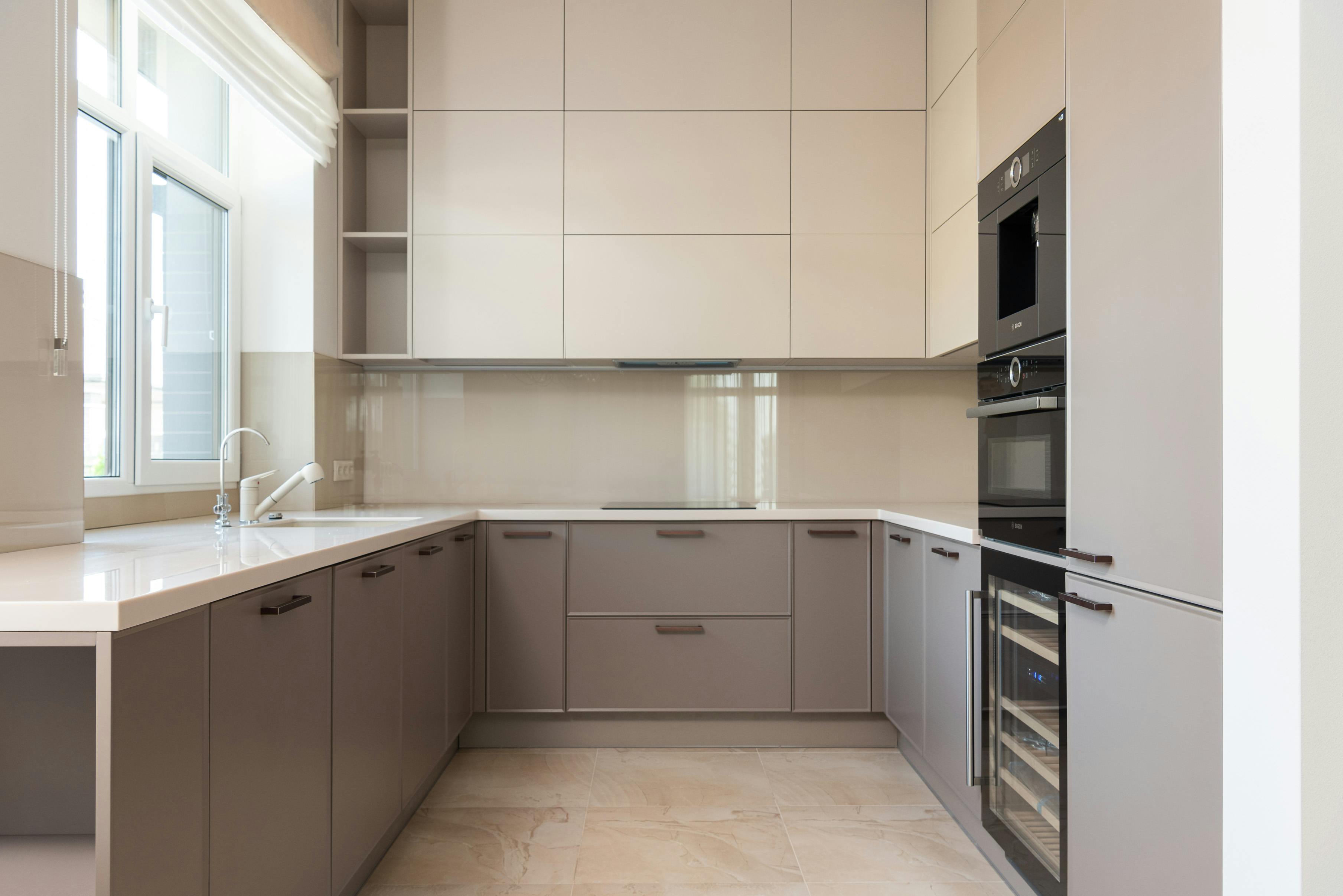 Image credits: Photography by Max Rahubovskiy
Another way to achieve a minimalist look is by saying no to grout. Grout lines can trap dirt and grime. On the other hand, groutless backsplashes are easier to clean and maintain. Peel-and-stick tiles are the easiest way to achieve a groutless look for your backsplash. You can even install large glass panels or stainless steel sheets that don't require grout.
21. Can't Go Wrong With a White Kitchen Backsplash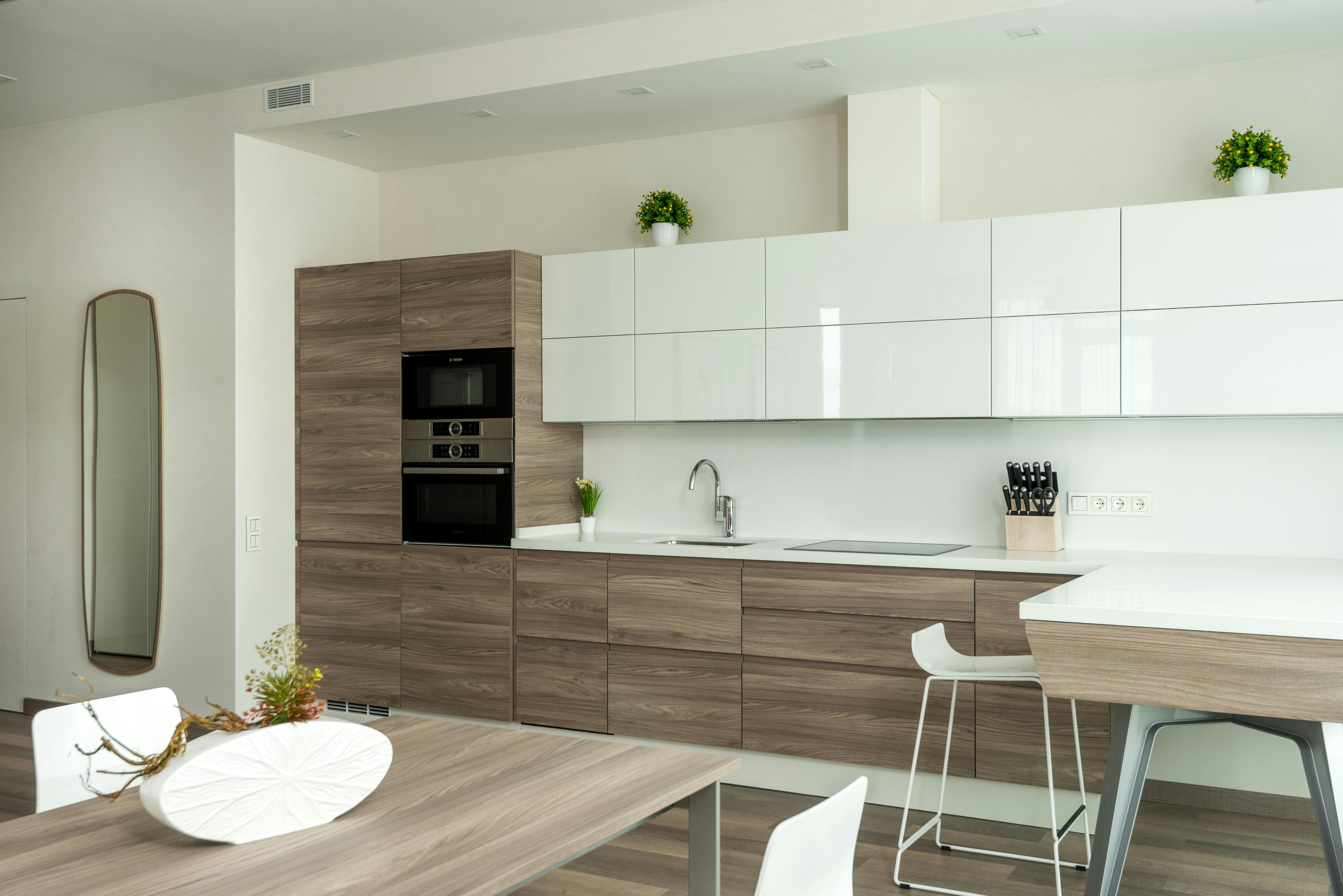 Image credits: Photography by Max Rahubovskiy
White backsplashes look crisp, clean, and elegant. They also complement almost any color kitchen theme. Whether you have white countertops or bright blue cabinets, the overall look blends smoothly with a white kitchen backsplash. That's why you can never go wrong with white (although it may require some extra TLC and regular cleaning).
22. Add Dimension With Open Shelving
Image credits: Photography by Edgar Castrejon
Install a long wooden or stone slab backsplash along the span of your kitchen wall. The open shelving will add dimension and will also give you plenty of space to decorate with plants and accessories.
23. Whitewashed Brick Wall for a Cozy Backsplash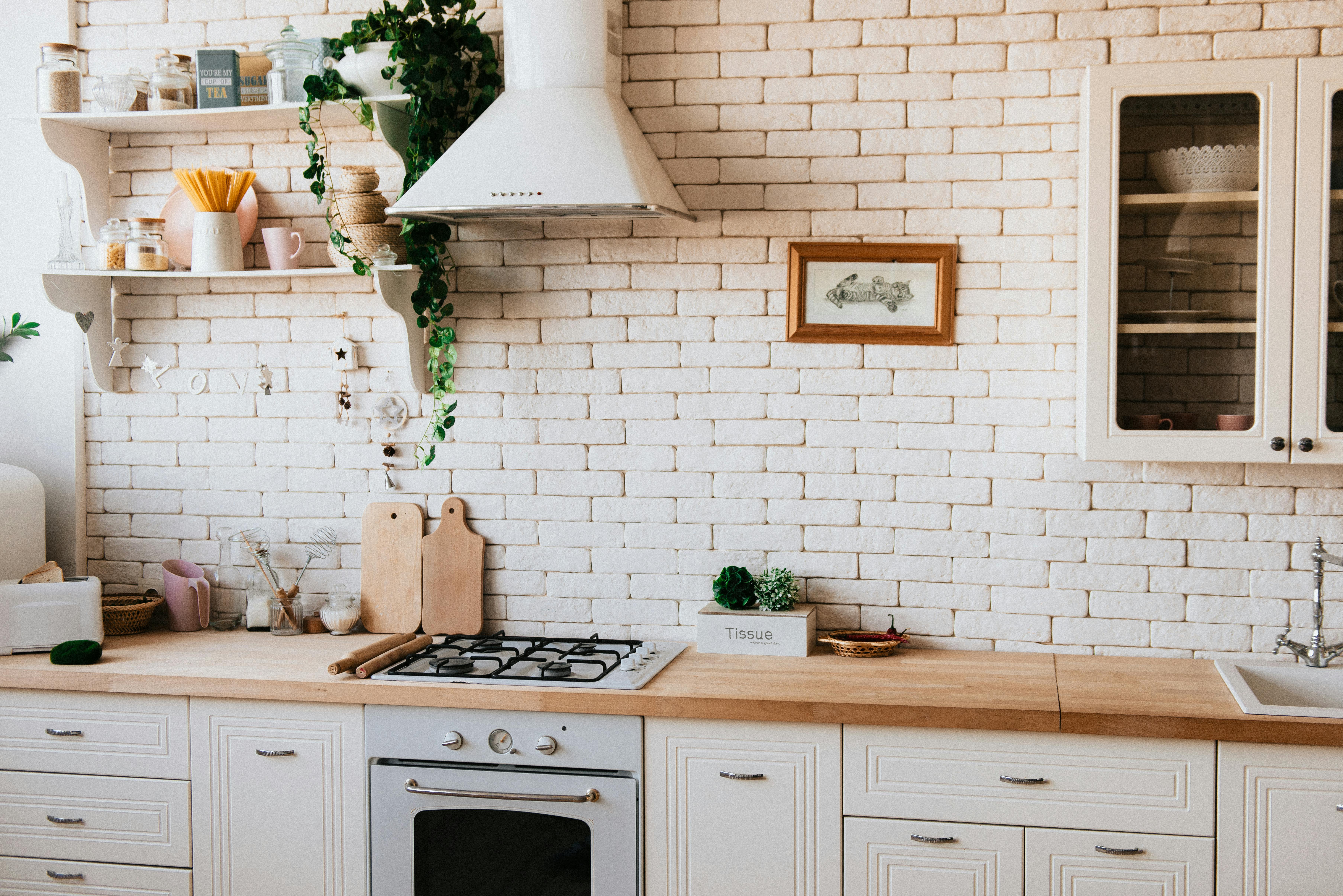 Image credits: Photography by Dmitry Zvolskiy
A brick wall adds depth and character to a space. When whitewashed, the bricks look softer and more subtle. This makes the backsplash feel cozy and inviting. It's also a very versatile design. Whitewashed brick walls can blend with design styles, such as farmhouse, industrial, or coastal.
24. Choose Penny Tiles for Elegance

Image credits: Photography by Andrea Davis
Penny tiles are typically small, round, or oval-shaped tiles. Their petite size allows for intricate detailing, which makes the decor look refined and elegant. They are also easy to maintain and complement a kitchen theme with tasteful lighting fixtures and elegant countertops.
25. Shiplap Kitchen Backsplash Ideas
Image credits: Photography by LiveByHeart
Shiplap is versatile and is a great choice for your kitchen backsplash. It's a type of wooden board with grooves that fit together snugly. It usually comes in a white color; however, you can paint it to match your kitchen's color scheme.
Image credits: Photography by Erik Mclean
A budget-friendly way to redo your kitchen is to paint the existing tiles. It's a beautiful and cost-effective way to add a unique touch. You will need to apply a high-quality primer and use acrylic paint if painting on ceramic tiles. Don't forget to apply a clear tile sealer over the painted tiles to protect the finish.
27. Chalkboard Kitchen Backsplash Ideas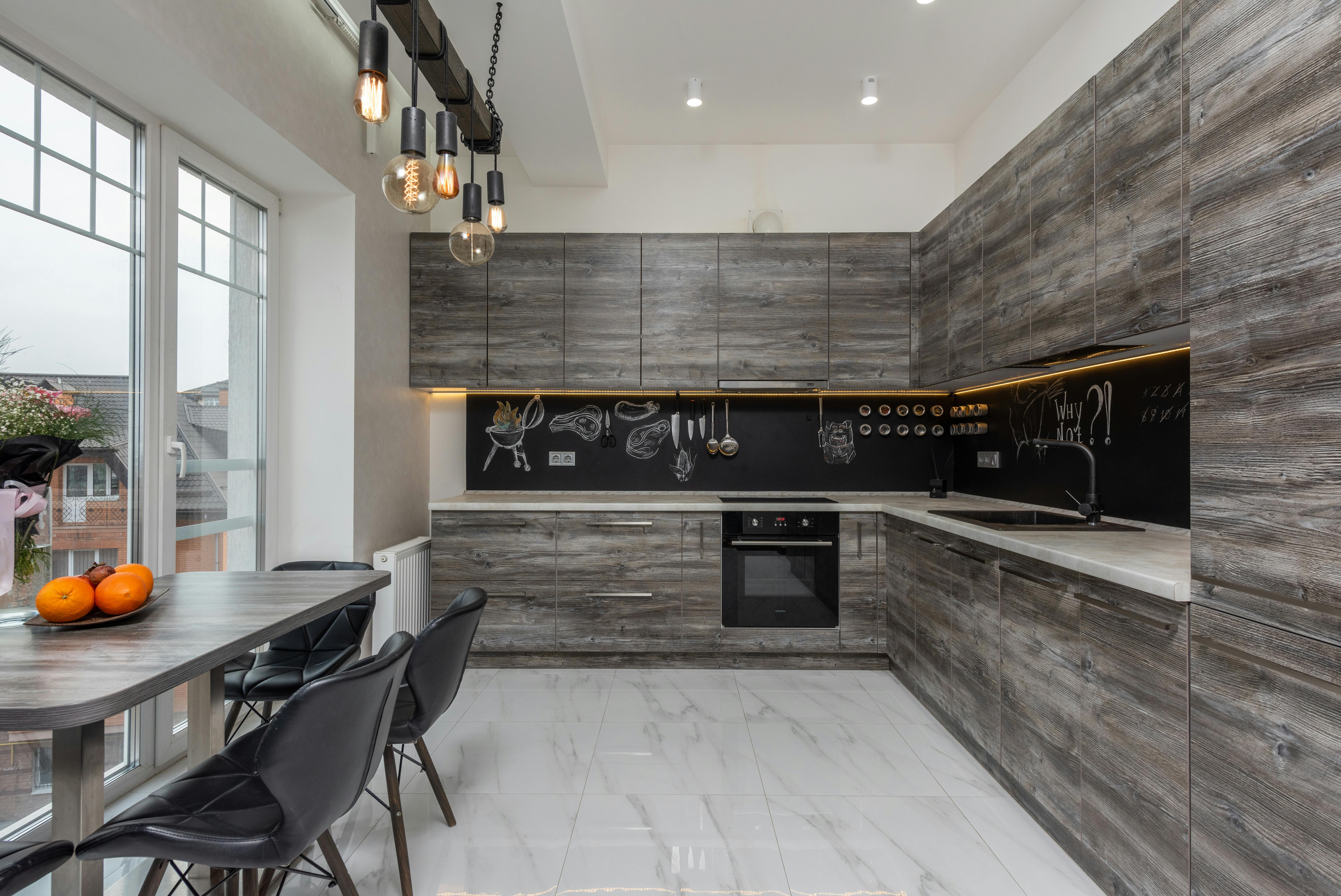 Image credits: Photography by Max Rahubovskiy
Another budget-friendly way to give your kitchen a makeover is by applying black chalkboard paint as the backsplash. You can write and wipe grocery lists as you cook. You can even let your creativity flow on the wall as you wait for the pasta to cook.
28. Opt for a Glossy Finish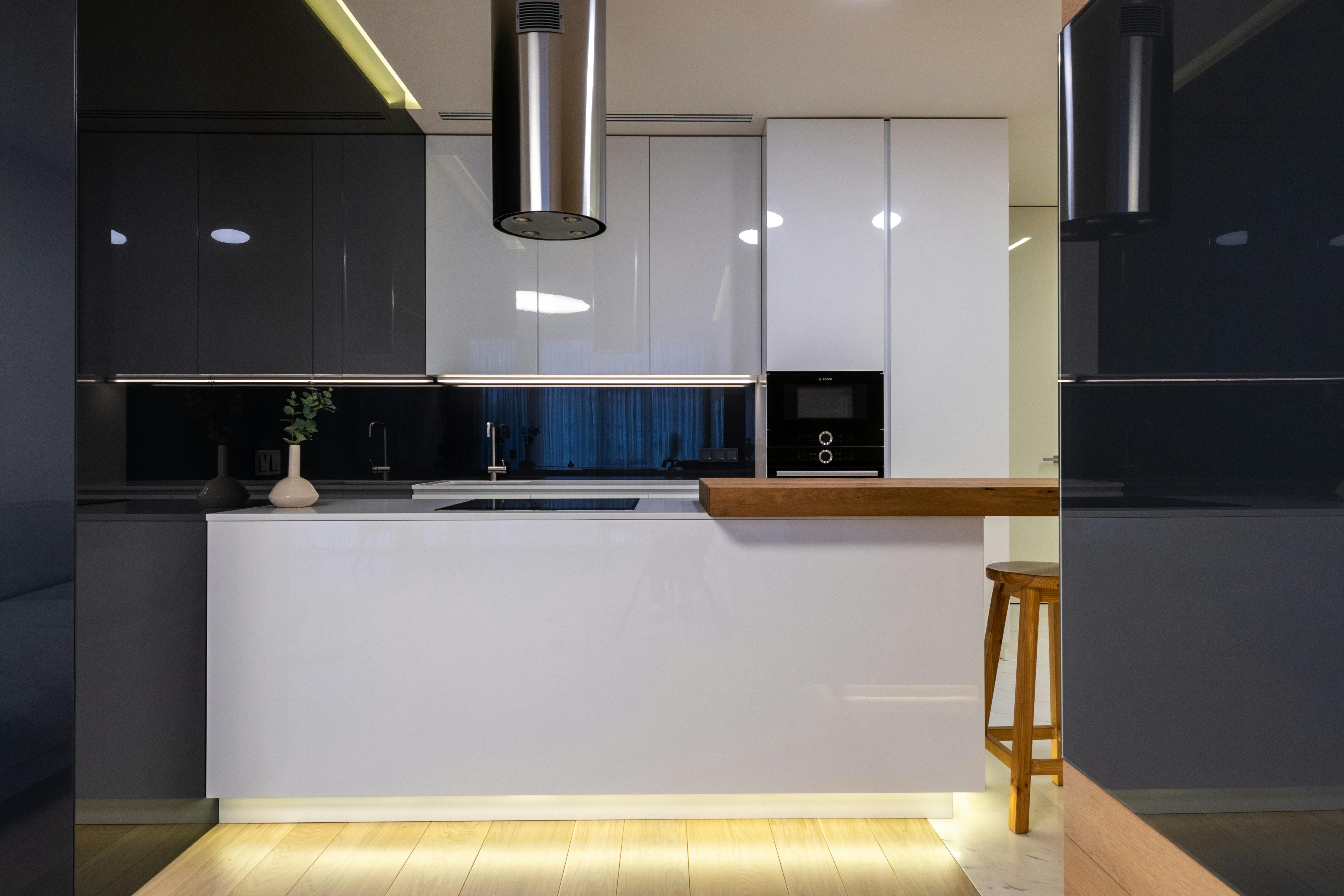 Image credits: Photography by Max Rahubovskiy
A glossy backsplash can make your kitchen look bigger as it reflects light. It's also quite easy to clean. Add a little shine to your cooking space with glossy subway tiles or glass tiles with a glossy finish.
Image credits: Frygidal
Vertically stacked tiles look more contemporary as compared to the traditional rectangular subway tiles that are laid horizontally. You can achieve a vertical stack backsplash using various materials, including subway tiles, mosaic tiles, glass tiles, or even wooden planks.
30. Get Creative with Geometry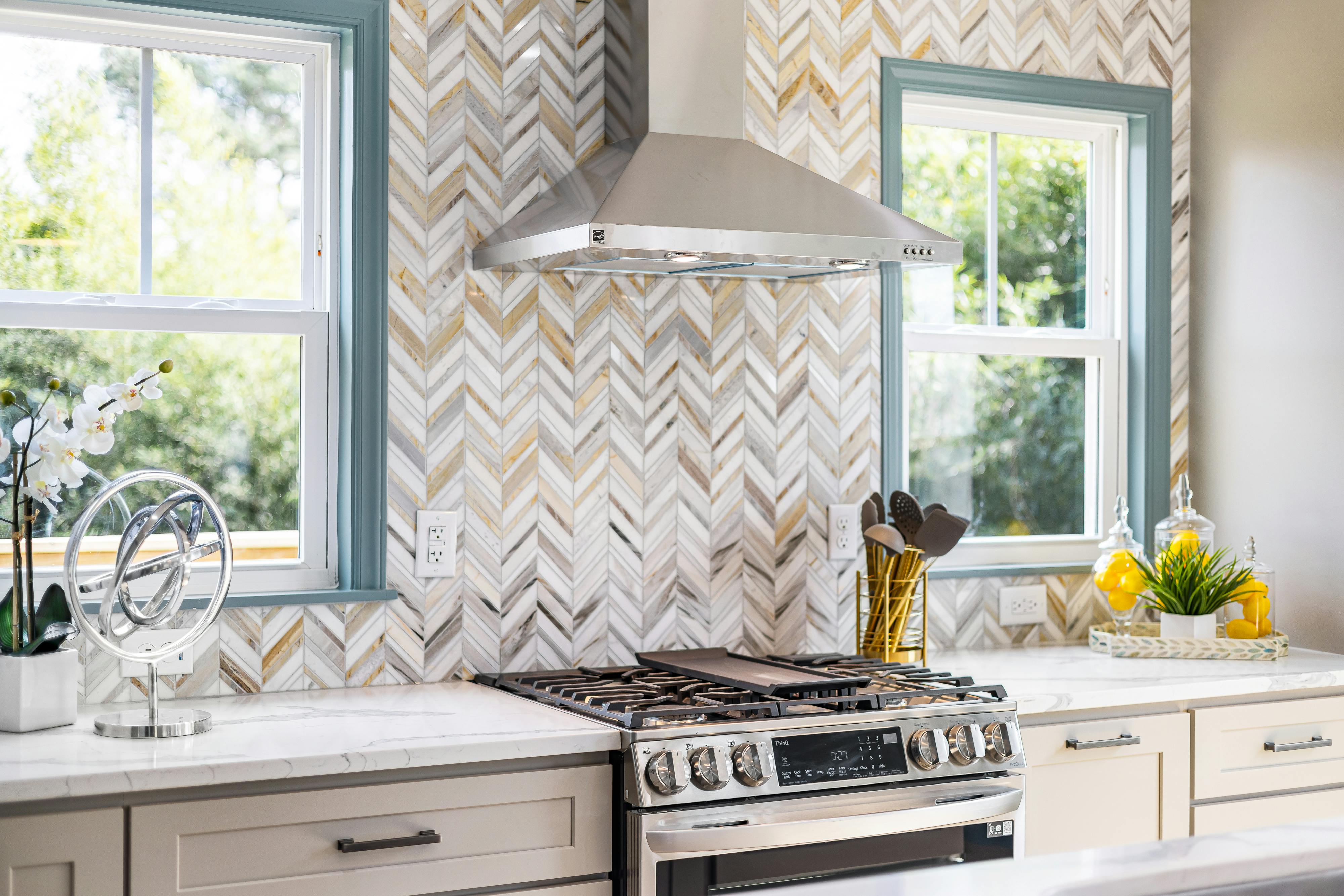 Image credits: Photography by Curtis Adams
Working with geometric tiles can be a little tricky. If not done well, the entire look may feel clunky and cluttered. However, that doesn't mean you can't experiment with subtle geometric patterns. Use hexagon tiles or herringbone patterns for a clean geometric look.
Design Faux Pas To Avoid for Kitchen Backsplashes
The right backsplash can either make or break your kitchen's aesthetic appeal and functionality. Don't fall into the common design traps. Let's delve into some major faux pas that you should steer clear of with the above kitchen backsplash ideas.
Don't Ignore the Overall Kitchen Theme
The backsplash tiles should complement your kitchen's overall design. Don't make the mistake of choosing a flashy backsplash for a muted theme or vice versa. Cohesion is key. For example, if you want the focus to be on your stunning kitchen island, then choose a subtle background theme.
Think About Practicality
Yes, your backsplash should look fabulous, but it also needs to be practical. Avoid materials that are hard to clean or prone to staining, especially in high-traffic cooking areas.
Don't Go Overboard with Patterns
While a patterned backsplash can be eye-catching, too much pattern or an overly busy design can overwhelm the space. Balance patterned tiles with simpler elements in your kitchen.
Focus on the Color Palette
Avoid clashing colors that disrupt the flow of the eye. Instead, aim for a complementary or contrasting palette that enhances the overall look. Your backsplash should fit harmoniously within your kitchen's color scheme.
Avoid Mismatched Proportions
The size of your backsplash tiles should be proportionate to your kitchen. Large tiles in a small kitchen can make it look even tinier, while tiny tiles in a spacious kitchen might look odd.
Make Sure the Lighting Is Adequate
Your backsplash deserves proper kitchen lighting to shine. Add under-cabinet lighting, as it not only accentuates your backsplash but also enhances your kitchen's functionality.
Don't Ignore the Texture
Texture adds depth and interest. A flat, monotonous backsplash can make your kitchen feel bland. Incorporate textured tiles or materials to create visual appeal.
Avoid Overpersonalization
While adding personal touches is great, going overboard with too many personal items can make your kitchen feel cluttered. Less is often more.
Tips To Maintain Kitchen Backsplash
Maintaining backsplash tiles for the kitchen is crucial to preserve its beauty and longevity. Here are some good tips to ensure your backsplash remains in top-notch condition:
Regular Cleaning
Wipe down your backsplash regularly with a soft cloth or sponge and a mild cleaning solution. Avoid abrasive cleaners that can damage the surface. Do an annual deep clean to tackle any stubborn stains or grime buildup.
Protect Behind the Stove
Install a heat-resistant and easy-to-clean backsplash behind your stove to shield it from splatters, grease, and heat damage. You should also avoid having a white kitchen backsplash behind this area.
Use a Grout Sealer
Apply a grout sealer to prevent moisture and stains from infiltrating the grout lines. This will make it much easier to clean. Also, try to wipe off food splatters and stains immediately before they start collecting on the grout lines.
Scrub Gently
Vigorous cleaning can scratch or damage certain materials like glass or delicate tiles. Use a gentle touch when cleaning. Different materials will require different kinds of cleaning. For example, stainless steel may need a special stainless steel cleaner, while for natural stone, you should avoid acidic cleaners that can etch the surface. Wipe peel-and-stick kitchen backsplashes with a dry cloth. For a brick-backsplash kitchen, you'll need to scrub with a soft bristle brush and soapy water. Avoid using excessive force to prevent damage to the brick. 
Regularly Check for Damage
Keep an eye out for any damaged or loose kitchen backsplash tiles. Replace or repair them promptly to prevent further issues.
Along with these tips, you should also avoid overloading shelves as it may strain and damage the backsplash. With regular cleaning, preventative measures, and some occasional TLC, you can keep your backsplash looking stunning and functional for years to come.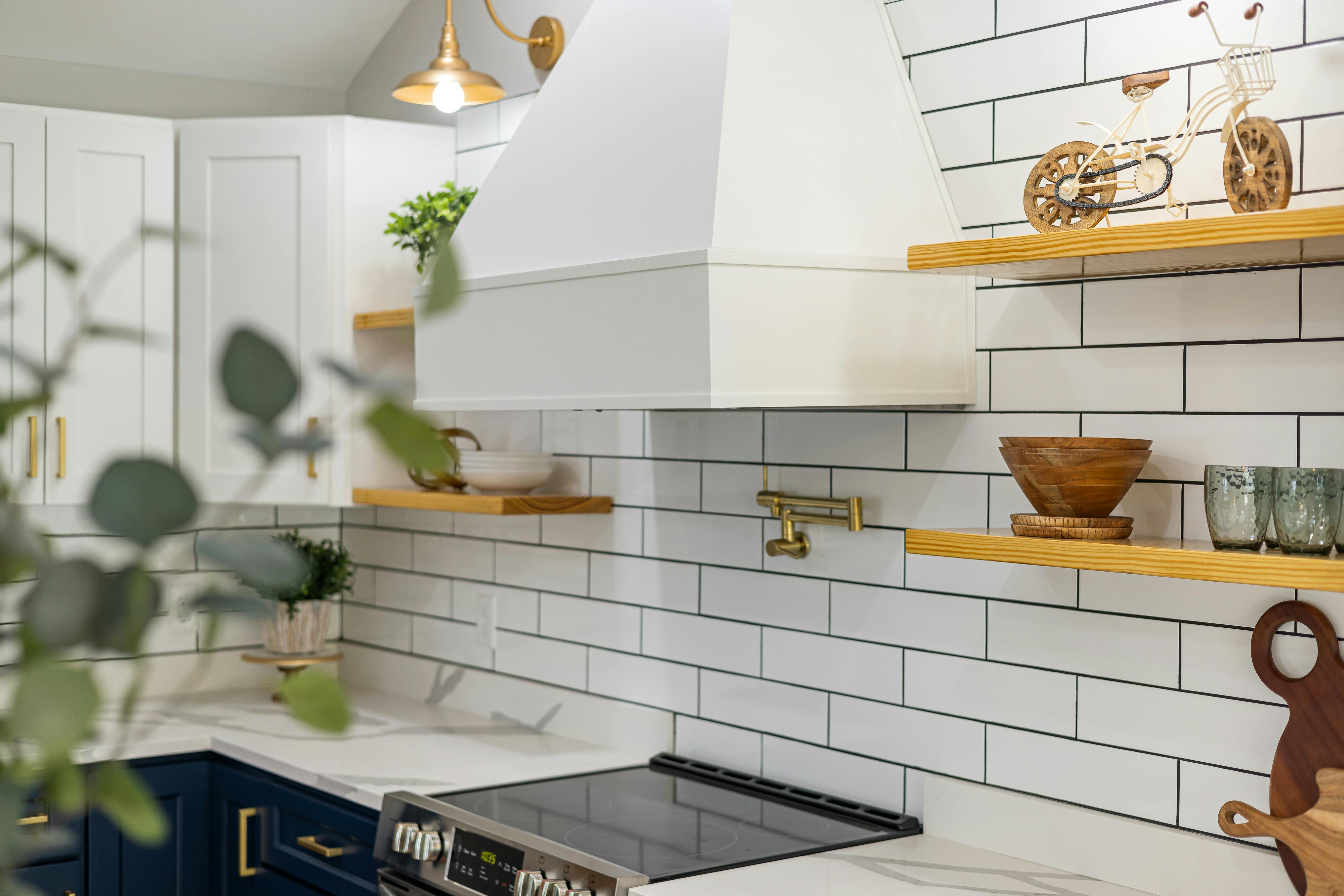 Image credits: Photography by Curtis Adams
Kitchen Backsplash Tiles FAQs
What Kind of Backsplash Will Not Go Out of Style?
Neutral colors and light hues are an all-time classic and will never go out of style. Avoid fleeting trends, such as bright colors, geometric patterns, and excessive bling. Rather, let the material and texture do the talking. Opt for timeless choices like natural stone, glass tiles, brick, and mosaics.
Should the Backsplash be Lighter or Darker Than the Countertop?
There's no strict rule. The choice depends on your design preferences and the overall look you want to achieve. A light backsplash and darker countertop create a sense of contrast and can make a space appear more open and airy. Conversely, darker backsplashes can add depth and warmth to the kitchen. Ultimately, it's about finding a balance.
What Is the Easiest Backsplash to Install?
The easiest backsplash options include peel-and-stick tiles. They are exceptionally simple and don't require grout. You can also consider mosaic tile sheets that come pre-arranged on mesh for easy installation. However, you will still need to prepare the surface. Take professional guidance if you're unsure about the installation process.
What Is the Cheapest Way To Do a Backsplash?
There are a lot of budget-friendly options. Painting the wall is the cheapest. You can use a washable paint or opt for a chalkboard-style coating. Another option is to use peel-and-stick backsplash tiles. They are cost-effective and easy to DIY. Vinyl decals can also mimic a tiled appearance at a low cost.
How to Install a Kitchen Backsplash?
To install a kitchen backsplash, begin by prepping the wall. It should be clean, dry, and smooth. Next, measure and plan your layout, starting from the center for symmetry. If you're using tiles, you'll need to cut them precisely using a tile cutter. Spread adhesive or thin-set mortar evenly on the wall and press the tiles into it, starting from the center and working outward. Make sure to use spacers for uniform spacing. Once the adhesive dries, apply grout and a sealant and fill the gaps.