This time of year is perfect for making your kitchen look better – and there are so many ways to do so.
The most transformative kitchen ideas will take longer to achieve, but can give you a completely refreshed space. But if your budget is lower, or you have little time to devote to DIY revamps, know that even smaller changes can make an existing kitchen look better.
We talked to kitchen design experts to discover the most impactful ways to make a change.
How to make a kitchen look better
The quickest and easiest way to improve your space is to spend time organizing your kitchen. This means decluttering countertops, clearing off windowsills, organizing kitchen cabinets, and tackling problem areas. Cleaning your kitchen and effectively staging a kitchen as if your home were for sale are both likely to produce noticeable results, too.
Do nothing more than this, and you can not only make your kitchen look better, but can even make a small kitchen look bigger and brighter.
However, if you want to make more permanent changes, because, let's face it, clutter soon creeps back in, and you can't live your life with a perfectly staged kitchen, this is what to do.
1. Repaint cabinetry and walls in a beautiful color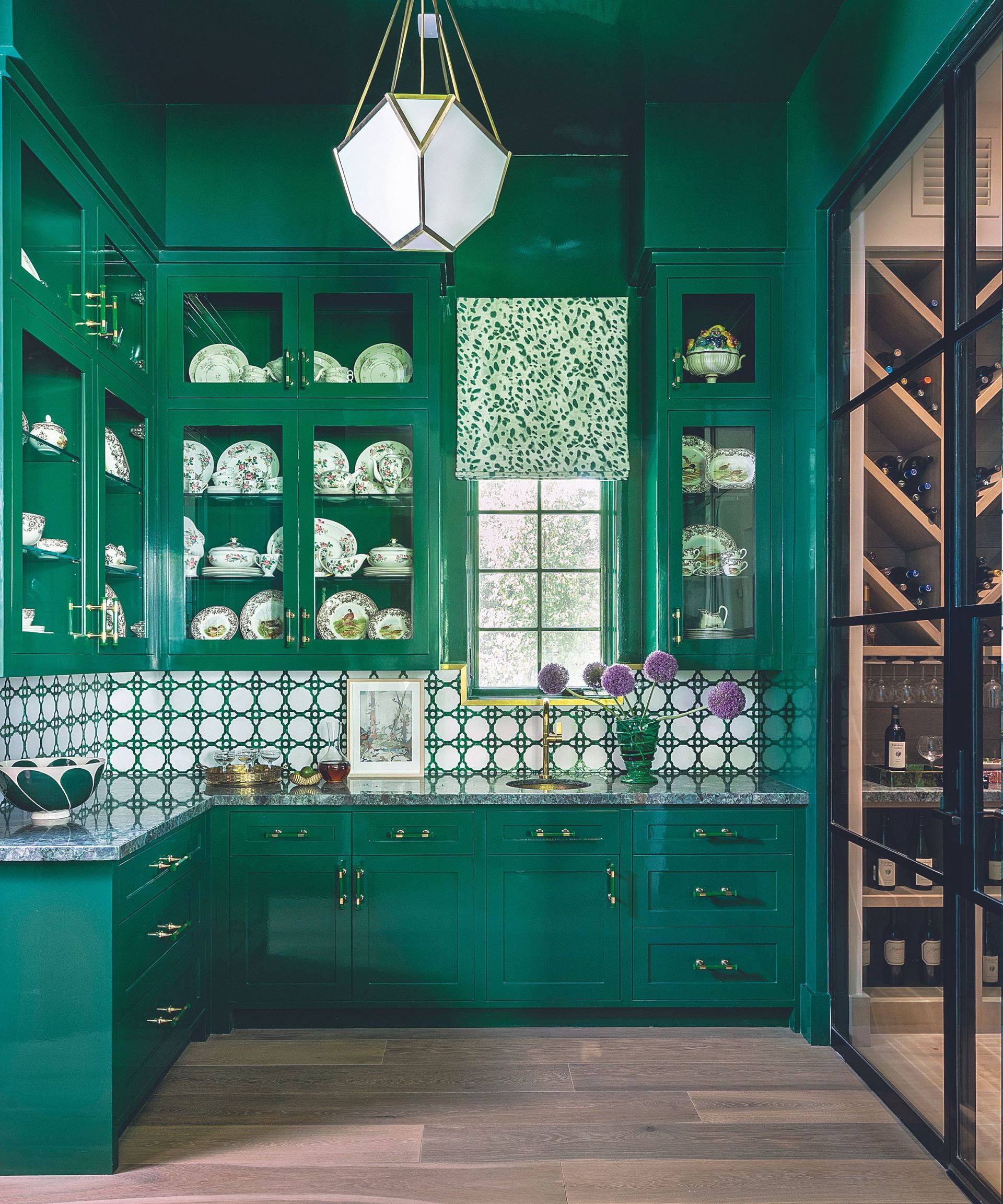 Embracing a transformative approach to large and small kitchen paint colors is one of the easiest ways to make a kitchen look better. Painting kitchen cabinets (and walls) in one shade will create a dramatic finish and using paint is the least expensive and easiest ways to update kitchen cabinets without replacing them.
'We love a full drip when painting a room, especially in vibrant, high-gloss paint,' agrees Courtnay Tartt Elias (opens in new tab), principal, Creative Tonic Design, who designed this bespoke kitchen in Sherwin-Williams' Shamrock (opens in new tab). 
'Saturating traditional elements within a space, including cabinets, trim and walls, with bold color is a sure-fire way to elevate and modernize their classic lines. The clean, detailed, right-angle millwork of Shaker cabinets makes them a perfect canvas for embellishments, whether that's bold paint, wallpaper, brass mesh insets, or even adding antique mirrors or glass to the centre sections.' 
When considering kitchen cabinet colors or painted kitchen cabinet ideas that open into other rooms, think about whether you want your living room and kitchen to match. In a smaller or open-plan home, this can help your space feel more united.
As long as she can remember, Courtnay has felt compelled to weave brilliance into her surroundings. As a child, gracefully styled vignettes filled the corners of her home, each sharing hints of her family's story. Her room was carpeted in soft lavender and spirited textiles courtesy of the '80s were running wild through her head. Studying 19th and 20th-century decorative arts at Sotheby's London further solidified her appreciation for saturated hues, richly appointed textiles, and homes as the tellers of stories. Courtnay founded Creative Tonic in 2006 with a passion for composing layered environments that invite celebration. With a fearless use of color and decidedly inventive flair, her work is award-winning.
2. Paint single pieces to transform the whole space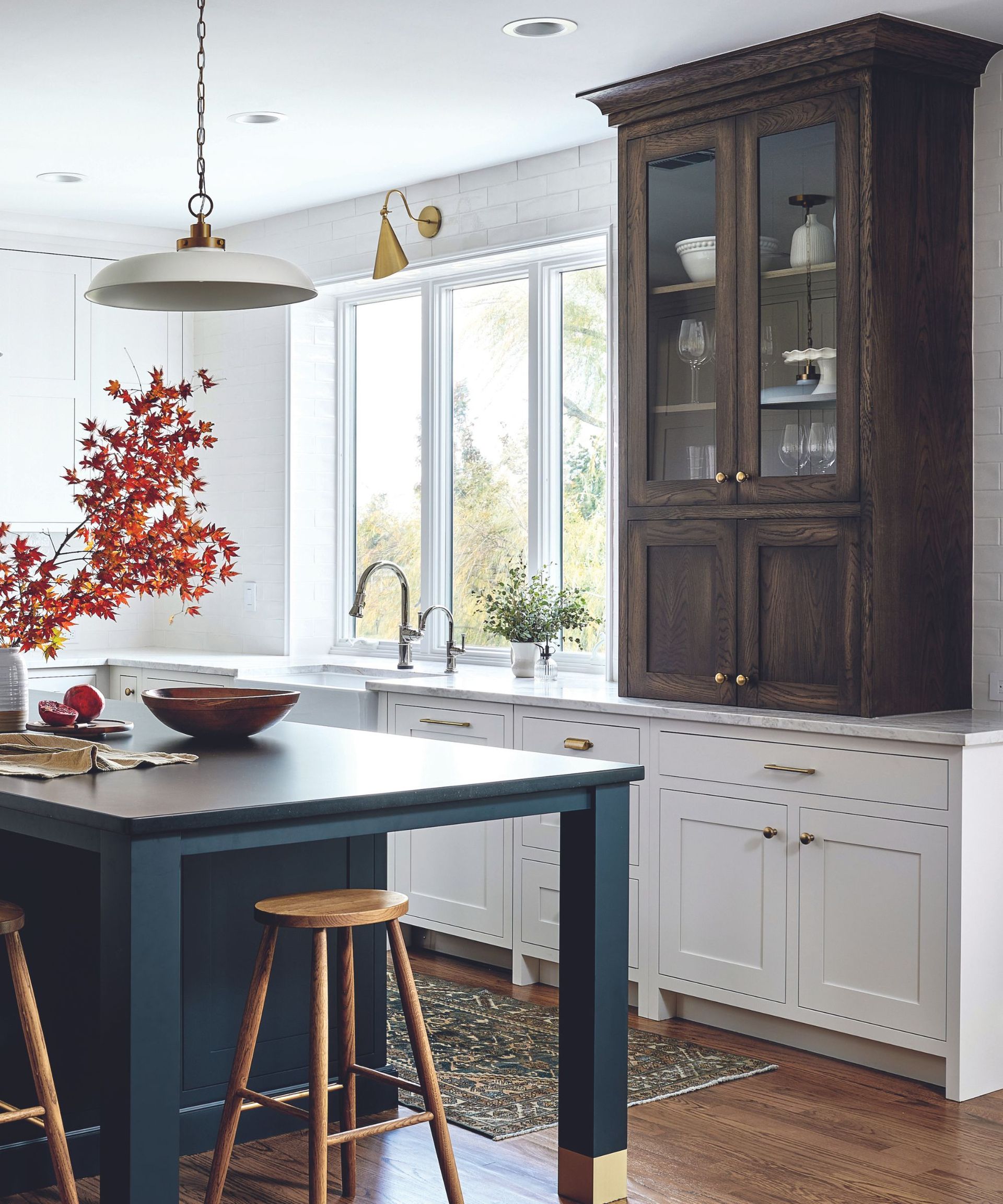 Repainting just one element of your kitchen is less effort but if you are wondering whether kitchen cabinets can be two different colors, the answer is yes – and more, as you can see in the successful space, above.
For a masterclass in color mixology, Tanya Smith-Shiflett (opens in new tab) has the skills: 
'An intentional switch of materials and finishes can give a modern feel to the classic door style,' says the owner of Unique Kitchens & Baths. 
This three-toned kitchen, created in collaboration with interior designer Alison Giese (opens in new tab), adds contrast to the space while allowing the island and cabinet to pop. 
What color cabinets make a kitchen look bigger? 'To elongate the room, we chose a brighter painted finish for perimeter cabinets, with a dramatic and enticing finish on the island. Finally, we went for a more furniture-like piece, using stained oak to bring warmth and add visual interest,' Tanya explains.
3. Introduce inviting texture with wood cabinetry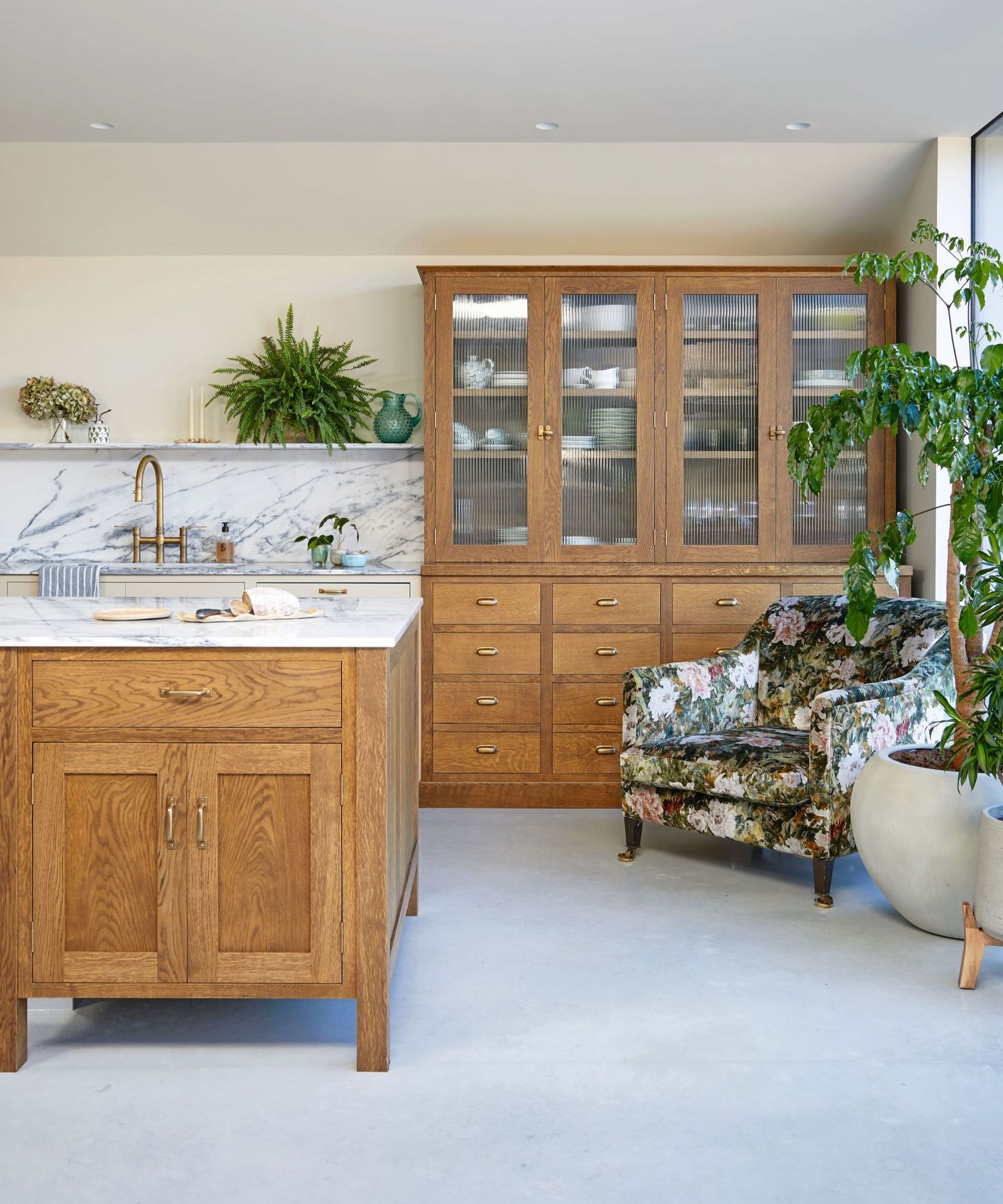 Wood kitchen cabinets can lend charm and help dilute the crispness of a contemporary setting, so if you are updating a kitchen or simply replacing kitchen cabinet doors, this can be a great route. 
However, adding texture in interior design with wood can be done in many ways can make a kitchen look better, whether through wood kitchen flooring, wood ceiling kitchen ideas, freestanding wooden furniture, from armoires to bar stools, or simply wooden accessories, such as cutting boards.
For this kitchen, interior designer Fiona Duke (opens in new tab) has used doors in lightly stained raw oak to soften large expanses of glass and poured cement floors. 
'Exposed wood helps to give an authentic, vintage feel to the classic Shaker kitchen, instantly adding texture, color and pattern,' explains Fiona. 'The design of the bespoke dresser echoes an old apothecary-style piece and introduces a subtly eclectic dynamic, further preventing the new architecture from feeling overly modern or stark.'
4. Bring glamor to your kitchen with metallic finishes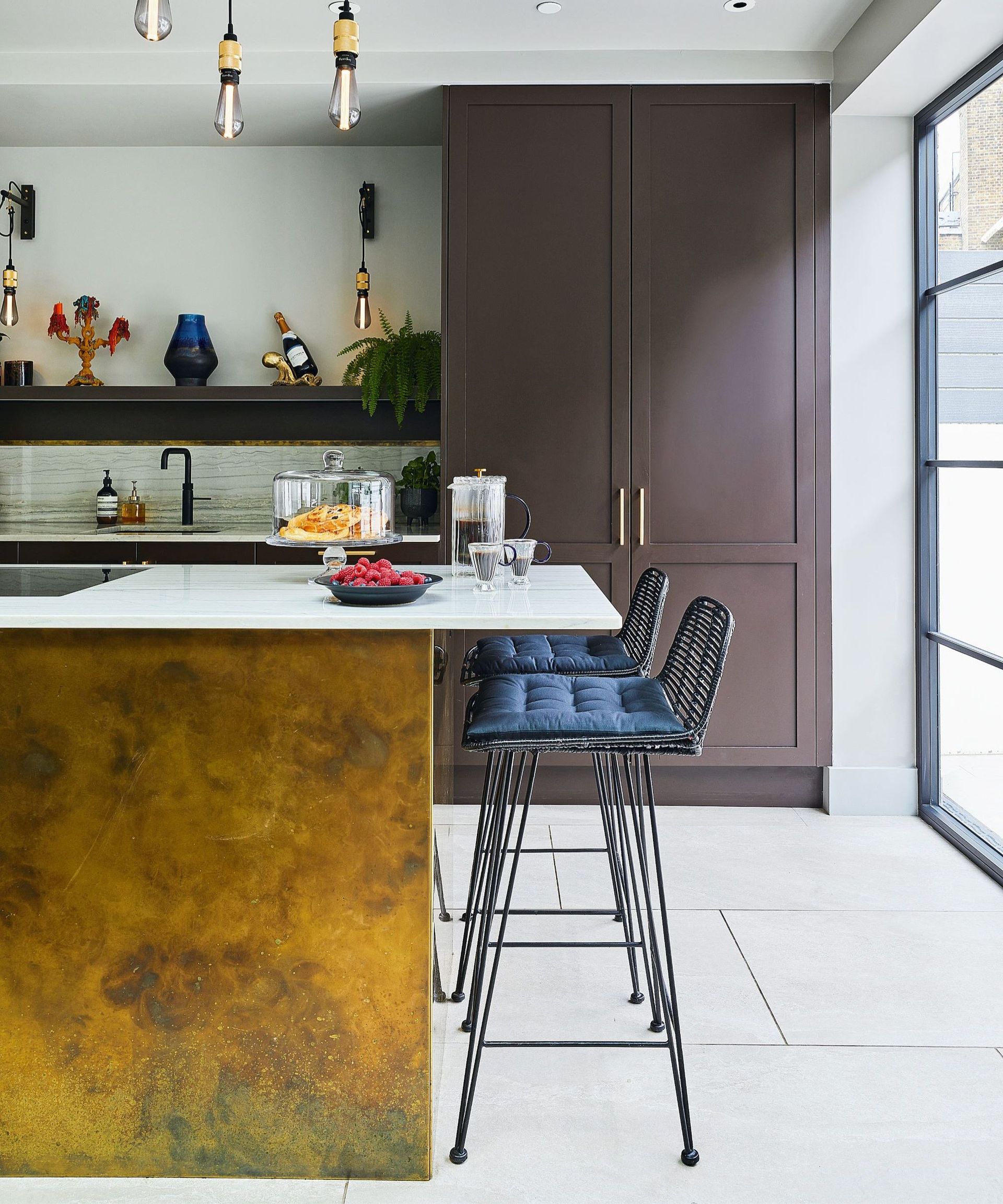 'A smart way to make a classic kitchen look more interesting is to add a kitchen island unit clad in antique brass,' says Rhiannon Phenis (opens in new tab), head of design, Sola Kitchens. 
'Switching materials and door style on an island is a great chance to get creative and make a statement while maintaining a level of design cohesion.' 
A less dramatic, easier, and less expensive way to achieve warmth and drama with metal finishes is to carry the warm metal reference across door hardware and light fittings (though matched with cabinetry finishes will unite the two cabinet styles and further boost design interest). Taking tall units right up to the ceiling, with no traditional cornice or pelmet, also enhances the modern feel.
5. Replace backsplashes with standout materials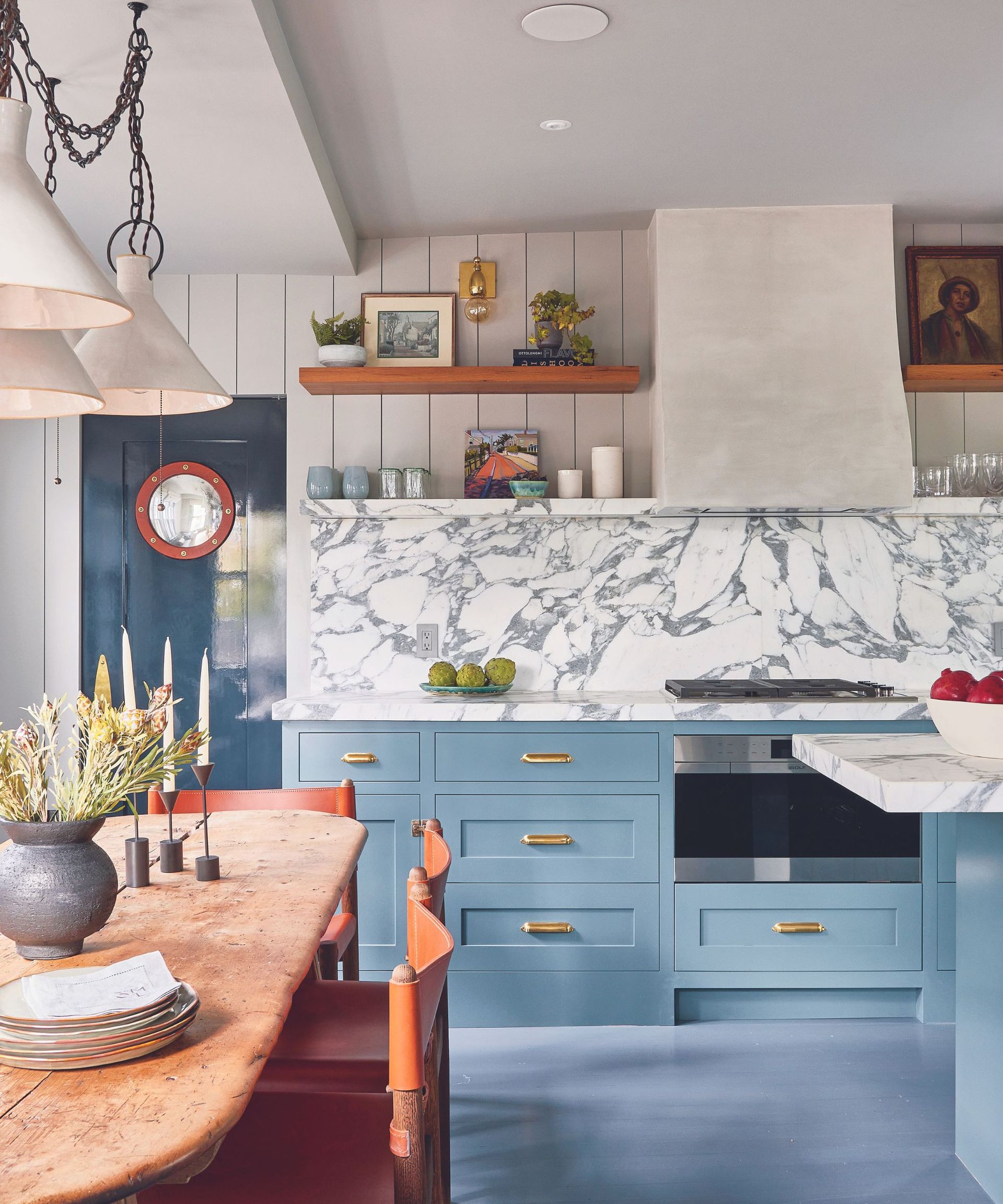 Focussing on texture will dial the simplicity of cabinetry up a notch, and can make a kitchen look better on its own. If you are wondering how you can update a kitchen without replacing it, installing a new kitchen backsplash with one in a standout material is one of the most impactful ways to do so.
What is the best kitchen backsplash material? 
'I like to use rich materials such as a bold and heavily veined Arabescato Corchia marble – honed, always – which will only get more beautiful with age,' says Kaitlin McQuaide (opens in new tab), principal designer of McQuaide Co. 
'Textured lime plaster on walls can add even more character, complementing the simple aesthetic of cabinets, rather than competing with them.' 
In this project on Nantucket Island, Massachusetts, McQuaide used vintage furniture to bring interesting wood tones into the mix and shiplap cladding to lighten and brighten.
Kaitlin McQuaide began her career working for renowned designer Victoria Hagan and the celebrated architecture firm Workshop/APD before launching McQuaide Co. She works closely with clients through all stages of a project, from conception to the technical aspects of construction and project management.
6. Exaggerate its proportions with decor tricks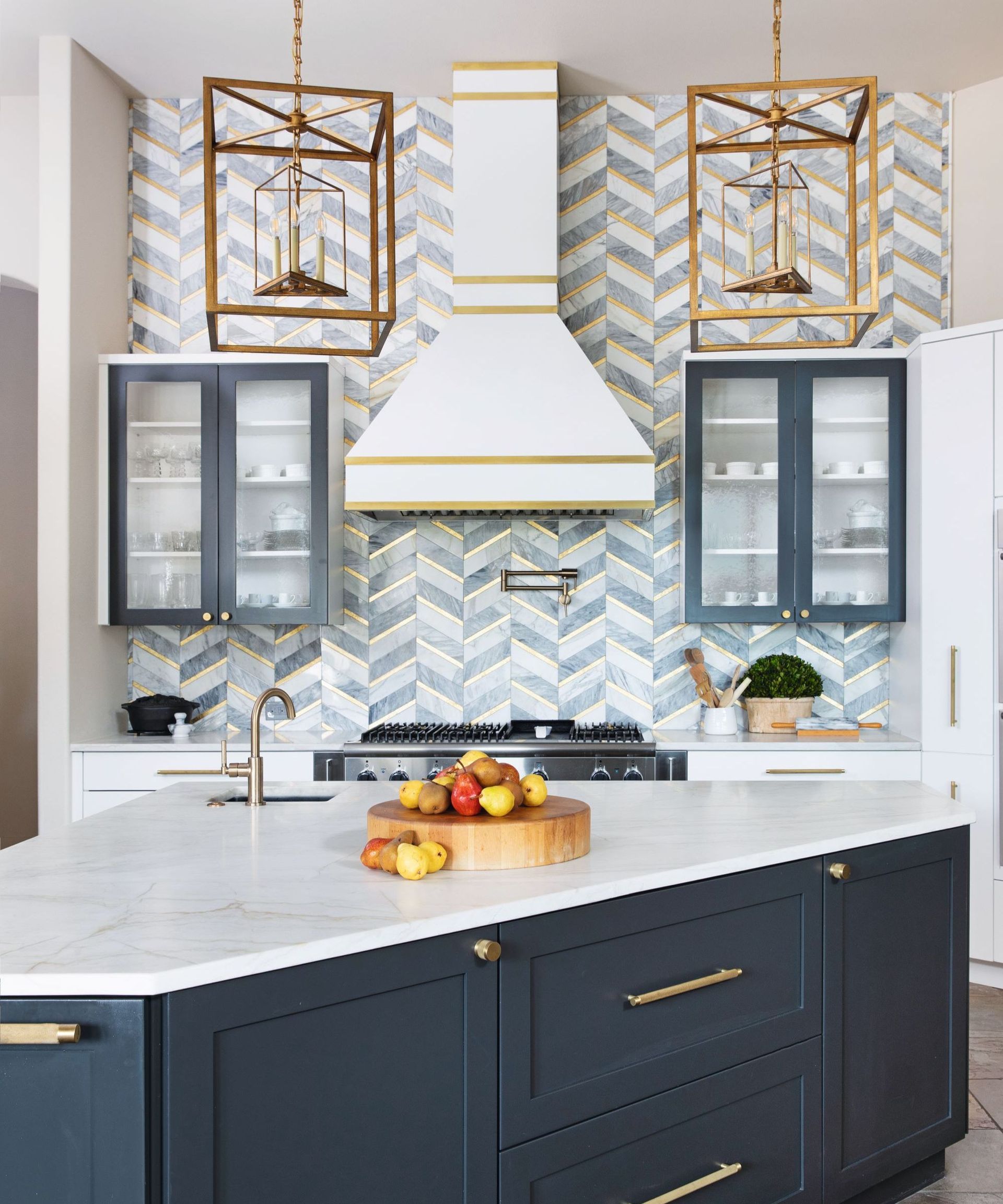 Disrupting the symmetry of classic kitchen doors by playing with angles elsewhere, as interior designer Meredith Owen (opens in new tab) has in this Texas remodel, can make a kitchen look taller and wider. 
'In this particular design, the homeowner wanted to keep the footprint of the island with its existing off-set angle,' she explains. To complement the unusual kitchen island shape and make it feel more purposeful, Meredith selected a chevron marble and glass tile with angles as well, then used simple doors and drawers as a calming tool. 
'Painting the cabinetry in a matching hue to the angled tile ties all of these elements together for united design,' adds Meredith.
Austin-based Meredith Owen Interiors was founded in 2016. The firm focusses on high-end residential projects, including new construction, renovations and interior/exterior furnishings. Meredith and her team works diligently to create a custom design experience that helps to bring each individual project to life. Meredith believes that a home should not only function flawlessly but also reflect the people who live inside the home. 
7. Integrate appliances for a modern, streamlined look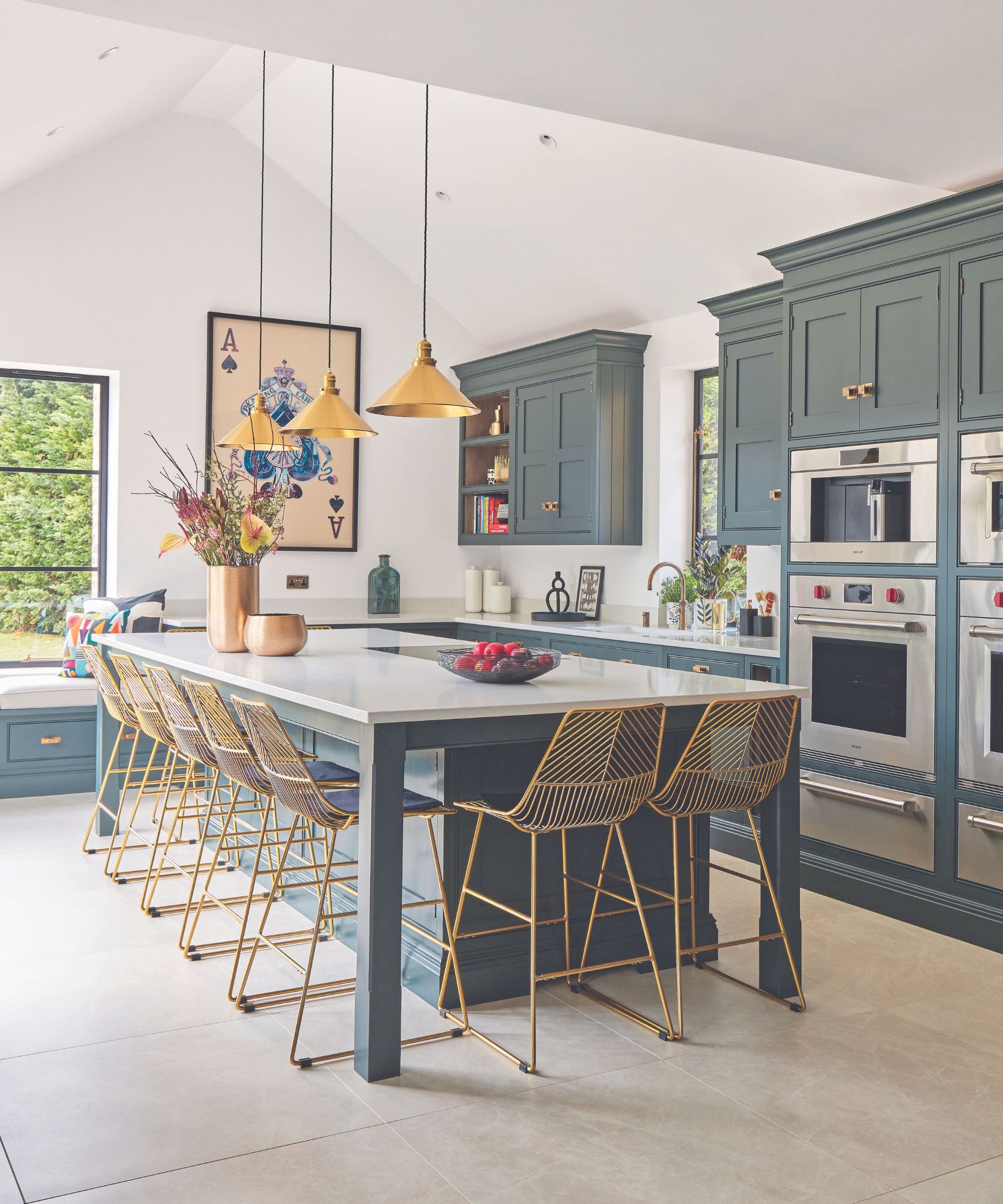 Streamlined, built-in ovens are often associated with slick, contemporary cabinetry but they can also prove an effective way to update traditional cabinetry, and make an outdated kitchen look better. 
'What brings the modern elements to this kitchen is the contemporary features like integrated appliances, sleek bar stools and a boiling water tap,' says design director, Tom Howley (opens in new tab). 
Banking built-in ovens by stacking them in one area will maximize their impact and improve ergonomic efficiency when cooking up a storm.
8. Consider inventive kitchen window treatments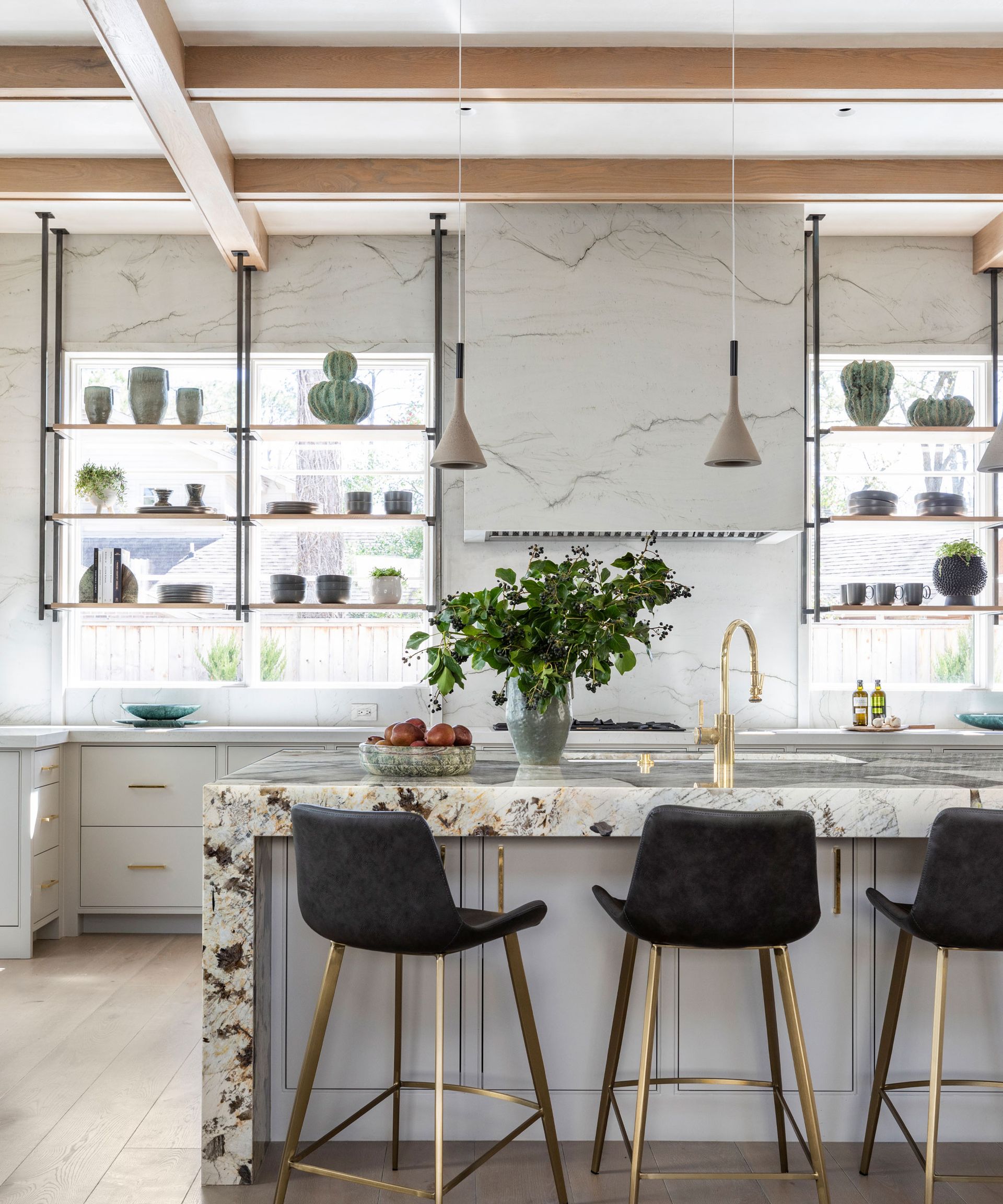 Kitchen window ideas needn't be run of the mill: choosing a treatment that's more unusual while still allowing in lots of light can make an ordinary kitchen look more interesting.
Here, display, storage and kitchen window treatments are combined in an original idea. Glazed shelving will allow in more light if your space is light-starved, while decorating with vases made of colored glass will throw pretty light into the room.
9. Switch up surfaces for a better-looking space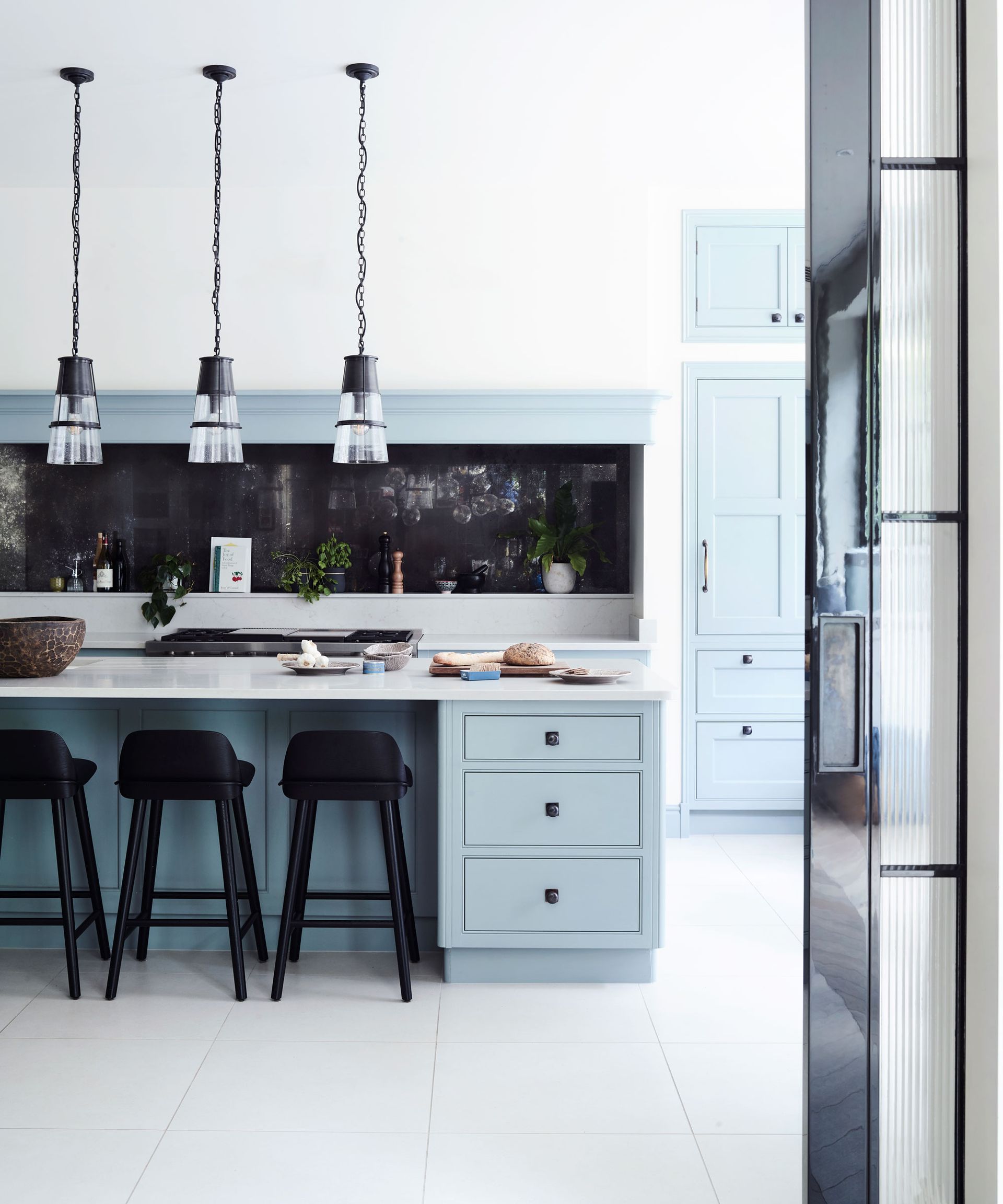 If you're looking to make a tired kitchen look better, it might be that looking for new kitchen countertop ideas and kitchen flooring ideas together can be transformative. 
Two questions for debate: should your kitchen floor match your countertops and should kitchen countertops be light or dark? 
'In answer to both of those questions, I would say that matching light countertops to light kitchen floors will make any kitchen look better,' says Lucy Searle, Homes & Gardens' Editor in Chief. 'Lighter colors bounce light around a space, making it feel larger and brighter, and this is most effective on horizontal surfaces. The only downside? Both will show up dirt a little more quickly.'
10. Add built-in seating for space-friendly socializing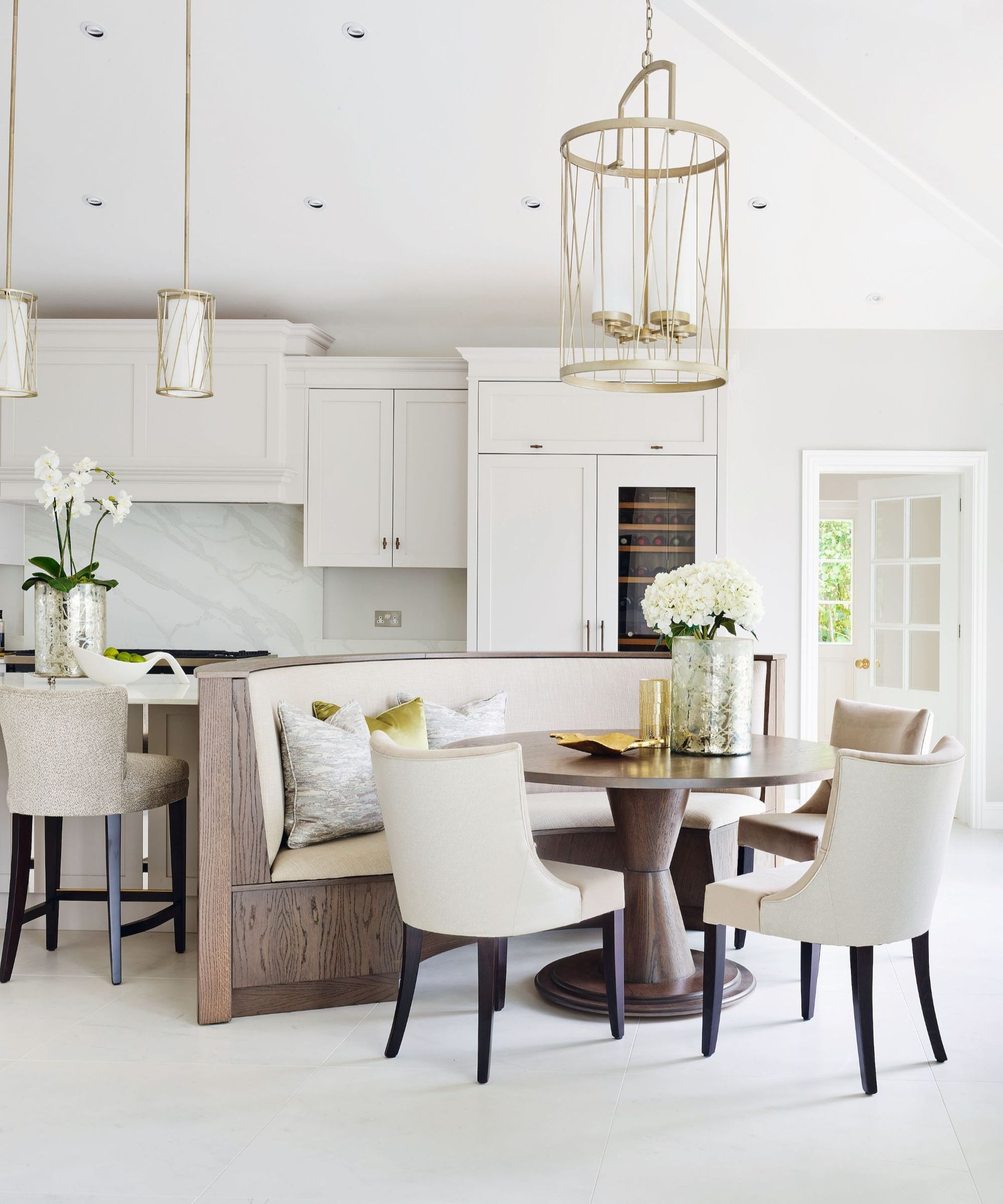 Modern integrated kitchen seating ideas can create an incredibly sophisticated transitional living space. 
'For an elegant look, simplicity is key. Simplify the design of integrated seating as much as possible so that it does not look too fussy,' says Stephanie Dedes, design manager, Charles Yorke (opens in new tab). 
'A balance of size is important; thin rather than chunky frame details on the cabinet doors help to create an elegant, refined look. Here, banquette seating is integrated into the island in a curved design, which softens the island's shape and aides smooth flow around the space.'
11. Improve kitchen storage to reduce clutter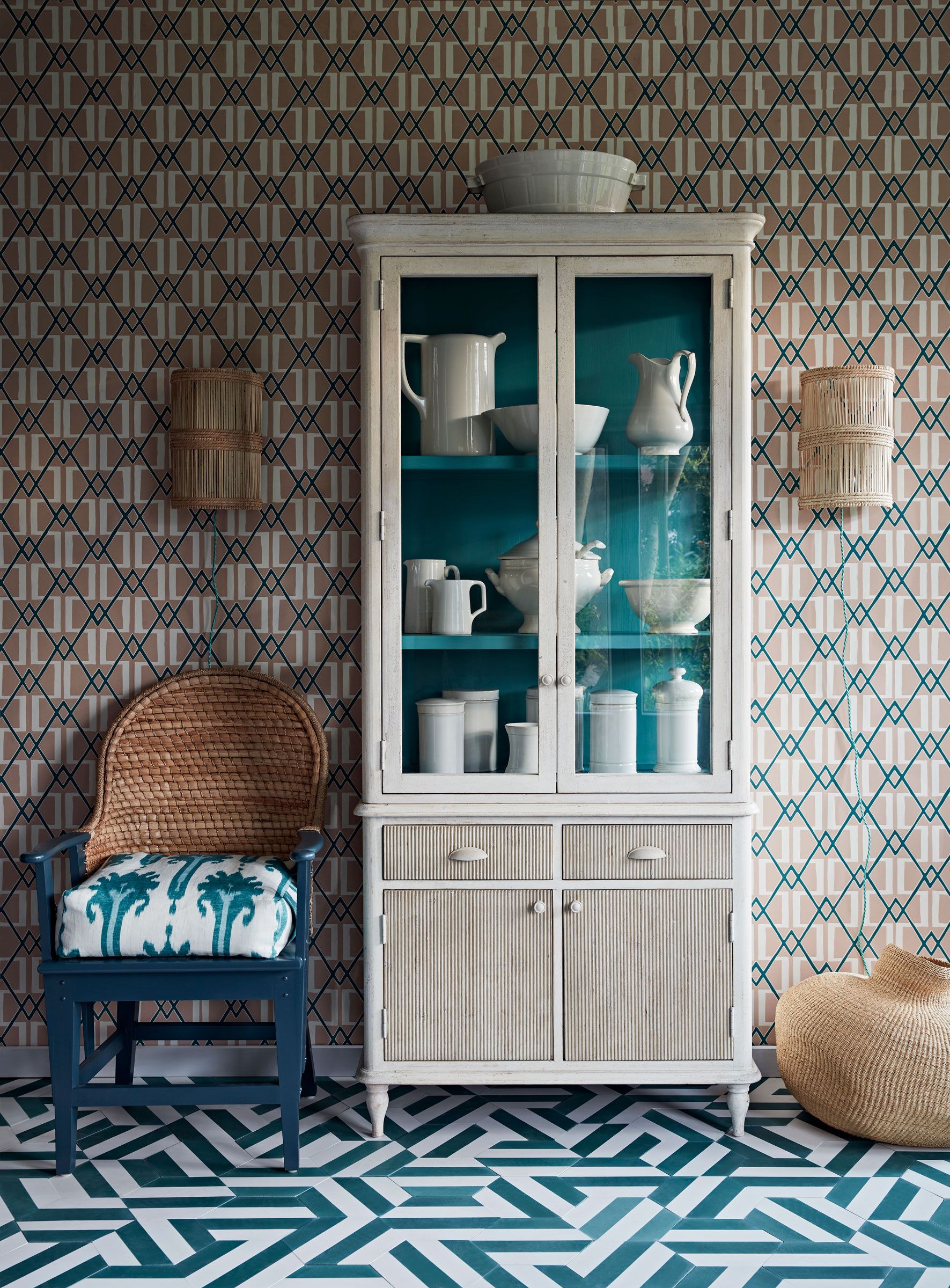 Circling back, if clutter is the single biggest problem that's stopping your kitchen look better, then investing in more kitchen storage ideas is a must.
'One of the easiest ways to do this is to find a tall display cabinet with a small footprint,' says Jennifer Ebert, Homes & Gardens' Digital Editor. 'That way, it takes up little space, but can be used to store a large amount of cookware. If there's no room for it in the kitchen, put it in a dining or living space, hiding your least used, least attractive appliances behind solid doors, and your best china behind glazed doors.'
FAQs
How do you update a boring kitchen?
To update a boring kitchen, the most dramatic thing you can do is to paint the cabinetry in a bolder color. Another good option is to replace ordinary cabinetry hardware – handles and knobs – with more interesting designs. Replacing a plain backsplash with one that's patterned or colorful or hanging kitchen wallpaper will both make a boring kitchen much more characterful, as will a simple display of pretty accessories on open shelving.
---
Making a kitchen look better can be as simple as reorganizing it, and rethinking and improving storage, however, if there are elements of an existing kitchen that look tired, these will need to be addressed, too. Budget kitchen remodel ideas, or any work you can do yourself, such as painting cabinetry or walls, tiling a backsplash or simply replacing worn hardware will improve your kitchen, though they will also highlight other areas, such as floors and countertops that might also need updating professionally.