For all too long, quartz and granite have been dominating in the kitchen, with these two hardwearing materials the front-runners when it comes to durability and form.
'There is no doubt that quartz is an awesome choice, especially when durability and budget are top concerns in a kitchen design,' says Reena Specta. 'Made from a combination of natural stone and resin, it is available in many colors and shades, including solid and patterned options. We also love using granite in our kitchen designs as it is typically the most durable and hardwearing natural option for any counter surface.' 
However, realistically, both these materials are on the more expensive end of the spectrum, and in terms of maintenance – both have their pitfalls. Granite needs regular sealing, while Quartz can be tricky to fit, with the seams where two slabs meet hard to disguise. To fill the void, we've put together a list of the other kitchen countertop materials that we've got our eye on, from the obvious to the less well-known, some of which might surprise you.
Alternative countertops to consider for your kitchen
1. Terrazzo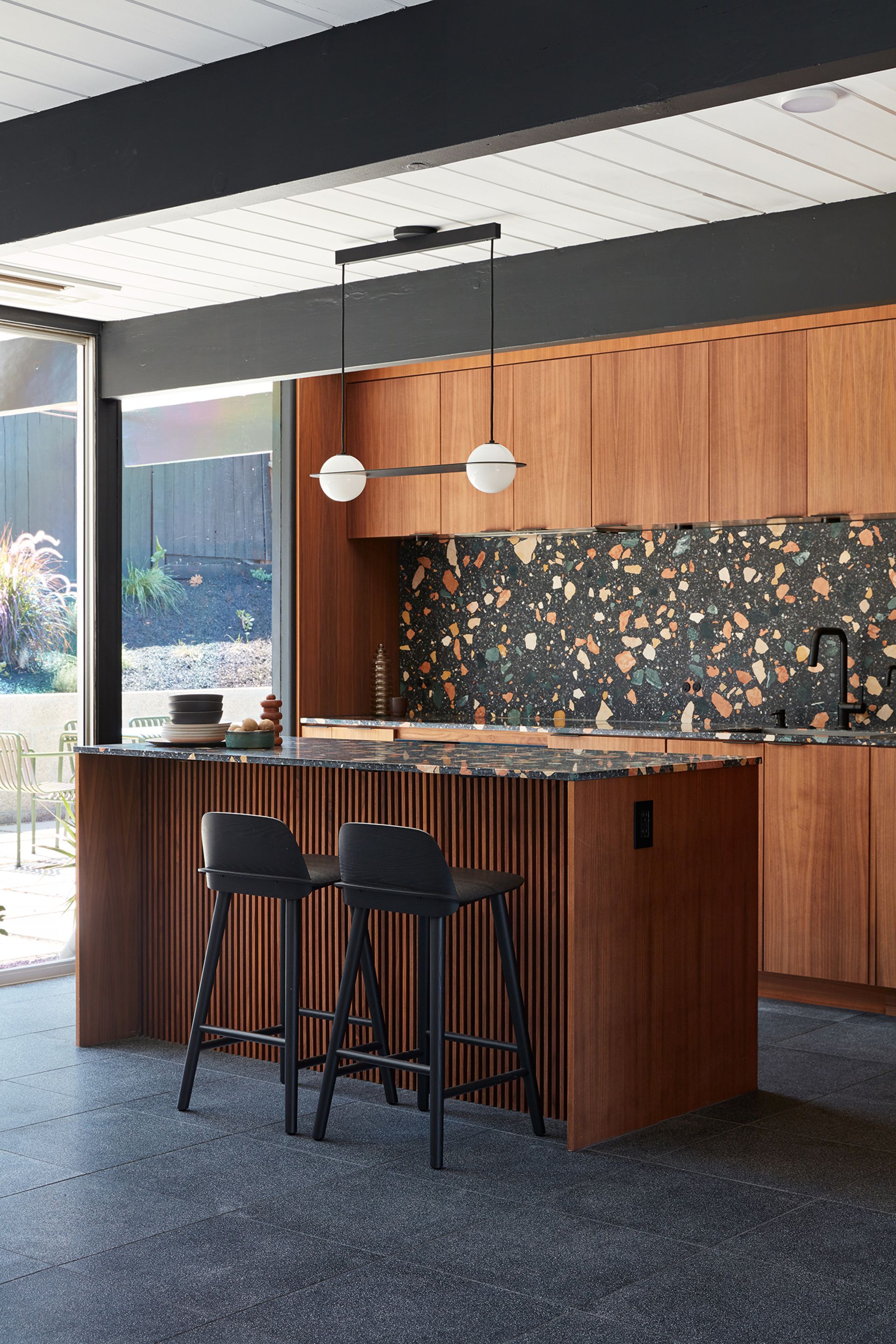 Terrazzo countertops have been all the rage for the last few years in the kitchen, but the trend is not going anywhere, with its seemingly limitless combinations of color and pattern meaning it has various manifestations. It's retro and playful, but has many property benefits too. 
It is heat resistant and durable, two big ticks in the kitchen. It's eco-conscious too and always has been, made during the 15th century in Italy from an assortment of marble chips, glass, and resin for an alternative to marble. Today, terrazzo uses a lot of recycled materials such as stone chips including granite, marble and quartz, and glass fragments – so you can get glimmers of that luxury look for less. 
This design is from Blaine Architects + Marshall Interiors (opens in new tab). 'In the kitchen, the design centered around a dark terrazzo stone with gold and emerald marbles sourced from Dzek Marmoreal,' explains co-founder Karina Marshall. 
'The stone, used on the countertops and kitchen backsplash, is the art in the kitchen. You have to look closely at the stone to spot the cooktop, which reflects the gold and emerald marble pieces and seem to disappear entirely with its flush installation,' says Karina. Look even closer, and you'll notice small round Bocci outlets hidden among the terrazzo pattern on the backsplash. 
2. Concrete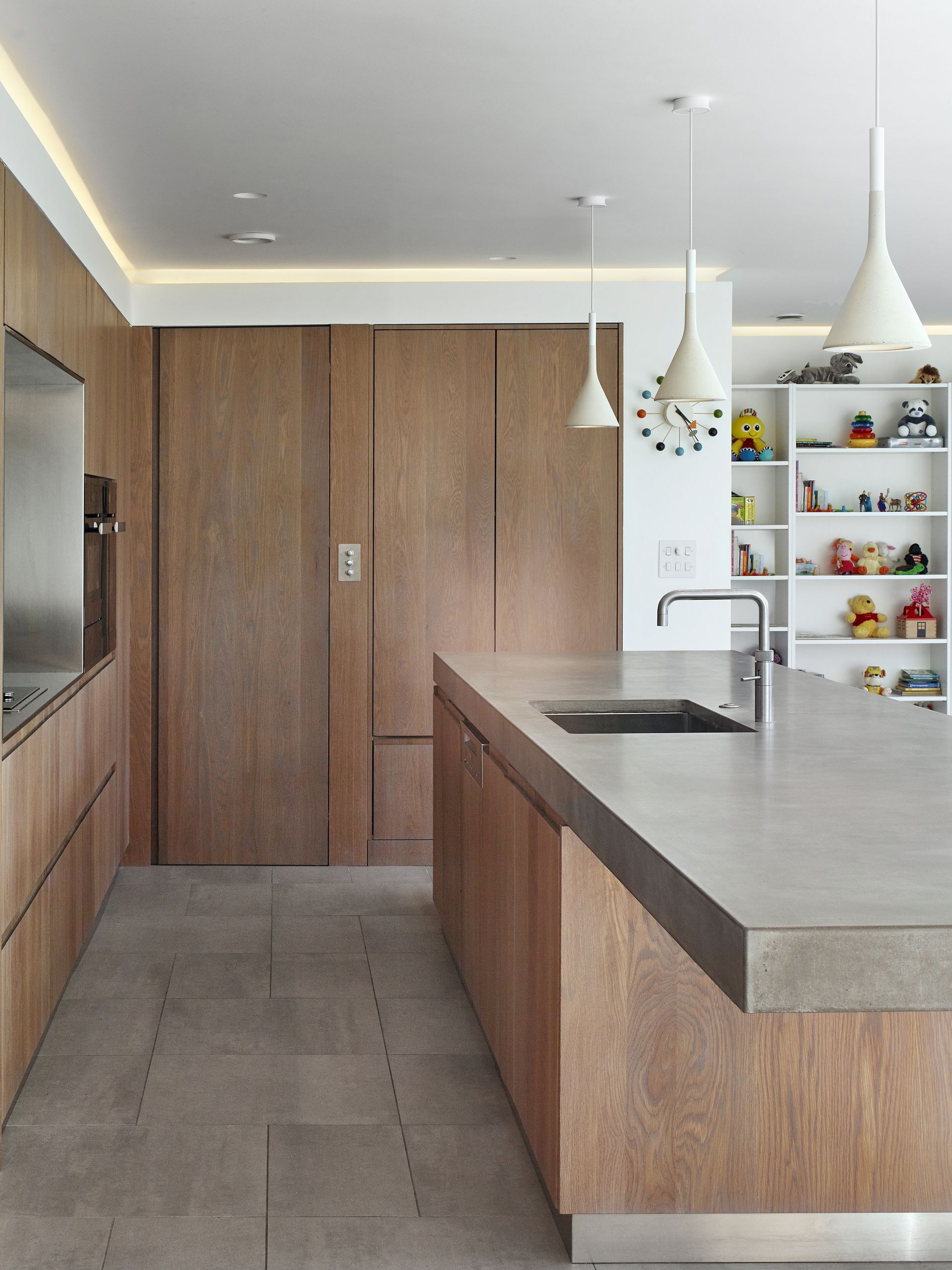 For that industrial kitchen look, concrete is a great fit, though frequently gets overlooked because of its more Brutalist qualities. It can be easily sealed to make a great countertop surface, and even stained with pigment to add color in interesting ways. 
With the right know-how, concrete can also be was used in new, exciting ways, as in for this cantilevered countertop in this home by Paul Archer Design. 'This countertop is really a small piece of engineering,' explains Richard Gill of Paul Archer Design (opens in new tab). 'Reinforcement and post-tensioning rods hold the worktop in place. The grey silky smooth surface combines with the solid oak drawer fronts.'
Aside from the aesthetics, in terms of wear and tear, this all comes down to the grinding of the surface. A surface with a raw concrete feel might pick up stains over time, but this can add to its patina – you just need to be happy to embrace imperfections. For a clean and sleek surface, concrete can be looked after with a good-quality polish. 
3. Stainless steel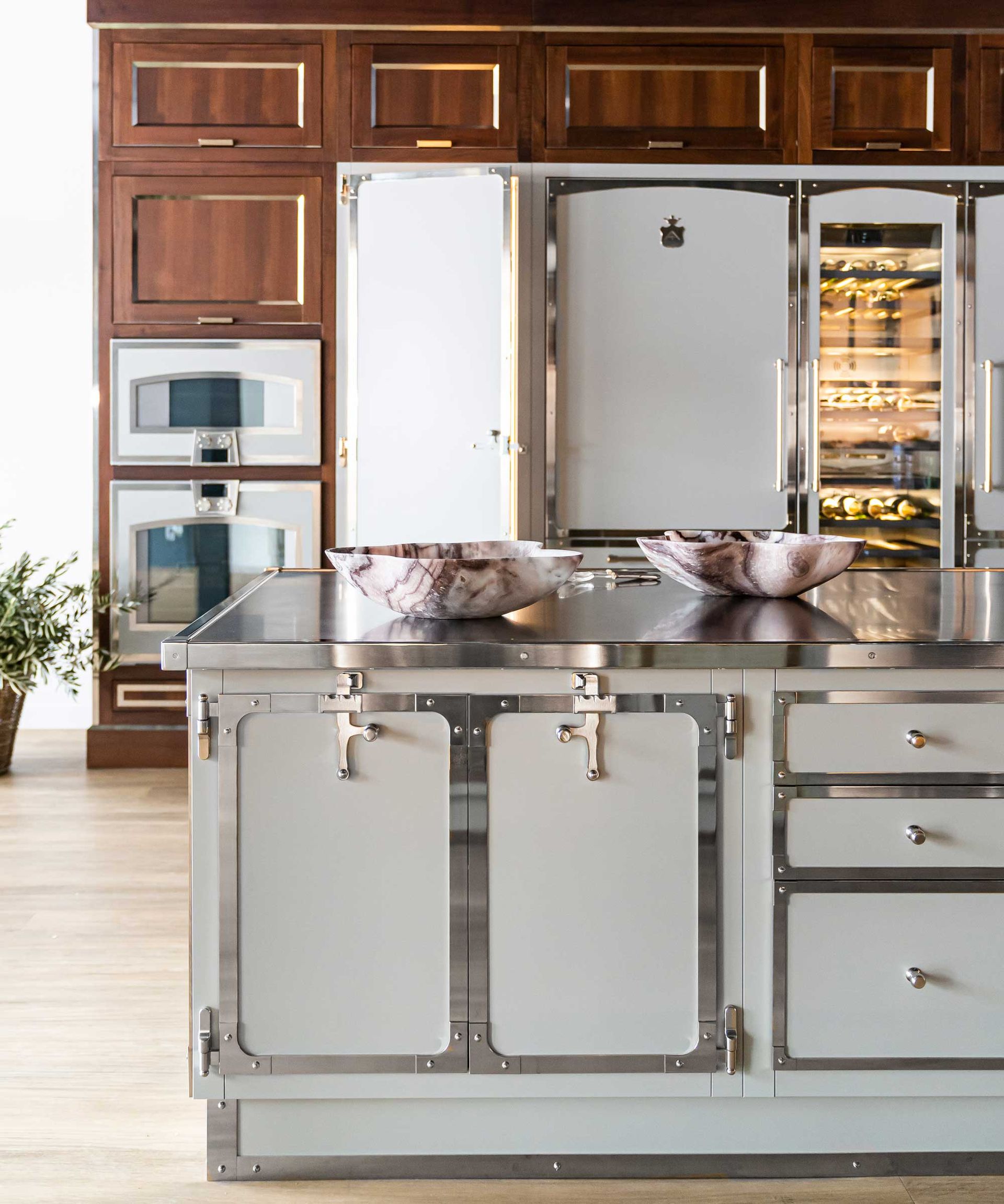 A stainless steel kitchen countertop gives the look of a professional kitchen, and has a sleek, 90s feel to it, but it's exactly this retro look why it's making a comeback in the kitchens of residential homes. 
The material's resistance to heat is its leading selling point, and it can withstand hot pans placed directly on the surface. It's also super easy to clean, and non-porous, meaning it's also the hygienic choice. 
It's for this reason that stainless steel is often seen in professional kitchens, like this design created by Los Angeles-based designer Davide Casaroli (opens in new tab). 'This kitchen is a professional kitchen, tailor-made, and comprehensively furnished, complete with a cooking section, dishwashers, ovens and built-in refrigerators to name a few,' Davide explains. 'The worktops are professional stainless steel counters, easy to clean and impossible to stain,' he adds. 
Stainless steel is susceptible to scratching, but fine scratches are relatively easy to remove with a good cleaner. 
4. Copper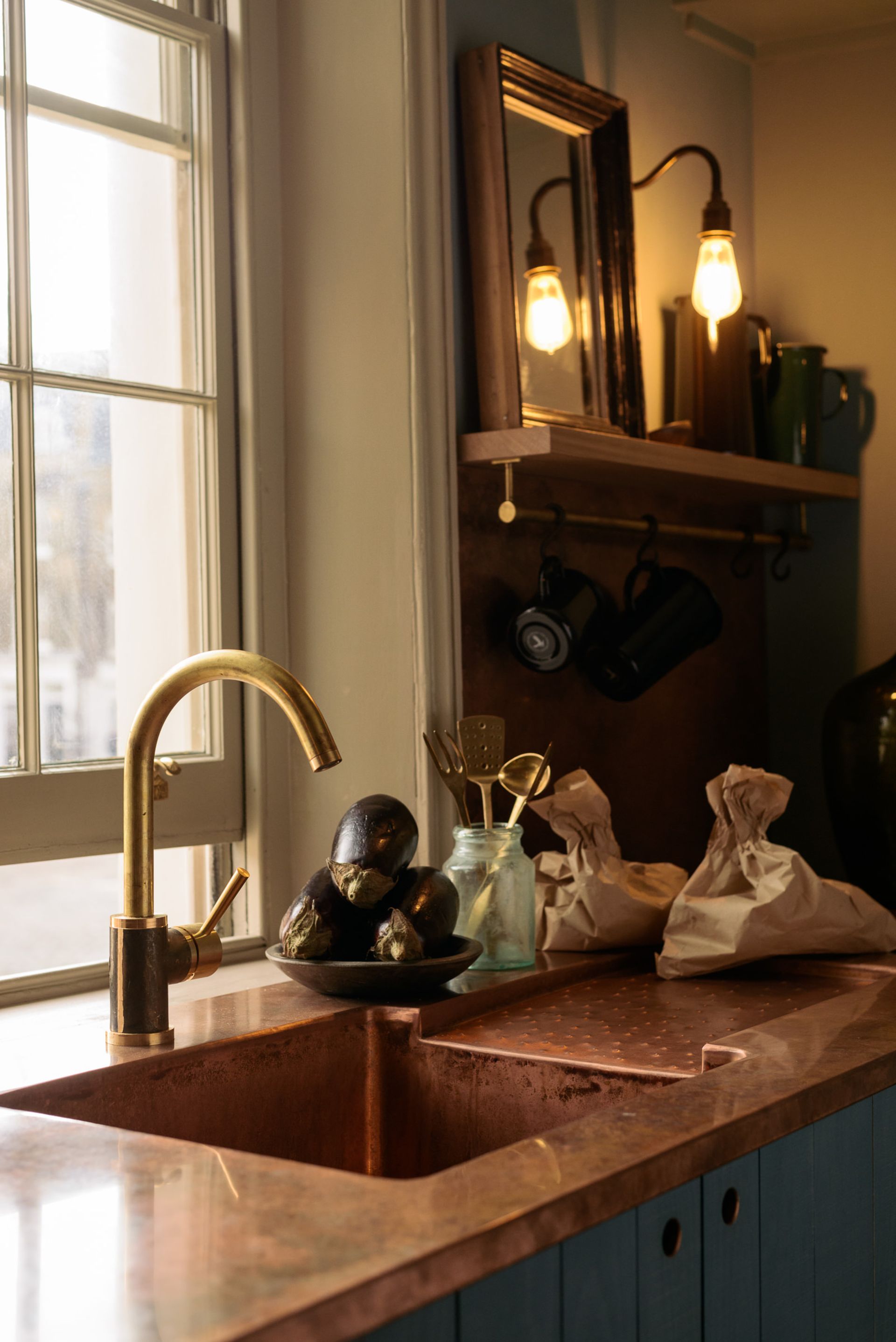 Copper is a super luxurious material that gives off that beautiful rusty glean in your kitchen. It's luxurious and can provide light to even the dark and moodiest of spaces, making it great for making a dark kitchen feel brighter. This deVOL kitchen has a countertop made from a single sheet with no surface seams, and an integrated sink. The copper has a matte finish and a lightly applied finish for patina. 
'There is nothing more timeless than an aged copper countertop,' says Helen Parker, creative director of deVOL. 'It has a finish that is not found in any other kitchen worksurface, it holds that perfect balance between kitchen and living which is absolutely a look to hold onto.' 
Copper is shiny and has an incredibly fluid, ever-changing patina which is all part of its charm. It looks precious, but also had practical qualities too. Copper has amazing antibacterial properties which make it even more desirable for a kitchen countertop.
5. Quartzite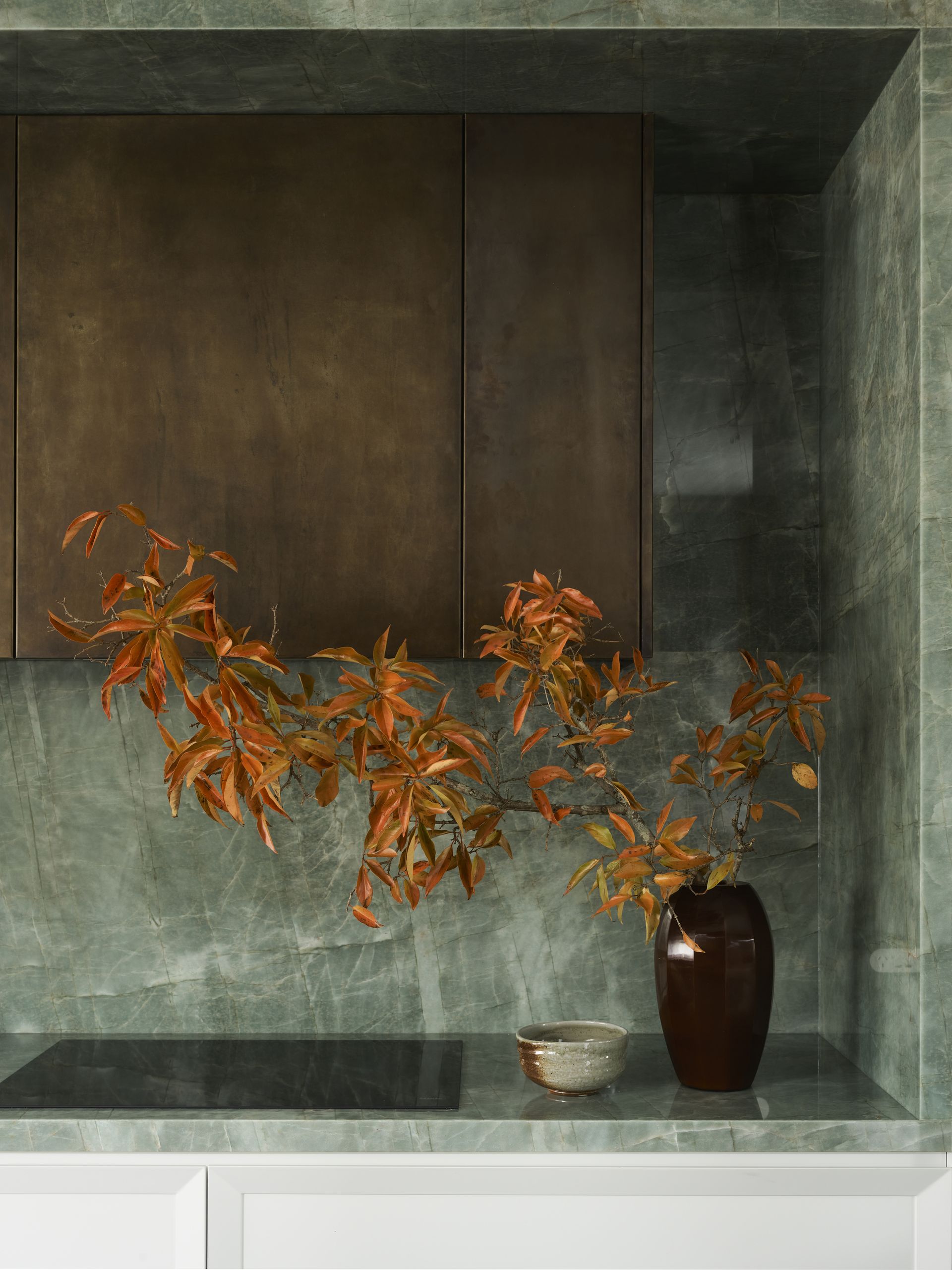 There is a lot of confusion when it comes to quartzite, owing mainly to its name which suggests quartzite is some kind of off-shoot from quartz. But crucially, this stone is a totally separate material altogether. Quartz is actually engineered whereas quartzite is natural. It is hardwearing, comes in a range of beautiful colors, looks super luxurious and expensive and is proving to be a real countertop trend.
'Quartzite has the benefit of being much hardier than marble, making it perfect for busy lives and families,' says Shona McElroy, founder of Smac Studio (opens in new tab). Shona designed this ethereal, almost glowing sage green countertop. The downside to quartzite is that it is more porous than quartz, and therefore subject to absorbing spills and stains, but with careful sealing, you can protect this beautiful stone. It is hardwearing, but doesn't match up to granite's durability, making it an interesting kitchen countertop alternative to explore.  
6. Tile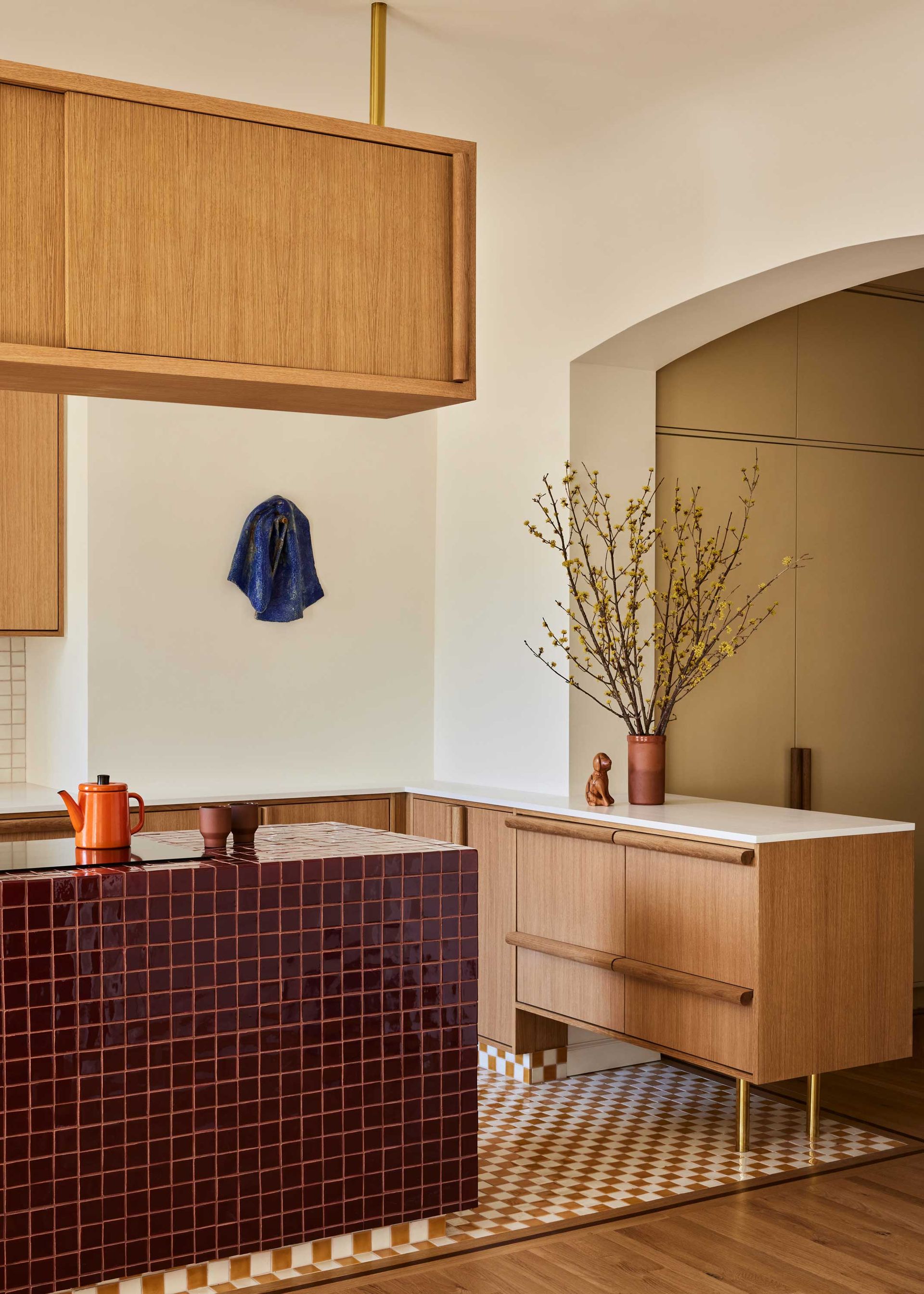 A little more niche, the tiled countertop trend is picking up momentum and I love it for its playful look, the texture it brings to the kitchen, and can create a bit of wow factor for a cheaper price point. The only real drawback is cleaning, and if we're using our countertops day in, day out, cleaning those grout lines can get tiresome and tricky. 
Make sure you seal tiles with a silicone sealer to reduce chances of ongoing stains, otherwise, go for it, have fun with kitchen color, and it'll certainly get your guests talking.
7. Wood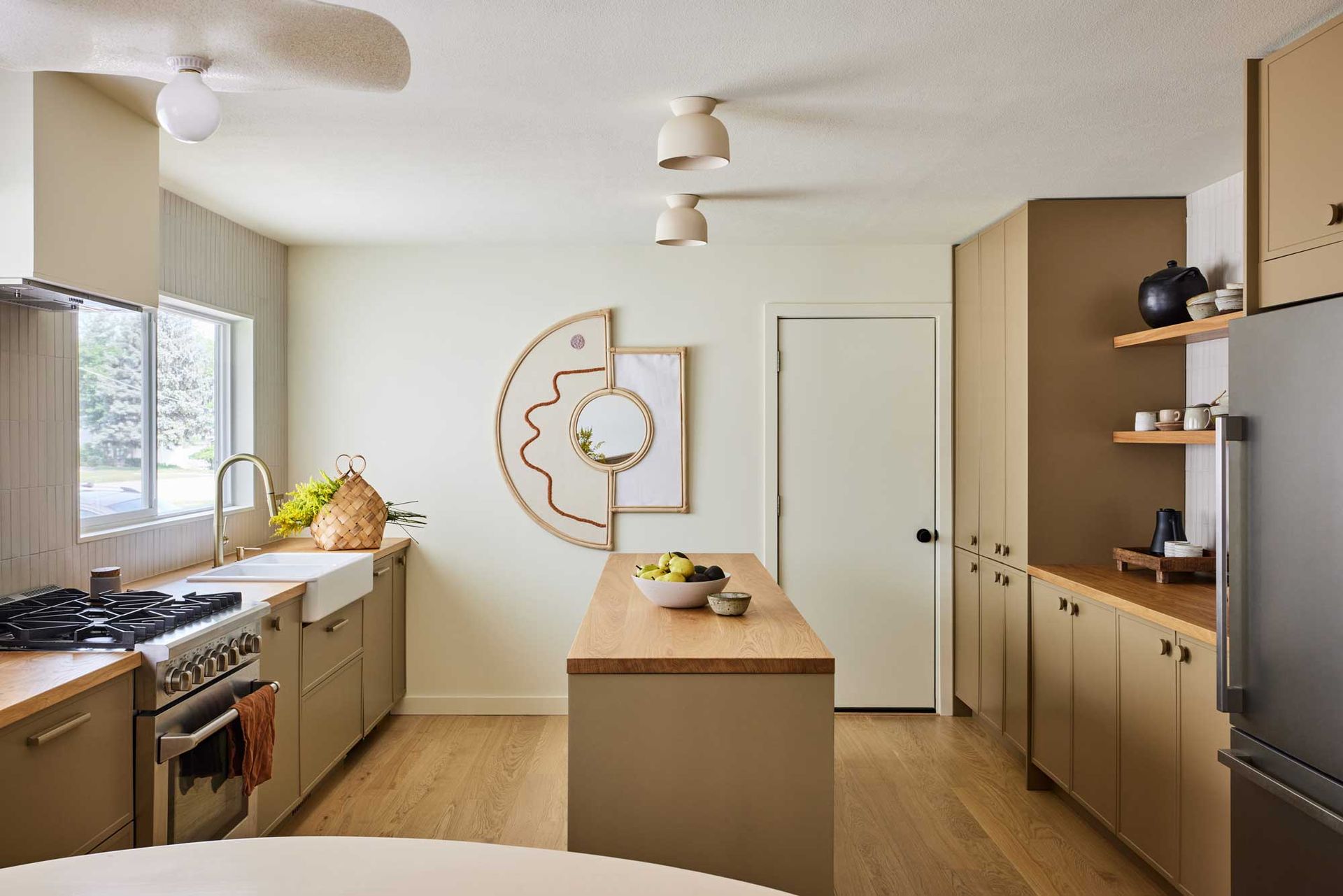 Wood countertops add a natural, organic look and feel to any kitchen, and reclaimed wood is a great way to increase your kitchen's eco-credentials, giving that farmhouse kitchen look with rustic materials derived from nature, but by easing off from using real trees. The sourcing and preparation of the wood is what might make this countertop option more expensive, but it's worth it and also might give your kitchen a bit of an original side story. 
In terms of looking after this countertop, be wary of splashes and spills. Wood and moisture doesn't really go hand in hand, and any spillages might stain the wood. Use a reliable sealant like a wax to keep it in a good state and protect that beautiful natural color.
3 of the best countertop sealants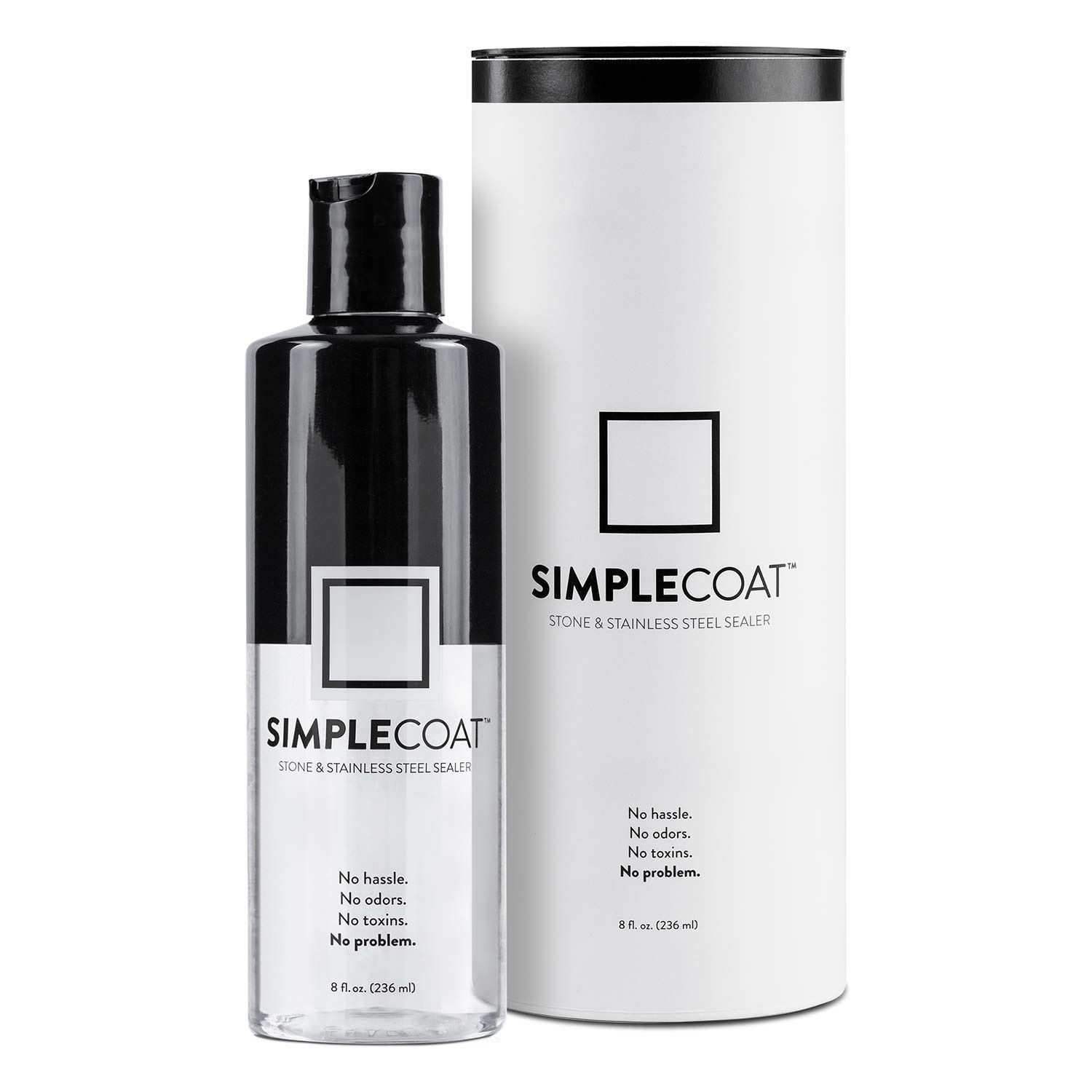 (opens in new tab)
SimpleCoat Natural Stone and Stainless Steel Sealer, Amazon
A sealant for stone countertops or stainless steel, just apply with a soft cloth and wipe off the excess. Done in mere moments and helping your beautiful stone surface endure.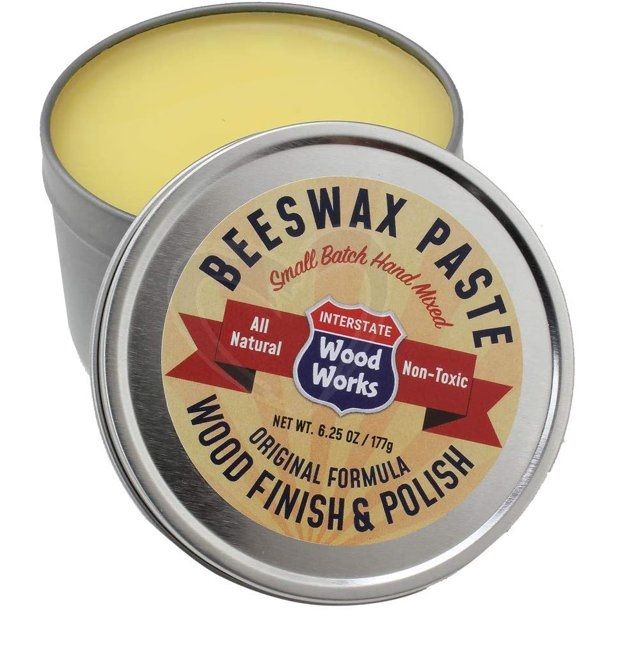 (opens in new tab)
WoodWorks beeswax paste wood finish and polish, Walmart
Made from all-natural beeswax and mineral oil, this product applies easily and creates a soft sheen, looking after your wood and keeping it in good condition.